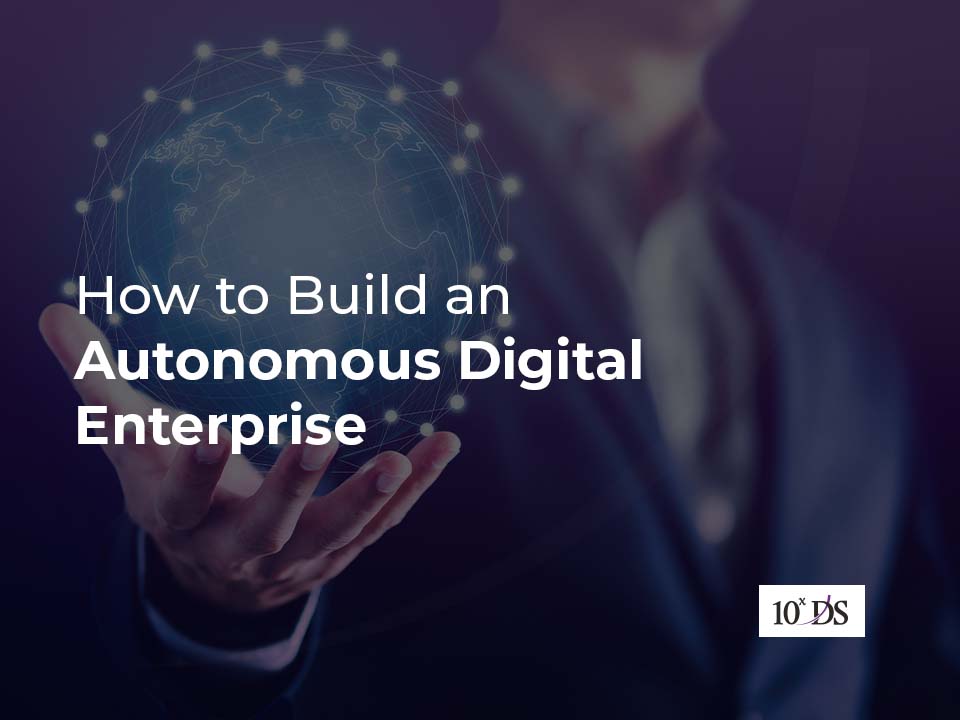 How to Build an Autonomous Digital Enterprise
Hyperautomation, Intelligent Automation, Artificial intelligence (AI), Machine Learning (ML), Advanced Analytics, and other emerging technologies are transforming work as we know it. These technologies help automate business processes, also equipping organizations to respond effectively to business disruptions through the delivery of innovative digital solutions capable of scaling to the business needs. But how do organizations embrace the concept of becoming an autonomous digital enterprise transforming the current IT Platforms into a Digital Business Technology Platform? Though the autonomous digital enterprise might sound like a futuristic ideology, if you look at the possibilities of making it happen, all the requisite technologies needed are actually widely available today. All it takes is to make everything work together and then train your automated systems to the point you can trust them to perform unguided by a human.
Several functions including, backend operations, repetitive processes, concept to market, incident to resolution, procure to pay, order to cash, hire to retire, and campaign to lead can all be easily optimized today. These functions can also be accelerated by making use of Artificial Intelligence (AI) and other innovative tools we mentioned above. They can help transform mission-critical systems by enabling businesses to automate processes and transactions. It is evident that traditional apps have gradually run their course. The process of automation delivers game-changing advantages to businesses that include better business outcomes, security at scale, reduced errors, smarter decision making, and reduction in staff members.
So, in short, becoming an autonomous digital enterprise can ease the burdens of management. So, how do you know where to start?
A beginner's Guide to Autonomous Digital Enterprise
An autonomous digital enterprise can be described as a self-driving business, that has implemented artificial intelligence, governance, and automation to problems related to management and operation. Completely autonomous enterprises are able to maintain, monitor, and configure themselves independently. The different stages of their self-sufficiency will be measured on the basis of their ability to operate a business with minimal human intervention. Such enterprises will be capable of adapting and learning to intelligent automation and other changes. Let's understand the components of an autonomous digital enterprise
Components of Autonomous Digital Enterprise
Creating the components or building blocks of an autonomous digital enterprise is actually an ongoing process, which needs a holistic approach for moving up automation levels. The process of creating the components for an autonomous enterprise involves the following steps.
Developing the tools, practices, and mindset for building an autonomous digital enterprise
Creating a smart and robust data integration platform
Adopting design thinking
Rigorous governance by creating a Centers of Excellence (CoEs)
Here are some of the most important building blocks of autonomous enterprise, which businesses should consider adopting based on their maturity level.
1. Developing the tools, practices, and mindset
Organizations should have a combination of tools, practices, and mindsets, which allows them to respond and sense changing business conditions. It enables businesses to improve and maintain the performance of their business even during volatile times.
Such business composability has three integral components, and they are as follows.
Flexibility of Tools and Technologies– Every tool and technology that is in use, be it intelligent automation ones, AI, Analytics, and others, which connects between them should be composable and decomposable to cater to the changing business scenarios of an enterprise. This way the technologies and tools allow for flexibility and change in business strategies.
Dynamic Business Architecture– In an autonomous digital enterprise or a company looking to become one should develop structural capabilities that are dynamic to help their organization to be flexible and resilient.
Based on composable design principles– The system should allow design principles to guide an enterprise's approach to visualizing and conceptualizing what to build and when. This allows for creative approaches to systems building for becoming an autonomous digital enterprise.
2. Data Management and Integration
Data management and integration is a foundational building block of an autonomous digital enterprise. It is important to have a well-thought-out data management strategy, which allows real-time integration for improving data maturity and enhancing situational awareness.
Data Maturity
Data Strategy
Fast data and real-time data integration
Data management and integration offer businesses the ability to integrate data between several sources in real-time. This will help them to make better and more informed business decisions.
Data strategies help businesses to meet their data goals like optimizing processes, guaranteeing customer satisfaction, and improving business decisions.
Assessing an organization's data maturity level is integral. It is important to remember that improving data maturity is only possible through a smart and sound data strategy.
3. Autonomous Digital Transformation Process Elements
It is integral for autonomous digital enterprises to transform from traditional platforms to modern digital platforms. The transformation process involves several areas, and some of them are listed below.
Customer experience platform– This includes the customer-facing elements for interactions and multichannel commerce applications, among others.
Information systems– These systems support the back-office, operations, and core systems such as ERP. These are the key areas impacted by digital transformation.
Data, AI, Analytics and Automation- These platforms have information management, AI, and analytics capabilities. Data management, AI and analytics applications enable data-driven decision making and automation of discovery and actions. Hyperautomation, Intelligent automation, RPA, and several automation technologies available can streamline processes without affecting the existing infrastructure and systems in an enterprise. AI and Automation maturity is crucial for an organization to become an Autonomous Digital Enterprise.
Security– Innovative autonomous enterprises should enable sound security and cybersecurity architecture, practices, and infrastructure to safeguard critical assets from malicious attacks.
Ecosystem layer– It is very important for organizations to be able to create, connect or integrate to external ecosystems, marketplaces, and communities. The key elements in this include API management, control, and security.
4. Ownership
Another vital aspect of autonomous digital enterprises is taking and assigning ownership. The following characteristics are included in the process.
Empowered teams and individuals to make decisions and ensure cost-effectiveness
Clear coordination and ownership among several digital components and offerings
Assigning ownership for digital offerings, reusable technology, and business components
5. Design Thinking and Agile Model
Design thinking is undoubtedly a critical tool that supports the strategy of an organization. Therefore, technology innovation leaders and enterprise architects should consider making them a critical part of their practice.
Agile and lean start-up model consists of measuring, building, and learning phases focusing on iteratively and quickly building innovation into a product that is considered to be "minimum viable" and is gradually delivered to the customer.
6. Autonomous Digital Enterprise CoE (Center of Excellence)
It is crucial for several organizations to govern the process of digital transformation across their business. Building the internal autonomous CoE of an organization is an excellent way for building skills that are essential for supporting new processes, people, and technology involved in the process. Some of the critical elements of an Autonomous Enterprise CoE are as follows.
Experts' pool
Skill management
Best practices
Governance
Program and project management
Measurement
Change management
Implementation of Autonomous Digital Enterprise
According to Gartner's recommendation, there are three stages of hyper-automation for implementing an Autonomous Digital Enterprise: standardization/interoperability, remote management/control and autonomous operations.
1. Standardization & Interoperability
This is the first step in building an autonomous digital enterprise. Organizations need to standardize and consolidate their application and systems to enhance efficiency, better performance, improve manageability, and enhance agility. The standardization components include back-office systems leveraging ERP applications, and front office systems including functions such as sales, marketing, HR (hire to retire), accounts management, customer management, data, integrations, APIs, among others. It is key for organizations to understand where to standardize and where to innovate as most of the time there arises conflict in such decisions.
2. Remote Management and Control
This is another very crucial step enterprises need to implement for becoming an autonomous digital enterprise. Organizations must look to implement replicated, heavily automated, distributed operations and administration to handle remote operations, data centers, manufacturing centres, warehouses, among others. Especially organizations having product manufacturing, distribution, delivery, and warehouse management aspects to consider, can leverage advanced remote control software components such as IoT sensors and digital twins allowing remote management using analytical dashboards and control panels. This becomes more relevant and useful during and in the post COVID-19 era where we are witnessing several organizations across industries enabling accelerated remote management and control.
3. Semi or Full autonomous operations
This is probably the most important step for organizations to become autonomous digital enterprises. Enterprises can leverage data, software, physical and software robots, and intelligent operational systems to automate and streamline operations, processes, functions, and systems across the enterprise.
Conclusion
It is important to understand that creating an autonomous digital enterprise is not a destination, instead, it is a journey. Businesses should consider developing a vision of 3 to 5 years, which highlights business outcomes and reflects the use cases of digital transformation in their industry to build a successful autonomous digital enterprise.
How 10xDS can help you become an Autonomous Digital Enterprise
10xDS has the advanced know-how, expertise and experience delivering automation solutions to enterprises worldwide across industries by leveraging Intelligent Automation, AI, ML, Analytics, and other emerging technologies. We have state-of-the-art technology CoEs, flexible solution deployment methodologies, and a full suite of offerings and services for every stage of an organization's path to becoming an Autonomous Digital Enterprise.
Aiming to become a growth-oriented enterprise?  Then talk to our experts to gear up to become an Autonomous Digital Enterprise