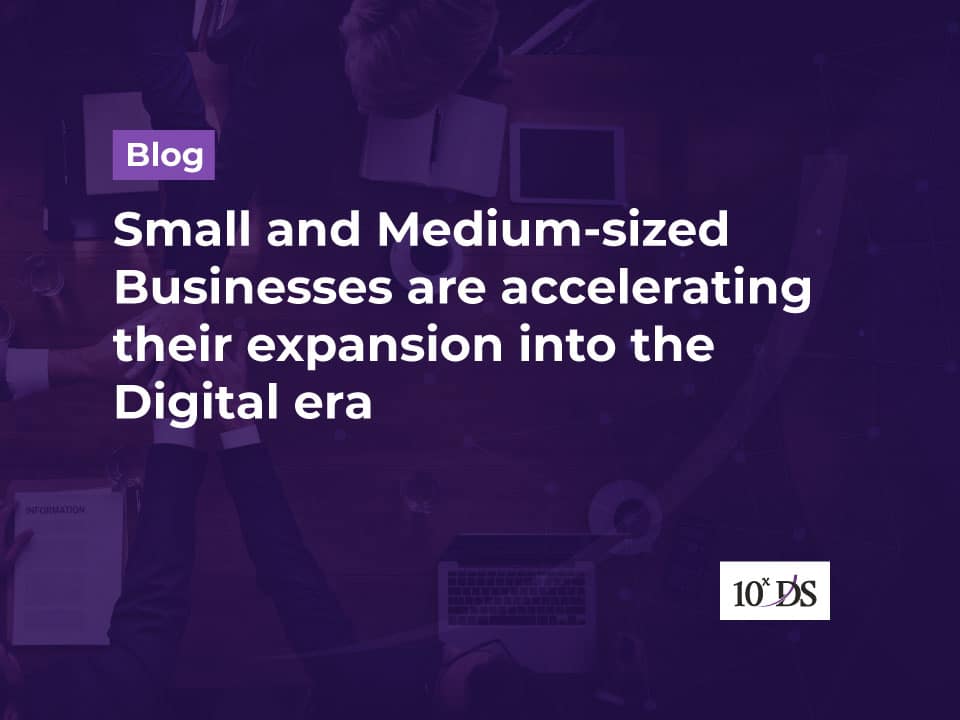 Small and Medium-sized Businesses are accelerating their expansion into the Digital era
Communities rely on their SMBs (small and medium-sized companies) to thrive. There are over 400 million small and medium-sized businesses (SMBs) in operation in the world. The vast majority of new jobs (60-85%) are created by small and medium-sized businesses. Also, the International Labor Organization claims that small and medium-sized enterprises (SMEs) are responsible for as much as 70% of GDP. Because of their size and scope, small and medium-sized businesses rely on their capacity for innovation to survive and succeed in today's digitally enabled market.
Expanding use of digital technologies helps companies to grow more quickly
Faster and higher growth was seen among "early adopters" of technological innovations, as confirmed by the study. Early adopter companies are four times more likely to have high levels of confidence in their future company performance, and they are twice as likely to have fulfilled their past business objectives and higher revenue growth over the past year. Despite rising geopolitical tensions, inflation, and energy costs, today's businesses are concentrating on maintaining growth. Fifty-one percent of firms are still worried about the long-term effects of COVID-19.
Companies of all sizes are embracing the concept of "digital transformation" in order to boost productivity, strengthen relationships with customers, and safeguard sensitive information in the face of rising cyber threats. You might be surprised to learn that even small firms can reap the rewards of digital transformation. In fact, updating a company's digital resources can have a multiplier effect, allowing employees to do more with each passing day.
Here are the three ways digital transformation and early adoption of digital technologies can help companies:
1. Facilitating novel methods of operation
The COVID-19 pandemic ushered in a cultural transformation that has paid dividends for many firms in the form of increased employee engagement. In fact, 52% of workers who took part in the 2022 Work Trend Index study said they were thinking about making the switch to hybrid within the next year. Additionally, they reported an increased propensity to put personal health and happiness ahead of professional success. In a nutshell, they seek enhancements to the working conditions. Many companies now understand that offering hybrid or remote work options can help them find and keep the best employees. Successful collaboration technology to back up this new reality is a sensible move for any company.
These days, it's easier than ever for employees of any company to get together, share knowledge, and keep tabs on the status of their various projects thanks to the prevalence of modern collaboration software. In addition, they help local firms reach out to far-flung clients and vendors without incurring the high costs and time commitments associated with physical travel. The ability to work together more effectively during times of office closure proved invaluable to many companies, proving to their owners and employees that they didn't need to be physically present at the office in order to get work done.
2. Connecting with clients more deeply
Customers nowadays are a discerning and picky bunch. They hold a great deal of sway because of their capacity to investigate and compare potential business partners. These days, a company's initial point of contact with a potential client is online, making it crucial to be able to track which people visit their site, click on their ads, and interact with them on social media. Commercial owners may attract and engage target audiences more successfully and create stronger business ties with them by utilising this data to shape personalised customer journeys using simple digital marketing tools or a powerful marketing platform.
3. Containing Cyber Risks
For good reason, data security has emerged as a top priority for today's entrepreneurs. One study found that between half and three quarters of ransomware victims are small firms, and that the number of ransomware assaults has increased by 300 percent over the past several years, according to a Microsoft commissioned Forrester research. The most effective means of protection against the phishing, social engineering, web applications, and mobile malware used by modern attackers is no longer the antivirus software you're used to. Cyberattacks like these aren't simply annoying; they may be quite risky and expensive as well.
The basis is built on security and dependability
In the coming year, more than two-thirds of small and medium-sized businesses (SMBs) aim to boost their IT budgets, with the following investments serving as top priorities:
To achieve their business objectives in a safe and dependable manner, 80% of companies anticipate employing a hybrid workforce within the next two years. Partners play a vital role in strategy and the expansion of small and medium-sized businesses.
While most small and medium-sized businesses (SMBs) acknowledge that technology is helpful in achieving their goals, only 16% consider it critical. However, many SMBs require the assistance of partners in order to properly align their technology with their overall business plan. Three-quarters of businesses prefer Managed Service Providers or Cloud Solution Providers as their go-to technology partner because of the expectation that these organisations will proactively offer technology solutions to speed up the company's progress toward its goals.
Generation Y's Influence
In the realm of information technology, 41% of decision-making positions are occupied by those under the age of 35. They are more likely to be employed by younger firms, and 13% are more likely to consider technology to be either vital or critical to the success of their organisation. One-third of millennials consider themselves technophiles; they also exhibit consumer-like behaviours while researching and acquiring technology, such as placing a high value on peer evaluations and reviews. 2016's How Millennials Work and Live survey from Gallup highlighted the generation's emphasis on meaningful work over financial gain. As business owners, millennials apply these ideals to the ways they use technology and conduct business.
Efforts to improve environmental, social, and governance (ESG) are expanding outside the business world
Sixty-three percent of the small and medium-sized businesses in the study said they have ESG evaluation and monitoring frameworks in place. Gen Y is in the vanguard since they are the most likely to publish an ESG-focused annual report. Thirty-seven percent said they were trying to lessen their influence on the environment, 30 percent were working to increase diversity and inclusion, and 30 percent were trying to increase employment opportunities. The research shows that companies who prioritise environmental, social, and governance (ESG) issues are more likely to be successful in the long run.
How Microsoft Services can help SMBs?
Microsoft is among the best IT and cloud service providers and specialists in the world, so it's a natural place to begin looking for help. Microsoft has the solutions you need, whether you're a start-up or an established company, to take your company to the next level. Microsoft has multiple cloud options for organisations, each of which can help you stand out from the competition and streamline your operations moving forward. Moving and maintaining mission-critical applications on the cloud, however, is crucial to the long-term health and expansion of any small or medium-sized business (SMB). When compared to major corporations, your company has a far lesser amount of data to keep, but this data is no less important to your daily operations. Here are a handful of Microsoft's products that can serve as your company's cloud solution now and into the foreseeable future, allowing you to get your small or medium-sized enterprise up and operating fast and easily.
Azure for Small Businesses
Small firms need managed services 24/7. They're crucial to your daily operations and perform computing and management. At some point, managing all this information in-house might be taxing. Manpower and space are needed for security. If you're worried about your company apps, consider migrating to Microsoft Azure. Azure is a cloud computing platform that lets SMBs move key apps to the cloud without costly infrastructure. Cloud services can handle important business activities, offering you peace of mind and breathing room. There are many customizable choices for your business. Azure is built for SMBs, so there's no upfront investment. It scales based on demand and only charges when you use it.
Microsoft 365 for Small Businesses
Once known as Office 365, Microsoft 365 is a suite of cloud-based productivity software that includes web, desktop, and mobile versions of familiar Microsoft Applications like Outlook, Word, Excel, PowerPoint, OneNote, Publisher, Skype, OneDrive, Exchange Online, and more. With Microsoft 365 Business, you have easy access to a wide variety of useful resources that can help your company grow and thrive. Outlook, Word, and Excel are all part of Microsoft Office 365 Business Essentials, along with many other familiar Office services. In contrast to competing alternatives, M 365 has been designed specifically with small businesses in mind. M 365 is a cloud solution that has been optimised for small enterprises, especially in terms of safety.
Here are some of the other popular M 365 applications.
Microsoft Teams: Teams serve as a hub for teamwork and enables for the introduction of a chat-based workplace. The mobile app version of Teams means that users can stay in the loop no matter where they are—at the office, on the road, or anywhere in between.
Exchange: It is a platform for group communication and information sharing that includes email, calendar, contacts, and tasks. You can access it from any device running Android, iOS, or Windows 10.
SharePoint: It is a site-building and collaboration platform designed specifically for groups and communities interested in effective communication and working together online. SharePoint allows users to collaborate with colleagues inside or outside the company by sharing documents or entire folders.
Microsoft Endpoint Manager: Endpoint Manager's cutting-edge approach to management and security helps customers transition to the cloud without disrupting their current setup. The Microsoft Endpoint Manager suite consists of Intune, Configuration Manager, the Device Management Admin Center (DMAC), and the Desktop Analytics.
Windows 10 Enterprise: Microsoft 365 subscription includes Windows 10 Enterprise. Windows 10 satisfies the requirements of both large and medium-sized businesses by giving users and companies access to resources that will help them become more productive on both a personal and a collective level.
10xDS Services leveraging Microsoft Solutions for SMBs
Our Microsoft environment management, IT consulting, and implementation services, and Managed Services free up your company's resources so you can focus on what you do best. 10xDS is dedicated to providing cutting-edge solutions to a wide variety of problems and complexities by using our extensive knowledge of Microsoft products and our Centre of Excellence.
10xDS is a Microsoft Gold Partner having in-depth knowledge and consulting experience in Microsoft products and services. We are familiar with all the ways in which Microsoft's offerings can benefit your company.
Talk to our experts to accelerate growth, enhance efficiency, and enable innovations using Microsoft services, products and tools!