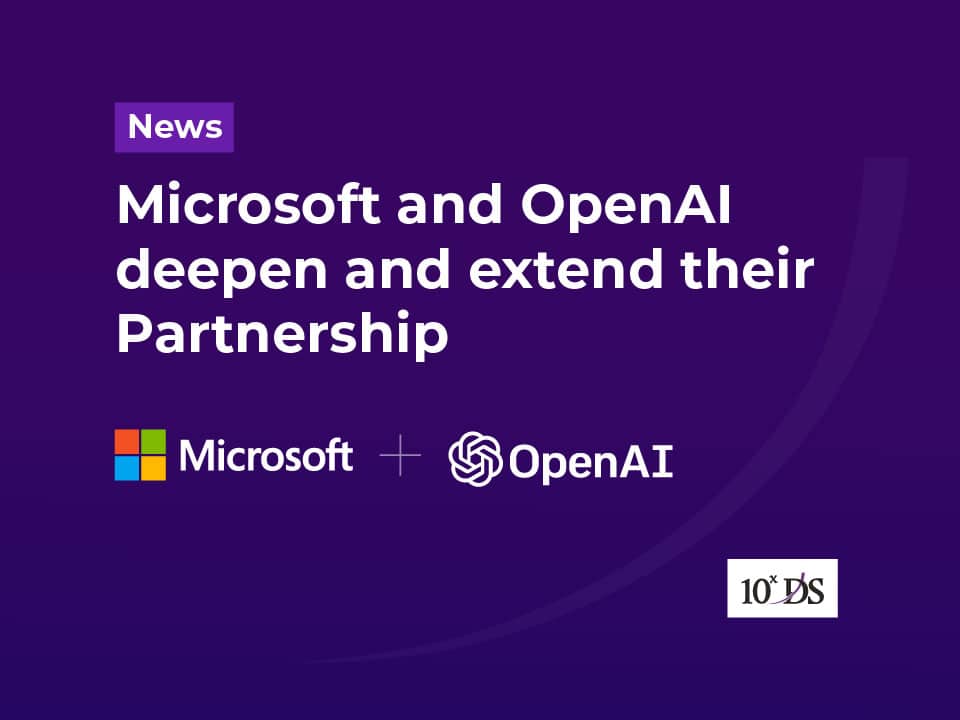 Microsoft and OpenAI deepen and extend their Partnership
The third phase of Microsoft's long-term relationship with OpenAI was recently announced, and it involves a multi-year, multi-billion-dollar commitment to speed up AI discoveries and make sure the world can reap their advantages as quickly as possible.
They have already invested in 2019 and 2021, so this arrangement is a natural progression. It broadens their already fruitful partnership in AI supercomputing and research, allowing us to independently commercialise the cutting-edge AI technology developed as a result.
Scalable supercomputing: Microsoft will increase spending on the creation and distribution of specialised supercomputing platforms in order to speed up OpenAI's ground-breaking autonomous AI research. In addition, we will keep expanding Azure's industry-leading AI infrastructure to better serve our customers as they develop and release AI-powered apps for widespread use.
By integrating OpenAI's models into our consumer and commercial products, Microsoft will create new types of digital experiences powered by AI. With Azure's trusted, enterprise-grade capabilities and AI-optimized infrastructure and tools, developers can create state-of-the-art AI apps with ease thanks to the Azure OpenAI Service.
Azure will be OpenAI's sole cloud provider, powering all of their workloads spanning research, products, and API services.
Since 2016, Microsoft has been working to turn Azure into the world's preeminent artificial intelligence supercomputer. This effort is central to our goal of making AI accessible to a wider audience through the expansion of cloud computing. Microsoft and OpenAI's initial investment and collaboration pushed the frontier of cloud supercomputing technology, with the announcement of our first top-5 supercomputer in 2020 and the following construction of several AI supercomputing systems at gigantic scale.
With this framework, OpenAI has trained its ground-breaking models, which are now being used by category-defining AI products including GitHub Copilot, DALL'E 2, and ChatGPT and deployed in Azure.
These developments have piqued interest, introducing large-scale AI as a formidable, all-purpose technological platform that, in our opinion, will have a revolutionary effect on society on par with the personal computer, the web, mobile devices, and the cloud.
Microsoft and OpenAI are working together to create AI systems and solutions that can be trusted and used without worry. Microsoft's Responsible AI Standard and OpenAI's groundbreaking work on AI Alignment not only provide a foundation for the secure deployment of our own AI technologies but also steer the industry towards more responsible results.
About Microsoft
Microsoft Corporation is an international technology leader that produces and distributes software, consumer electronics, personal computers, and related services to a wide customer base.
About Open AI
OpenAI is a non-profit research organisation with the mission of shaping AI for the greater good of humanity.