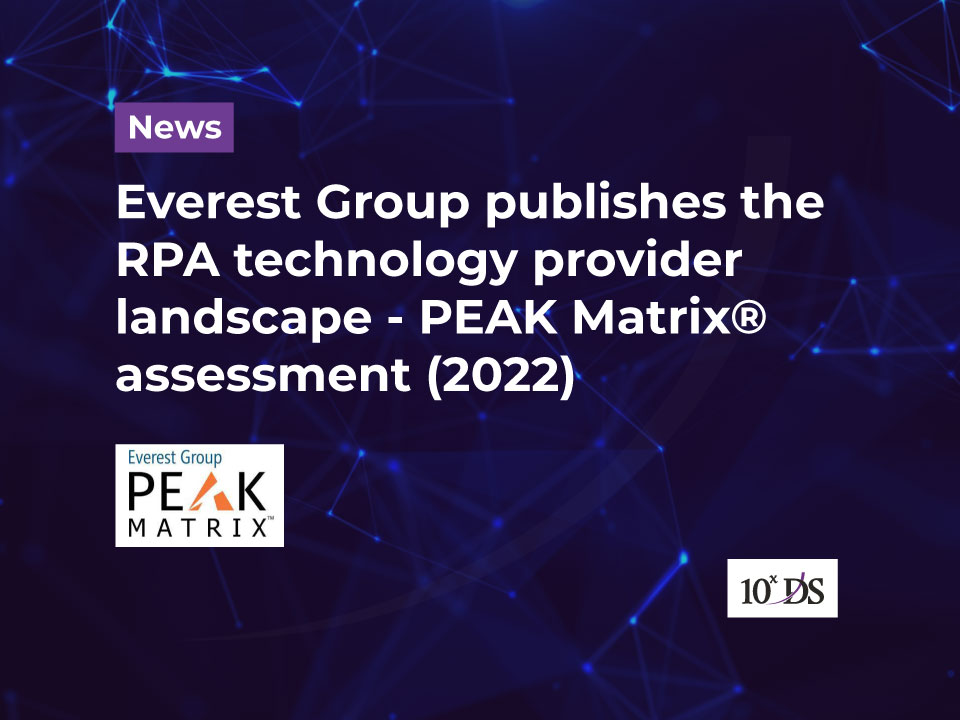 Everest Group publishes the Robotic Process Automation (RPA) technology provider landscape – PEAK Matrix® assessment (2022)
Everest Group recently published the Robotic Process Automation (RPA) – Technology Provider Landscape with PEAK Matrix® Assessment 2022. This assessment studies the shifting dynamics of the RPA environment and evaluates several technology providers across a number of key aspects.
The context for the assessment
Increasing inflation, an economic slowdown, geopolitical tensions, supply chain disruptions, and talent shortages are just some of the ways that the post-pandemic era is putting a strain on businesses ability to adapt to a turbulent environment. As business leaders reevaluate their strategies in light of current conditions, an increasing number of them see automation as a key component of their plans for success.
Robotic process automation (RPA) has been instrumental in facilitating business process automation for quite some time. Intelligent Document Processing (IDP), process mining, task mining, API-based automation, process orchestration, and conversational AI are just some of the new technologies that are bolstering RPA's position as a cornerstone of enterprise automation despite the ecosystem's rapid evolution. Businesses may reap many advantages from RPA, including streamlined operations, happier customers and workers, and more time spent on value-added tasks. With the entrance of major technology companies, RPA has quickly become one of the most rapidly expanding software markets.
Based on their strengths and weaknesses, this year's analysis classifies 23 RPA technology vendors into the Everest Group's PEAK Matrix® as either Leaders, Major Contenders, or Aspirants. Both customers and sellers can benefit from the research since the former will have more data with which to compare potential service providers and the latter will have a standard against which to measure their own performance.
Quick shifts are occurring in RPA's capabilities, deployment options, product design, support and training, partner ecosystem, and business models. The scope and utility of available technology and distribution methods are expanding fast. To reap the benefits of RPA, businesses must first implement a suitable enterprise-grade solution.
Let's look at the Leaders, Major Contenders, and Aspirants Based on Everest Group's PEAK Matrix®
1. Leaders
Automation Anywhere, Microsoft, SS&C Blue Prism, UiPath, and  NICE occupy the top five spots in the RPA PEAK Matrix®, 2022, published by the Everest Group. The RPA industry has seen moderate, yet steady growth from its leaders. New businesses and the growth of existing enterprises are the primary forces behind the expansion. Growing their service provider partner ecosystem is a priority if they are going to achieve their goal of identifying untapped market opportunities through partner sales channels. In advanced organisations, the full automation cost structure is recorded. They record the identification, coordination, and automation of more involved end-to-end processes.
Intelligent Automation platform leaders have a clear goal and are investing in supporting capabilities. Orchestration, API automation, IDP, task mining, and bespoke AI/ML-based solutions are just some of the processes that have been invested in. The most successful companies always revise their models to be more adaptable, scalable, and user-friendly. To match the sophistication of their offerings, the company's procedures must be easy to understand and follow.
They are implementing serverless robotics and other technologies to better their fully managed SaaS platform. SaaS platform optimization and concentration on usage-based pricing reduce Total Cost of Ownership (TCO).
2. Major Contenders
Everest Group has released their RPA PEAK Matrix®, 2022, and the Major Contenders are Aiwozo, Appian, AutomationEdge, Cyclone Robotics, Datamatics, IBM, JIFFY.ai, Laiye, Nintex, Nividous, OpenBots, Pega, SAP, and WorkFusion.
The Major Contenders are expanding their market share across several industries, geographies, and types of customers. Some local RPA companies are using this to their advantage by expanding into other markets. With their expertise in the field and their stockpile of ready-made automation assets, they hope to expand into new fields.
Price pressures have already been reduced by the arrival of major tech competitors. In order to fight head-on with the Leaders, the Major Contenders are offering highly competitive pricing on their RPA systems. With competitive pricing, businesses save money in the long run while seeing a greater return on investment in the short term. Many Major Contenders are investing in developing an intelligent automation platform similar to the one the Leaders have already established. They hope to integrate IDP with RPA, Process Mining, and Task Mining into a single platform.
Some of them are also creating ready-made automation tools that already include a variety of technologies.
3. Aspirants
ElectroNeek, HyperCAP, qBotica Qruize, and SAIO are the Aspirants in the RPA PEAK Matrix®, 2022 published by the Everest Group. Aspirants focus on a narrow application, industry, or geographic area. They differentiate themselves from more established competitors by providing a more adaptable platform. That they can adapt to the changing demands of their customers is essential to the success of their IT and BP service partners in creating customised solutions.
Aspirants primarily focus on the following:
Facilitating the user experience on the platform.
Combining forces with complementary SIs and service providers to increase exposure and service quality.
Updating several of RPA's core features, notably the creation of new robots.
Ensuring security and governance, control and surveillance
There has not been much of a shift in the software industry's top earners, which continue to include Automation Anywhere, UiPath, and SS&C Blue Prism. Small business expansion rates suggest a substantial demand for robotic process automation in the near future.