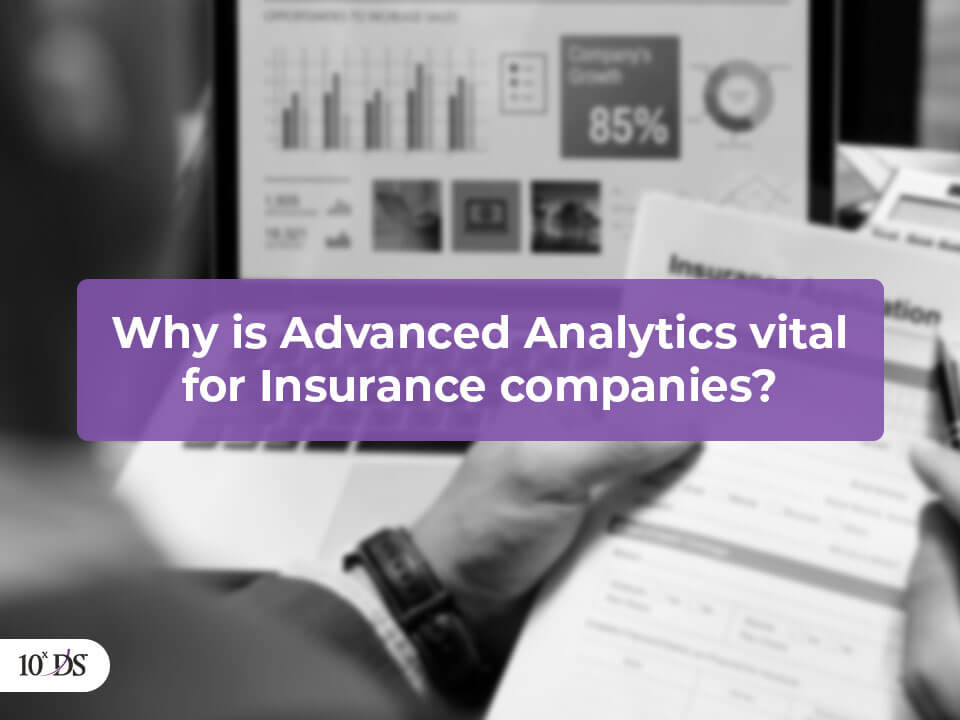 Why is Advanced Analytics vital for Insurance companies ?
Estimating the price of an insurance policy is the most critical process for any insurance company. For this, complex risk assessment procedures are needed; mathematical models are used for predicting loss and damage so that price of a premium can be determined. Hence, analytics in the insurance sector is not new, but what is new is the availability of huge amount of data, integration methods and advanced analytical techniques. Insurance sector gathers and creates a large amount of data and not utilizing this key data costs these organizations money in lost sales. It is high time for insurance companies to invest in the untapped potential of this data to reap larger benefits. Moreover, as one of the most regulated industry, Insurance companies are continually challenged to strengthen core insurance operations and adopting such advanced emerging technologies will be a step in the right direction.
Few Insurance Analytics Use Cases:
Most of us deal with cold calling from insurance companies and we normally tag these calls useless. Instead of blind cold-calling, what if insurers call prospects who are actually missing something they need. This helps in conversion. How would Insurers know what the prospect really wants and what is missing in the current policy? Analysing data and using smart dashboards can help an agent to get a complete overview of each client's portfolio. If one of the prospect/clients has a gap in coverage, the system will automatically alert the agent and give an opportunity to bring added value to your client.
Few other use cases for advanced analytics in the insurance sector is quickly described in the table below.
| | | | | | |
| --- | --- | --- | --- | --- | --- |
| Underwriting | Rating | Claims | Marketing | Customers | Reserving |
| a) Pricing analytics to competitively price premiums | a) Understanding the probability of future losses | a) Predictive analytics for understanding claim frauds | a) Segmentation | a) Focusing on Customer Loyalty | a) Forecasting future losses from past losses to make available enough reserves |
| | b) Forecasting approximate rate of future claims | b) Identifying Outlier Claims | b) Anticipating Trends | b) Providing a Personalized Experience | |
| | | c) Triaging Claims | c) Identifying Potential Markets | c) Predicting customer churn | |
Considering the fact that the insurance sector thrives on predicting the future losses and claims, predictive analytics and prescriptive analytics proves to be the most effective and useful tools. Benefits of using advanced analytics are many such as:
Improved sales practices to generate more sales
More personalization
Reduced fraud by easier detection
Increased per customer profitability
Better risk management
Maximized overall performance
Higher degrees of self-service
Implementing a data-driven model:
The objective here should be to implement a platform that can aggregate, analyse and visualize all the data and give easy access to a variety of insights, helping insurers to make better decisions in real-time.
Unlocking the business potential of advanced analytics requires the integration of numerous internal and external data assets. For example, risk pricing can be improved by mapping the data from internal customer databases with third-party data providers such as credit bureaus. Companies must continually scan the ecosystem for technologies and partners to take advantage of new analytical opportunities.  Close collaboration among the analytics professionals who build the models and the functional experts who use them combines 'super set' modelling process. This modelling process leverages the knowledge of experienced functional or domain expertise.
The goal is to design a Work-flow integration of new decision-support tools to be as simple and user friendly as possible. Claims adjusters, underwriters, and call-centre representatives will only incorporate analytics into their decisions if the tools address the issues in ways that make sense to them and if it is easy to integrate the tools into their workflow.
A  data centre of excellence would be ideal to start considering the long term benefits.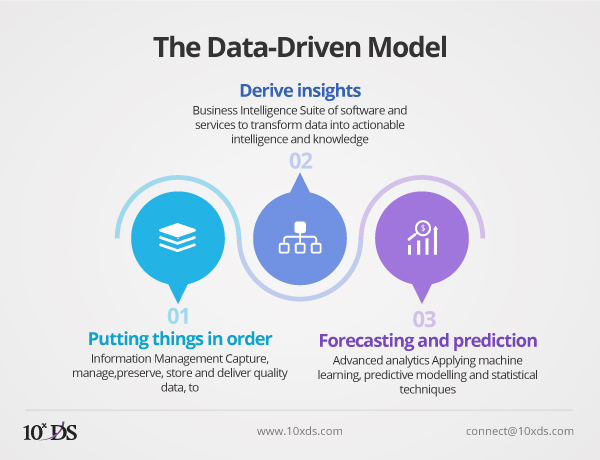 10xDS is driving digital transformation by leveraging our data and analytics expertise and deep sector experience to enable organizations make effective strategic decisions.
Talk to our experts to know more and jump on to the data driven business model.