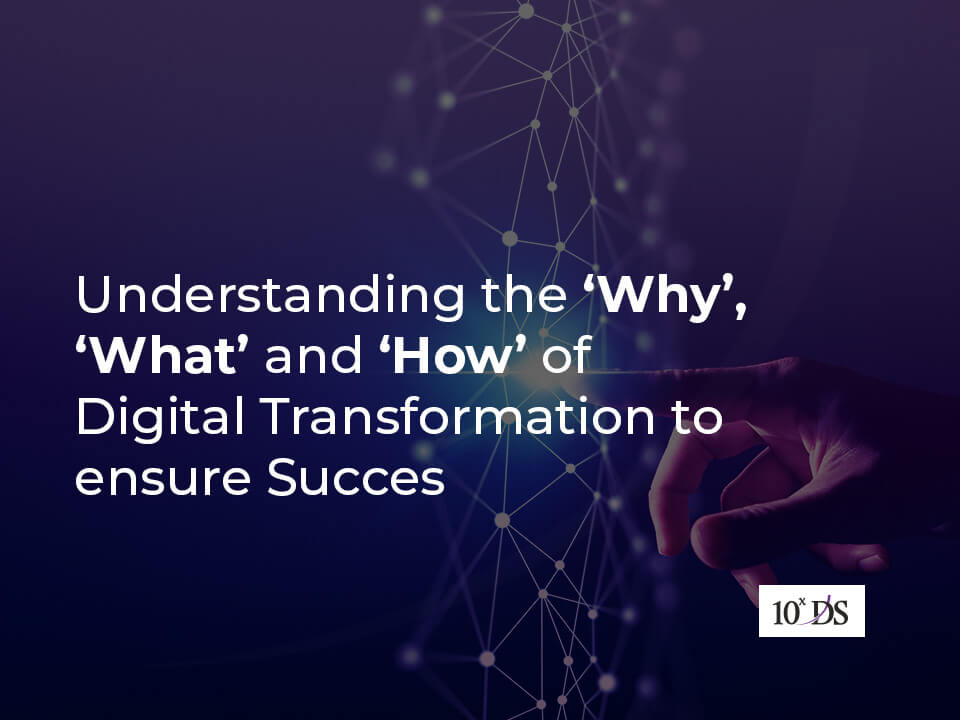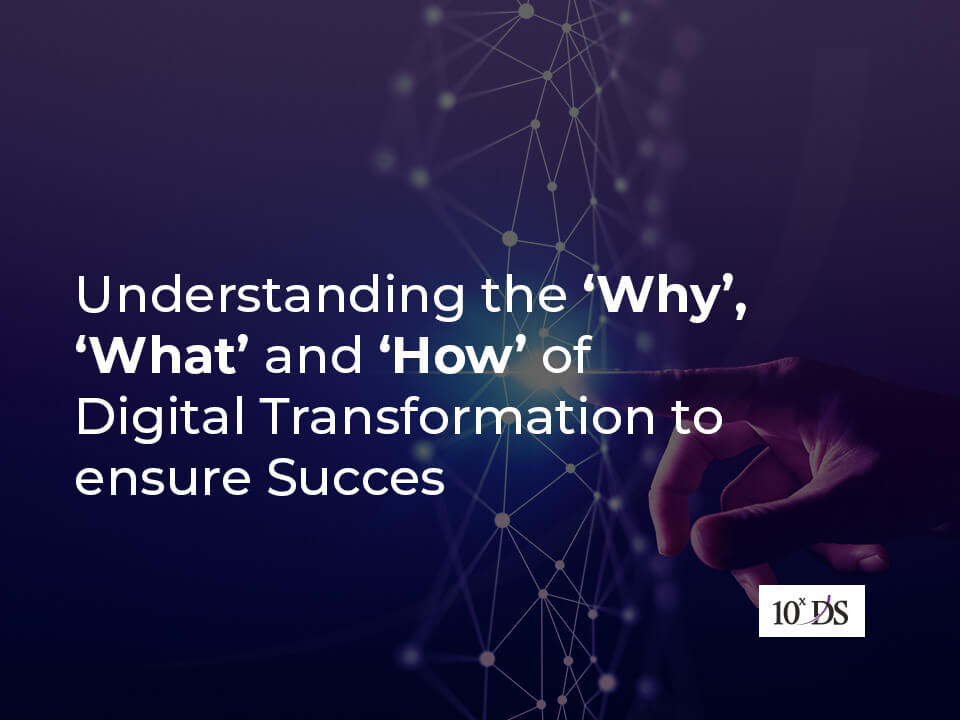 Understanding the 'Why', 'What' and 'How' of Digital Transformation to ensure Success
Over the last few years, we are witnessing several organizations across the globe attempting to figure out their own digital transformation journeys. It doesn't really matter whether these changes are driven by the pandemic scenario, employees, stakeholders, customers or as a result of a realization within the leadership, organizations are now focussing on paving the path to digital transformation. Be it the banking and financial services industry, insurance, eCommerce companies, manufacturing, O & G and even new-age start-ups in food delivery, app-based taxi services, have enabled customers to explore convenient and exciting ways to use modern digital technologies to make their lives better. As a result, several individuals expect a fast digital world where transactions are simple, intuitive, and easy. Most people would also want transactions or processes to complete quickly with just few clicks.
Why digital transformation is crucial to success
Though many new age companies and large organizations have tapped into the capabilities offered by today's state of art technologies, frameworks and systems, several enterprises are still moving a bit slow, falling short when it comes to embarking on the digital transformation journey. The problem arises when employees working at these enterprises have to deal with complicated and cumbersome processes that are not streamlined leveraging the latest technologies at disposal today.
For instance, let us consider a scenario, where a customer has accounts in three different banks. Let's just say even the size and the offerings of these banks are similar. In such cases, most customers will select a bank that ensures a better and more pleasant experience for them, with the latest mobile or online banking convenience. This means that customer experience can either make or break successful transactions for the financial institution or bank. When all things are equal, technologically, and digitally savvy companies are more likely to succeed and gain customers. This is true for different types of service-led industries.
Why organizations should develop an Outcome-Centric Approach
Today, it is important for companies to make investments to deliver enhanced digital experiences. However, they will need to make the right investments if they want to succeed with their digital transformation journey. The process of building digital experiences has to be backed by smart and solid strategies if they wish to make a lasting impact. Several companies make the grave mistake of going with a quick-fix approach, where they focus on addressing a certain issue rather than focusing on the underlying cause. They might end up ruining the entire digital transformation process.
Before you start embarking on the digital transformation journey of your organization, you need to take your time and determine the ultimate objective of the process. You will need to ask yourself some of the following questions.
What are the problems you are attempting to solve with the digital transformation process?
What outcomes are you expecting?
Organizations should have a clear idea of why digital transformation is essential for their business and how it can help them succeed. The expected outcomes or results of the digital transformation journey should not be defined in a fancy way of what success will look like. Instead, it should be defined in terms of important metrics, that are measurable and quantifiable. For instance, if one of your primary goals is to boost customer satisfaction, then you will need to have a clear idea of how you can measure that. You should consider what will be a quantifiable and real metric, which is an excellent indicator of customer satisfaction. Once you identify the right metrics to measure the result, you will need to focus on what will be the major drivers of the metrics.
Defining the objectives and strategy in the Digital
Defining the objectives needs to involve thorough and relevant research which ties back with the overall strategy. Before an organization embarks on the Digital Transformation journey, they should have a definite business transformation strategy and execution plan. It can involve competitor research to assess where you stand against your competitors and understand what you should be doing better to improve on certain scores. When it comes to digital, you might not necessarily benchmark yourself against your competition, as you can choose to benchmark against a completely different industry to provide the best customer experience. Because at times the best experience your customer might have experienced might be from some other industry, not necessarily yours. So, once you have determined the outcomes, you can define your objectives and strategy. Considering a crucial parameter like customer satisfaction and experience, organizations need to streamline and intervene all points of interaction between the customer and the company, the entire spectrum of touchpoints across all channels. These can include leveraging digital marketing through online ad campaigns, increasing visits to the online store, improving online transactions, and also campaigns to bring more people to a brick-and-mortar store, among others.
Process and technology
Digital transformation involves two major aspects – process and technology. It is often a combination of process and technology. However, it is important for the process to be defined properly before choosing the technology. The leadership team in the organization should assess the processes, and check if its outcome centric. If not, your business needs to change from the existing working model and processes to one which focuses on the delivery of customer-centric outcomes. There may arise a cultural shift in how the organization used to conduct business to how now they should factor in customer feedback and restructure to keep delivering quality services. This means keeping the customer at the centre and streamlining the go-to-market customer engagement process and subsequent transformation.
Reimaging processes leveraging the right technologies have become very critical in driving digital experience and transformation. Exponential technologies such as hyperautomation, Intelligent Automation, advanced data and analytics, machine learning, Artificial Intelligence (AI), among others are transforming and reshaping businesses, processes, and operations everywhere. However, some of the digital transformation journeys fail to achieve desired results because some companies are unable to follow the correct pathway and approach transform from the current state to a future transformed state.  So, again the key here is to identify and set the outcomes you are trying to drive with the new technologies you decide to use, to ensure success.
Strong ecosystem of partners and experts
Digital transformation projects need a different mindset and thinking on how you approach it. A strong ecosystem of experts and technology partners can help in the entire process of strategizing, executing, and reshaping your business processes leveraging the latest technologies. However, choosing the right partners for your digital transformation initiatives might be a tough task as it depends on the expertise and experience level of the partners implementing projects leveraging exponential technologies. The partner should have handled real-time projects and transformations for customers in several industries and sectors. Potential partnership candidates can be digital transformation consultants having technology consulting expertise and experience, and capabilities to leverage a wide array of emerging technologies and technology-enabled services to act as a catalyst to your business transformation.
Conclusion
While organizations across sectors are looking to jump on the digital transformation bandwagon, through initiatives leveraging the latest technologies, it is important to first gain clarity on their objectives, strategy, and overall approach. The approach should be customer outcome-centric to build scalable and flexible solutions that properly meet their needs. With the help of the right digital transformation partners or consultants you choose, companies should properly understand their business goals inside out, the existing processes, and then opt for the ideal technologies of digital transformation suited for streamlining their business processes.
How 10xDS can help?
As digital transformation consulting experts and leaders, we leverage our strong and multifaceted team having extensive business consulting and technology experience to drive and deliver digital transformations for enterprises across industries. We have helped several companies realize their most important business goals by harnessing a blend of automation, analytics, AI, and emerging exponential technologies.
If you are looking to jumpstart your Digital Transformation journey, talk to our experts!