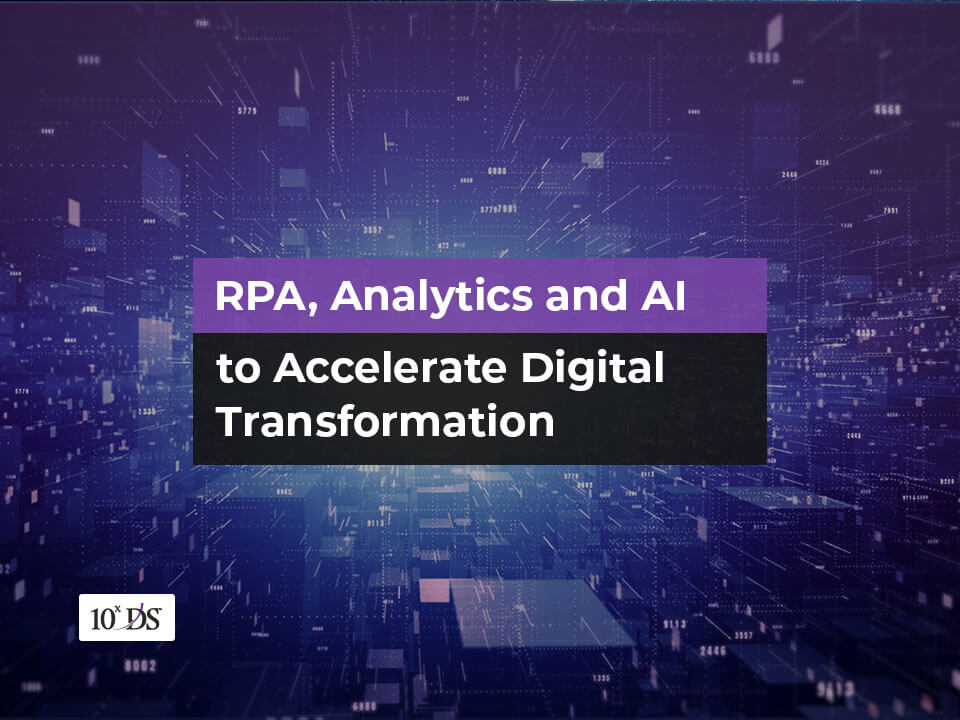 How Combining RPA, Analytics, and AI can Accelerate Digital Transformation
Creating a planned management structure is key to digital transformation, which focuses on modern technologies like data analytics, automation, and AI. Artificial Intelligence (AI) and Robotic Process Automation (RPA) solutions can help to streamline the workflow as well as make many business processes more efficient. When RPA is augmented by an AI-based analytics platform, it will further help to make the most of the technologies for accelerating digital transformation.
How RPA, Analytics, and AI Can Work Together?
RPA solutions are designed to automate back-office jobs and eliminate the need for manual effort to take care of routine tasks like collecting and sorting data. RPA works with structured data. AI, on the other hand, can perform tasks that require human intelligence, such as gathering insights from semi-structured and unstructured data. AI can collect and process data from web pages, scanned documents, and PDFs and convert it into a structured form for RPA to work.
Advanced analytics, meanwhile, can help to leverage the data processed by AI and RPA with predictive capabilities to simplify forecasting trends and user behaviors. This allows businesses to perform advanced statistical models and calculate the probable outcomes of their campaigns and processes more dynamically. Simply put, when AI, RPA, and analytics are brought together, they can take digital transformation to the next level for any business.
Creating an Invaluable Operating Model
It is important to map out how business processes and technology interact with each other to deliver value to the organization as well as its customers at present. This way, businesses can create a critical operating model by investing in the right technologies that will allow executives to plan to deliver better value in the future with enterprise-wide digital transformation. As misalignment between process and technology is often the reason for inefficiency in operating models, it needs to be addressed aptly with RPA and data analytics.
AI and RPA can offer a fast and cost-effective way to realign information systems with the business processes for seamless integration and support. In turn, RPA and AI can drive positive returns on investment by freeing up resources and assigning repetitive, everyday tasks to software bots. RPA can also manage the flow of digital information within the organization more efficiently even when data is transferred across different applications. AI and Machine Learning models can complement that by simplifying the data flow.
Some Real-World 10xDS Use Cases leveraging a combination of AI, RPA, and Analytics
1. RPA assisted CFO dashboards
10xDS developed a unique CFO dashboard with comprehensive management reporting solution to derive actionable insights from trial balances and the solution works with an RPA robot assisting it at the back end. The BOT helps in downloading the trial balances from multiple systems. The BOT further transforms the data and loads into a database for the analytics tool to fetch and process. The solution offers CFO level insights for each financial statement and it is presented through interactive visualizations. These insights on dashboards show a snapshot of the company health over a period which helps the management to make informed decisions and set long term and short-term strategies.
2. Realtime monitoring of automated processes
10xDS offered a solution providing real-time monitoring of automated processes for a leading Money Exchange. This solution leverages 10xDS proprietary framework to make the RPA COE Operations data insightful and easily accessible in real-time. The framework consists of a robust orchestrator and a dashboard framework enabling consolidated real-time analysis of RPA BOTs. The framework enables the BOT to stop process execution for requests not fulfilling the prerequisites. It offers insights on process analysis detailing open, in progress, closed, exception, terminated requests, SLA adherence, TAT, Queue volume and process peak hours in real-time and trends. An in-depth view of BOT utilization enables optimization of RPA licenses in the RPA COE journey.
3. Mail Processing Operations Center
10xDS helped digitization and automation of mail processing operations for a leading Immigration Firm, using Intelligent automation and Optical Character Recognition (OCR) technologies. The solution streamlined and automated the process of scanning and updating physical documents of Visa Acceptance Notice and Visa Approval Notice received in the company's mailroom. The solution increased efficiency in data extraction, verification and updates. The tracking visa expiry became much easier, also reducing the errors of selecting the wrong template and populating wrong data.
Driving Digital Transformation with the 10xDS Triad
10xDS brings in the best of data-driven digital transformation for organizations, combining the power of Robotic Process Automation (RPA) or Intelligent Automation, Advanced Analytics and Cognitive elements. Leveraging our CoE and deep expertise in these exponential technologies we are helping enterprises across the world augment human workflow and enhance performance and productivity with agility.
Talk to our experts to learn more about how automation, analytics, and AI can be a game-changer for your business.