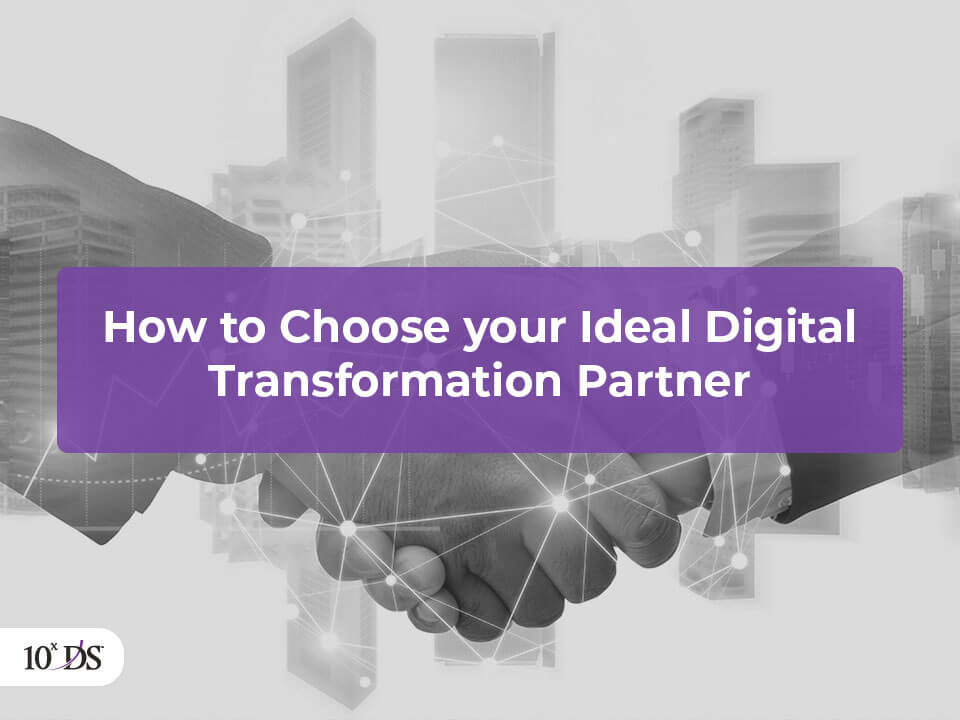 How to Choose your Ideal Digital Transformation Partner
Enterprises all around the world are looking to reduce the cost of operations, computational resources, and streamlining processes organization-wide by introducing new forms of human-machine interactions and emerging technologies. Exponential technologies such as robotics, data analytics, machine learning, Artificial Intelligence (AI) and others are transforming and reshaping businesses and operations everywhere.
However, at times many Digital Transformation journeys and implementations fail to achieve the desired results, because they may not be transformative digital experiences. There is a correct pathway and approach needed for businesses to transform from the current state to a future transformed state.
So, before companies indulge in full-fledged digital transformation journeys, there are few things to understand and look out for: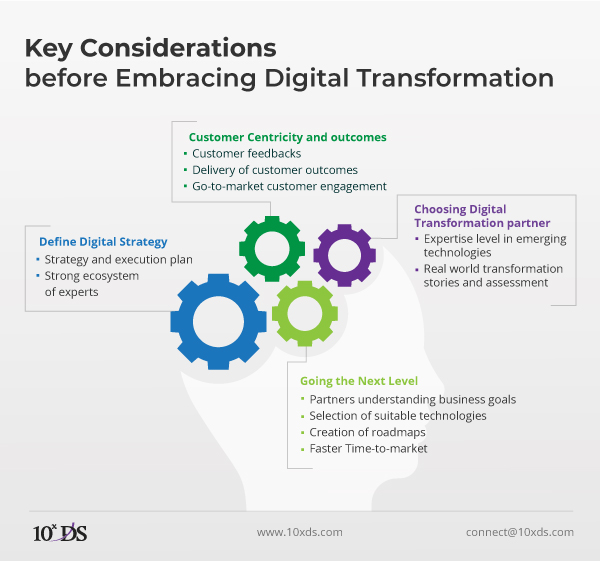 Enabling customer-centricity and outcomes using Technology
Your business needs to change from the usual working model to one which focusses on the delivery of customer outcomes. This is a transformation involving a cultural shift in how the business used to be conducted to how now you should take in customer feedbacks and restructure to keep delivering quality services, keeping the customer at the centre, and transforming the go-to-market customer engagement.
Define your Digital Strategy
Before embarking on the Digital Transformation journey, an organization need to have a business transformation strategy and execution plan. Digital transformation projects require a different approach and thinking. Setting your strategy most often becomes the hardest part of moving forward. For this purpose, you will require a strong ecosystem of experts and technology partners to help strategize, execute and reshape your business processes leveraging the emerging technologies.
Choosing the right partner makes all the difference as there are several factors to consider.
Choosing the right partner
Choosing the right partner will be the toughest task for organizations looking for Digital Transformations. This is not your usual IT services, its more depending on the expertise level of the partners implementing projects leveraging exponential technologies such as Intelligent Automation (IA), Robotic Process Automation (RPA), Artificial Intelligence (AI), Advanced Analytics, Machine Learning (ML) and others.
From reducing manual workloads, improving turn-around time for repetitive data management tasks and lowering operational costs, solutions like IA, AI and Analytics are used to streamline business processes and also equipping the management with autonomous decision-making capabilities. These are new and specialized capabilities needing high level of expertise and experience handling real-time projects and transformations for customers in various sectors.
Your potential partnership candidates are those digital leaders, having technology consulting expertise and experience in Digital Transformations. They should have the capabilities to leverage a wide array of emerging technologies and technology-enabled services to act as a catalyst to your business transformation. You need to carefully go through transformation stories, demos and have detailed discussions on the type of projects the company you are vetting will be a good fit – ​especially when the success stories illustrate proven solutions to problems you are seeking to overcome, delivering near-term value.
Going the Next Level, ability to adapt and building innovation solutions
The digital transformation partner you choose needs to properly understand your business goals inside out, the existing processes, and the ideal technologies of digital transformation suited for streamlining business processes.
The partner should help to create a roadmap for your digital transformation, proposing customizable, scalable and flexible solutions that meet your needs. The solution should enable faster Time-to-Market by a robust planning and execution strategy, using necessary technology building blocks to expedite the implementation process.
How 10xDS can help?
As technology experts and leaders, it is the best decision if you have already looking to embark on the journey towards Digital Transformation.  You can streamline all repetitive, high volume labour-intensive processes and reduce the burden on human employees.
At 10xDS we have a strong and multifaceted team of expert professionals with extensive business consulting and technology experience. We have helped several companies realize their most important business goals by harnessing a blend of automation, analytics, AI and the emerging exponential technologies. We can give a comprehensive consulting and advisory support; help you identify opportunities for digital transformation and maximize your ROI.
Want to gain further insights into our services and solutions or if you are looking to jumpstart your Digital Transformation journey, talk to our experts!