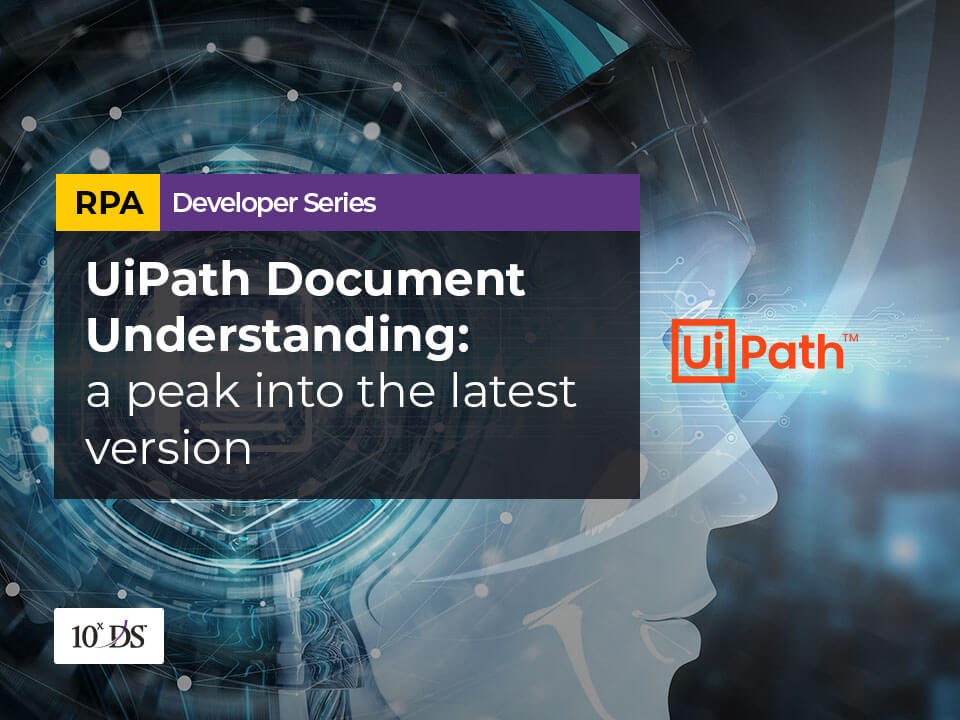 [Developer Series] UiPath Document Understanding: A peek into the latest version
Document Understanding (DU) is getting the documents processed intelligently. UiPath Document Understanding combines RPA and artificial intelligence (AI) to help in end-to-end document processing. The current release of UiPath DU permits data extraction from predefined templates. Anchor (label) based form extractor is expected to feature in the upcoming releases and hence we need to wait and watch how efficient DU is in extracting data from handwritten documents and scanned images. However, with the predefined AI-based invoice extracting models available in DU and provision to build new AI models can be utilized to see if we get desired results on handwritten texts.
Let's discuss through the features of this version of UiPath Document Understanding.
1. Document Understanding Framework
When it comes to developing a solution, the factors that need to be considered are Robustness, Scalability and Timesaving. Document Understanding comes with a pre-built framework which is easier for a developer just to perform drag and drop activities during the solution build benefiting to process high volume document processing.
2. Data Extraction 
Data extraction depends on rules and savvy formats consummately handling records with fixed structure, tables, signature and checkboxes. Pre-prepared AI (ML) models in Document Understanding can process less structured records with insignificant arrangement time.
3. Human Validation
Human validation or Human in the Loop [HLP] Why is it required? Let us think about a scenario where we placed a low-quality document and we expect to process with good result. In that case, BOT may or may not be able to deliver the required result, that is where human validation is needed to verify the data which is pulled by the BOT. This module helps us in reviewing the extraction result and editing the extracted value if it is not right.
4. Retrain Capabilities
Consider a phase where we trained a template in a certain format later the format is changed. Does the developer have to create a new template? That is not required when we have the retrain capabilities in Document Understanding. With the AI Fabric, there are prebuilt models for document template either we can use that, or we can build a custom template by editing the pre-built template to get the best yield, making life easier.
Process Flow from Start to End using Document understanding
Load Taxonomy > Define templates as group, category, and fields to be extracted.
Digitize > OCR Engine acts on the input document to detect and locate the texts.
Classify > Classification of documents happens as there may be multiple template document.
Extract > The necessary defined field values are extracted.
Validate > Human validation is applied in case of lower accuracy on the extracted results.
Export > The extracted results are taken as output in excel format or XML format or other data types.
Conclusion
With this version, UiPath is helping businesses enabling accurate and flexible document processing, increased operational efficiency, mitigated risk of human error, and most importantly end-to-end automation of complex processes. As we move forward, UiPath will be perfecting the DU by applying more intelligence to its platform.
Watch this space for more updates.