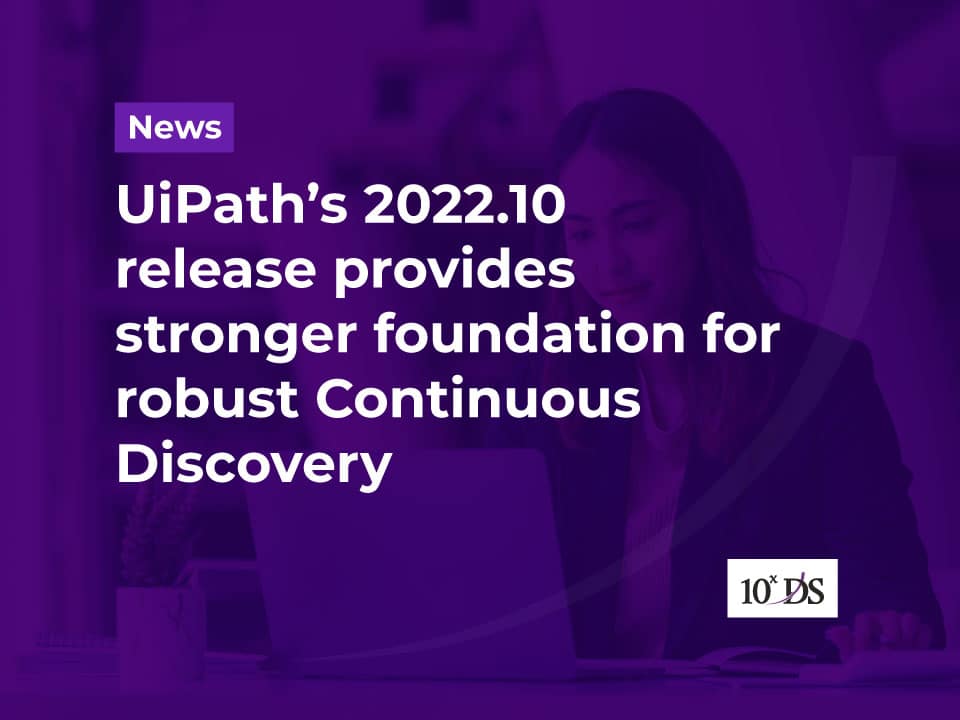 UiPath's 2022.10 release provides stronger foundation for robust Continuous Discovery
New features in the UiPath 2022.10 release lay a solid groundwork for reliable Continuous Discovery. When taken as a whole, these improvements make it less difficult than ever to hone-in on the specific steps that will get businesses closer to your process and business KPIs, as well as to keep an eye on the organization's overall performance to identify areas for growth. 
Applying UiPath Task Mining, you can see how workers complete tasks on their desktops
With the 2022.10 update, UiPath launched Assisted Task Mining within the UiPath Task Mining umbrella. Users can get a complete picture of the way their organisation now operates by using Assisted Activity Mining to record the many possible iterations of a given task and combine them into a single, cohesive task graph.  
It is also easier to mine unfamiliar tasks, referred to as Unassisted Task Mining. Focusing on critical tasks is easier with the aid of smart noise filters. As an added bonus, the upgraded AI Computer Vision model will provide users with more targeted and usable insights. All the Task Mining projects can now be initiated, managed, and stored in one convenient location using the new unified Task Mining Portal. 
UiPath Process Mining with enterprise-level speed, scalability, and safety
UiPath Process Mining is starting over with the 2022.10 release, allowing increased performance, scalability, and safety with an updated design. UiPath Automation Suite and Automation Cloud now join the list of supported delivery platforms for Process Mining. More scalability, stronger security, and an enterprise-level experience are yours to enjoy with this. With the help of incremental ingestion capabilities, Process Mining can now handle ingesting one billion records of data without sacrificing speed or requiring dataset splitting. Users can spend less time compiling data for Process Mining and more time tailoring Process Mining Apps to their company's specific requirements. 
Time-to-value in Process Mining can also be sped up with the use of App Templates. Custom Process Mining Apps can be created from scratch with the help of pre-made app templates. Use a no-code/low-code interface with pre-defined dashboards to generate studies of your processes that are tailored to the results that lead to better processes. 
UiPath Automation Hub provides enhanced visibility and use
There are two new dashboard layouts as part of Automation Hub's Insights Cloud integration. Users can avail them as-is or modify them to address unique concerns with your automation initiative. The ROI and difficulty of a concept can be evaluated with Automation Hub.  
Automation Return on Investment (ROI) Dashboard
The Automation Return on Investment (ROI) Dashboard compares the predicted and actual ROI of business's automation initiative. Using information from Automation Hub and Orchestrator, this dashboard facilitates: 
Discovering automation with the highest return on investment.

 

Finding where expectations have fallen short of reality.

 

Increasing the understanding of each idea

 
Reusable Components Dashboard
Reusable Components Dashboard offers visibility into reusable components data. Examine the extent to which automation program code may be reused, and zero in on the most useful reusable components by calculating the frequency with which they were employed in different automation scenarios. Dig deeper into the data to learn more, pinpoint the problem areas that require your intervention, and take prompt corrective measures. 
Automation Hub and Jira Cloud integration
By connecting Automation Hub with Jira Cloud, the deployment of automations can be sped up. You may now connect an idea from Automation Hub to a preexisting Jira ticket or initiate the construction of a new ticket using the idea's details. Managing your team's workload efficiently and avoiding duplication of effort are two ways to save time. 
About UiPath
UiPath is at the forefront of the "automation first" movement, advocating for "a robot for every human" and paving the way for AI and ML to help robots acquire new capabilities (ML). UiPath's open and free courses provide millions of people with the necessary digital era skills to boost corporate output, staff morale, and customer satisfaction. The company's hyperautomation platform integrates RPA with process mining and analytics to help any firm scale its digital business operations at lightning speed. Since its inception, the company has automated millions of mundane jobs for corporations and government agencies throughout the world, including more than half of the Fortune 500 and eight of the Fortune 10.