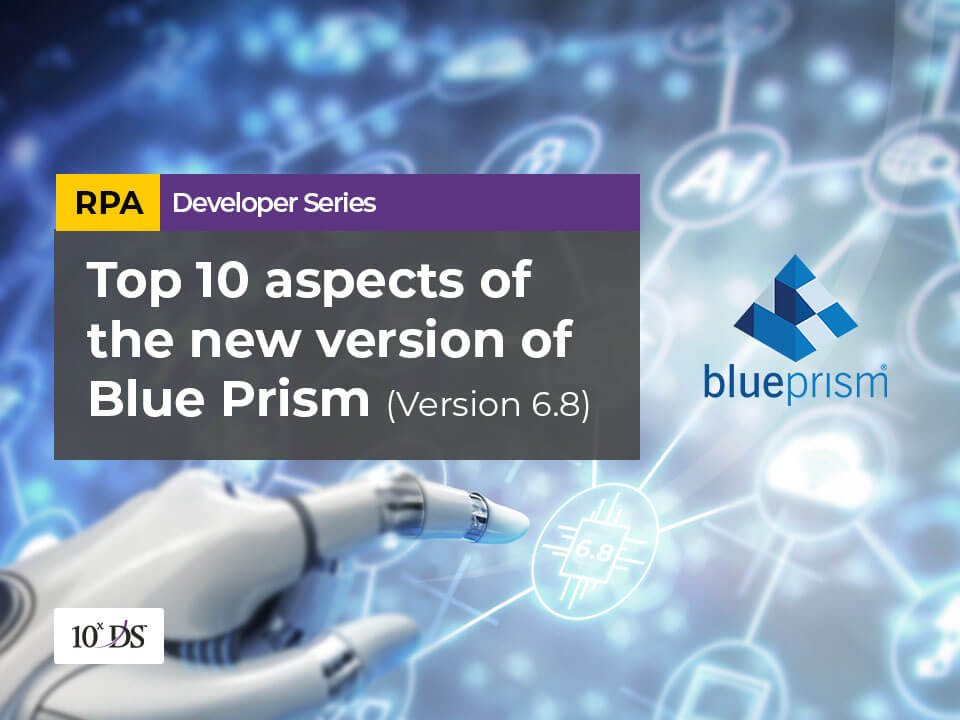 [Developer Series] Top 10 aspects of the new version of Blue Prism (Version 6.8)
Blue Prism is a leading Robotic Process Automation software to provide businesses with an agile virtual workforce. The chromium version (v 6.8) was launched in earlier in 2020 and Blue Prism v6.8 features greater globalization, increased security and ease of use to ensure the fastest route to digital transformation. Our Blue Prism developer has analysed the top features and its use in the development activities.
The top new features are:
Blue Prism has added enhancements to their existing Chrome browser extensions, now with Chromium based versions of Microsoft Edge.
The latest version of Firefox extension has been added.
A few enhancements have been made in Process and Object Studio (Technical Updates that helps in development). These changes include changes in the interactive client that increases accessibility.
Integrated Windows authentication has been added to the new version. This functionality is an added authentication against the Blue Prism Database. This introduces the ability to use Data Gateways in deployments of Blue Prism that use a database which only supports Windows authentication.
A new report called Runtime Resource Summary has been added to System – Reporting. The report contains information about all runtime resources in the current environment such as: logging levels, pool membership, and associated schedules for the resources. This helps in creating analytical documents regarding BOT usage.
All the changes made to the system settings are now audited:

Automatic back up will be created while editing a process or business object.
Compulsory to summarize their changes when saving a process or business object.
Hide the Digital Exchange tab.
Save environment data for clients, runtime resources and servers to the database.
Enable Offline Help (both the setting and the value entered by the user).

Google Sheets VBO has been created that helps automation in Google Sheets.
Blue Prism has introduced the ability to use Data Gateways in deployments that use a database which only supports Windows authentication. The Data Gateways engine has been updated to enable Windows authentication.What are Data Gateways?

Data Gateways provides a simple centralized way to push data of Blue Prism for use in external systems for monitoring and reporting, long-term storage and as input to machine learning models. It has provided the ability to store data outside the Blue Prism database, that organizations can use to support flexible data storage requirements. For instance, if an organization want to save their session data outside the Blue Prism database, this can be done using Data gateways now. Settings are applied to determine what data will be processed by the Data Gateways engine, and a configuration defines the outputs to which data will be pushed. Data from session logs, published dashboards, process stages, and work queue analysis can be sent to a variety of external outputs – HTTP endpoints, external databases, third-party analysis tools, and flat files – providing flexibility and control over data analytics and storage.Blue Prism collects the data to be sent to Data Gateways according to the configured Data Gateways settings. The data is stored centrally in a Blue Prism database. The Data Gateways engine then processes that data based on the configured rules and sends the data onwards to the configured outputs. Using the Data Gateways VBO, we can send inputs to the Data Gateway engine as required.

Intelligent Automation Skills: An Intelligent Automation Skill maybe a pre-configured connection to an external service. This has been branded and packaged for use in Blue Prism automation. These packages usually contain a web API definition. These can also include several objects, processes, and credentials, that support the use of the API definition.Skills Packages can be categorized as:

Knowledge and Insight

Sentiment Analysis
Insightful Reporting
Actionable Metrics
Emotional Artificial Intelligence

Planning and Sequencing

Artificial Intelligence
Machine Learning
Pattern Recognition

Visual Perception

Computer Vision
Image Perception
Meaning and Context
Optical Character Recognition

Problem Solving

Predictions
Probability Decision Making
Unstructured Data
Complex Rules Engines

Collaboration

Staff-to-Robot
Staff-to-Staff
Robot-to-Robot
Robot-to-Customer
Virtual Agent
Smart Forms

Learning

Process Steps
GDPR Compliance
Optimize Processing Speeds
Project Management

Tesseract OCR engine has been upgraded.
Watch this space for more insights and perspectives from our expert RPA team.