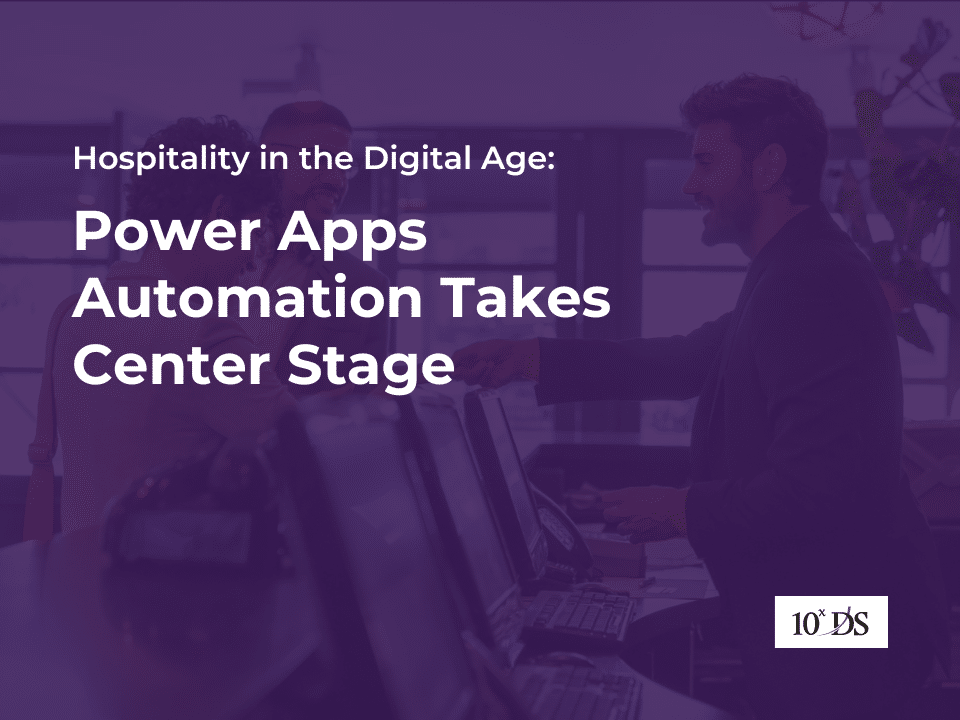 Hospitality in the Digital Age: Power Apps Automation Takes Center Stage
Technology has transformed the hospitality industry into a highly dynamic and customer-centric field. It serves as a powerful enabler that has revolutionized the way hotels, restaurants, and other businesses in the sector operate and serve their guests. From streamlining reservations and check-ins to enhancing guest experiences through personalized services, technology has become an integral part of the industry. It enables businesses to efficiently manage operations, optimizes revenue, and engage with guests in innovative ways, ultimately shaping the future of hospitality by making it more convenient, efficient, and memorable for travellers and patrons alike. Multiple ERPs and workflow management systems are used.
Property Management System (PMS) is commonly used in the hospitality industry for front-office operations such as reservations, check-ins, check-outs, room assignment, and billing. It helps streamline guest services, enhances the guest experience by enabling faster check-ins and check-outs, and provides data for decision-making. Reservation System like Amadeus Central Reservation System (CRS) is essential for managing room bookings and distribution across various channels. It helps optimize occupancy rates and revenue by efficiently managing room inventory. Point of Sale (POS) Systems like MICROS (now part of Oracle) are used for food and beverage operations in hotels and restaurants. They facilitate order processing, inventory management, and billing for dining services. Loyalty Program Management system like Salesforce Loyalty Management helps hotels manage loyalty programs efficiently. It aids in tracking member activities, calculating rewards, and engaging customers. Inventory Management Solutions like Oracle Inventory Cloud assist in managing inventory for various hotel departments, such as housekeeping and kitchen. They optimize stock levels, reduce wastage, and streamline purchasing processes.
Even with these tools at disposal, many tasks remain manual. Limitations with these systems mainly are complexities in managing customization and the need for frequent updates to stay competitive. Integration with other systems, and adaptability to specific needs, limits them, making processes inefficient. However, by using Microsoft Power Platform comprehensively, companies can create a cohesive and streamlined workflow ecosystem that enhances existing ERPs. The Power Platform serves as the bridge that connects and automates these critical hospitality processes while maintaining data accuracy and real-time synchronization. Let us have a look.
Guest Interaction
When a guest makes a reservation or checks in, the Power App triggers a workflow that updates the PMS, Reservation System, and Loyalty Program database simultaneously.
Housekeeping Assignments
Housekeepers receive real-time updates on room status and cleaning assignments, with the Power App integrated into the PMS.
Loyalty Program Automation
When guests engage in qualifying activities, such as stays or dining, the Power Platform updates their loyalty points in the central database, which is integrated with the PMS and POS.
Inventory Management
Staff can monitor inventory levels, place restocking requests, and receive notifications when items are low.
Billing
Front desk staff can generate bills, add charges for room service and dining, and process payments using the integrated Power App.
Data Synchronization
Ensure that data is synchronized across the Power Platform, including reservations, inventory updates, housekeeping status, loyalty program points, and billing. The Power Platform serves as the central hub that communicates with the PMS, Reservation Systems, and POS in real-time.
Monitoring and Reporting
Generate reports on reservations, housekeeping tasks, loyalty program engagement, inventory levels, and billing, consolidating data from various sources and then implement monitoring and reporting dashboards within the Power Platform to provide real-time insights into all processes.
Automation using RPA
RPA can be a valuable tool for automating various processes to improve efficiency, reduce manual tasks, and enhance guest experiences. Power Automate's flexibility allows you to create custom workflows tailored to your specific hospitality business needs, helping you streamline operations, improve guest satisfaction, and optimize resource utilization. Here are some processes that can be automated using Power Automate:
When a guest checks out, trigger a workflow to assign the room for cleaning by housekeeping.
Update room availability in real-time when the room is cleaned and ready for the next guest.
Automate purchase orders or restocking requests to suppliers when inventory reaches a specified threshold.
Automate the scheduling of staff shifts based on occupancy forecasts.
Monitor social media channels and online review platforms for mentions of the hotel trigger responses or actions accordingly.
Monitor energy usage and set up alerts for anomalies or excessive consumption.
In conclusion, automation using Power Apps represents a transformative opportunity for businesses across various industries, including hospitality. By harnessing the power of this platform, organizations can streamline processes, enhance operational efficiency, and deliver exceptional experiences to their customers. Power Apps empowers businesses to create custom applications that fit their unique needs, facilitating better data management, automation of routine tasks, and improved decision-making. Whether it's in reservations, housekeeping, guest engagement, or other critical functions, Power Apps stands as a versatile solution that empowers businesses to adapt, innovate, and thrive in an increasingly digital and competitive landscape. As industries continue to evolve, the role of Power Apps in automation becomes even more pivotal, driving growth and excellence in service delivery.
Talk to our experts to know more.