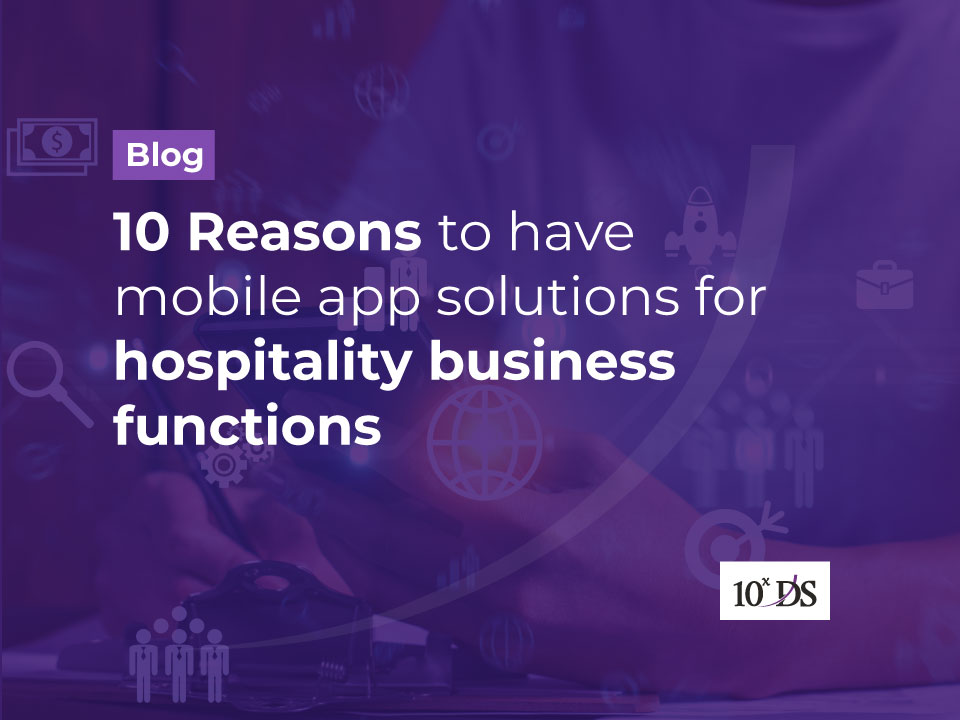 10 Reasons to have mobile app solutions for hospitality business functions
As you may be aware, the tourism and hospitality industry is rapidly expanding. In such a competitive sector, the ability to get the message out quickly and efficiently is important. Smartphones have become an inseparable part of our lives, accompanying us on vacations, work excursions, and even transformational trips of self-discovery. Therefore, apps within these devices serve as the ideal conduit for introducing your sector's offerings to consumers who have an interest in doing business with you.
But how significant is the effect of mobile solutions on the hotel business? What are some ways that hotels and resorts are enhancing their mobile platforms for purposes such as brand awareness, guest loyalty, marketing, advertising, cross-selling, and so on?  More and more hotel businesses are realising the benefits of app integration. What the hospitality industry can learn from the latest developments in mobile technology? So, let's find out together how mobile apps can help companies become more visible in the hospitality sector.
1. Get to Know Your Customers' Top Concerns
If you want to make it in the hospitality business, you need to be flexible and responsive to your customers' needs at all times. You can't possibly cater to the preferences of every possible customer if you try to personally address each one. However, adding even a single custom app to your hospitality brand may make this a reality.
You may learn a lot about your customers' preferences by monitoring their activity within a mobile app. With this information, your industry could better connect with its customers by catering to their individual tastes in terms of where and how they like to travel.
Customers have high expectations for receiving relevant, personalised information upon downloading a product (mobile app). You can easily provide what's needed by tracking user activity within the app and delivering content that's relevant to their past searches for trips.
Some further gains:
Present a detailed list of services and their associated costs.
Put up the latest deals that your customers can actually use.
Identify the available free and paid options for each service.
Include pictures, if possible, to back up any service claims.
Improvements to how users can organise and sort through the app's suggested content.
Faster reviews and comments can be obtained by creating dedicated portals within the app.
Your apps' review and feedback systems can be mined for insights into which parts of your service require improvement, allowing you to reallocate resources more effectively.
Previous clients' assurance in your services' quality is projected through reviews left by them.
2. Easy Reservations
Today, ease and comfort top everyone's list when weighing the pros and cons of a potential action. Both domestic and foreign vacationers would rather plan their activities, such as staying in a hotel or a private residence, taking public transit, and eating at a restaurant, in a stress-free manner.
Therefore, the more these services can be provided by your hospitality brand with no effort on the part of the customer, the more business you may expect to generate. It's basic mathematics, really.
Travel itineraries may be selected and booked with relative ease thanks to the prevalence of mobile apps. In the hospitality industry, having an app that showcases your brand's offerings is essential. Customers are more likely to actively seek out your business after using an app that provides them with this kind of data.
Once a traveler has installed your app, they'll have instantaneous access to your hotel's details and, if they so want, can make a reservation with a few taps of their thumb. In addition to providing your guest with a pleasant experience, this will save you and them a lot of time and energy.
Extra advantages include:
Allowing customers to make immediate reservations on your website
Define termination procedures and deadlines in accordance with standard practise in your industry.
Customers' booking and payment information is safely stored for use in future transactions.
Find out how many people you may anticipate to see today.
3. Keeping better tabs on visitor information
In addition to helping you connect with guests, mobile apps can help you learn what they value most about their experience at your hotel, restaurant, etc. With this knowledge, you'll be able to intervene in their future app usage with offers tailored to their previous experiences in the hotel industry.
Creating a specialised app for your sector comes with additional capabilities that make communicating with customers easier, such as the ability to send push notifications and display pop-up messages.
Insights into customer preferences gleaned from these metrics could help you determine which of your products and services are most popular. This information can be used to ensure the continued high quality of your most popular offerings and to enhance those that are less popular.
Additionally, you may anticipate your company's busiest customer service periods and appropriately staff your operations to minimise disruptions. As a result, your hospitality business may save time and effort while still providing superb service.
4. Boost your attention to your clients
Your hotel app will be helpful to guests not only before and after they check-in. Furthermore, users can utilise the app to place orders for services, make purchases, choose upgrades, schedule appointments, and so on, all while you are promptly notified. On the flip side, you may immediately inform them of specials and discounts. This way, all requests may be centralised and automated, simplifying the process for the end user.
Your app can connect with numerous existing means of communication, including social media. It is an efficient way to inform guests about your establishment even if they don't follow you on social media, aren't joined to your mailing list, etc.
If a guest has downloaded your app, they will be reminded of it every time they use their phone, making it more likely that they will consider it when it comes time to book a hotel.
5. Provide Approved Information
What a pain it would be if guests started calling the front desk to ask basic but important inquiries like, "Are any of the rooms at your hotel suitable for pets?" Do you have any vegetarian dishes on the menu? among other queries.
Good app designers, developers or agencies may create a custom app for your business that details the services offered by your company in addition to the terms and conditions that apply to them. These kinds of apps are made to provide your consumers with all the information they need in a timely manner and to answer any questions they may have.
Information related to your hospitality brand would be easier to find, and it would have more weight coming from a reputable source.
Additional advantages of mobile app-based information improvement include:
Ensure all app users have instantaneous access to any updates concerning service alterations.
Automate the process of informing users of updates to the app.
Customers should be notified through push notification 15 minutes before their scheduled check-in and check-out times.
Send out a holiday-themed promotional email to your clientele.
In addition to protecting your business from having to deal with uninformed customers, apps can assist stop the spread of false information about your hospitality services. You will have complete say over any and all public business communications, which will boost confidence in your company's brand.
6. Reduce Communication Gaps
What would you do if the majority of the daily calls you received were from overseas tourists who did not speak languages you knew? This is a variant of the scenario where you answer millions of calls from customers requesting service clarification. Do you welcome the possibility of losing consumers due to simple misunderstandings?
In the hotel business, each and every client is invaluable. When you lose a customer, you are giving them to a rival business voluntarily.
A solution to this problem is to implement mobile apps to help your company. If your company's mobile app supports multiple languages, customers may effortlessly switch between them to find the one that best suits their needs.
Having your products and services translated into languages other than English would open up a whole new market for you. Tourists from all over the world would praise your software for its accessibility and the way it promotes tolerance and understanding across different cultures.
7. Improved Marketing Possibilities
Marketing your services can be done on a more personal level through the use of mobile apps. By doing so, you can divert your clients' attention away from ads for similar hospitality services offered by your rivals and towards the services you offer instead.
In addition, your app can take advantage of a wide range of marketing techniques to help spread the word about any freshly launched services within your company. For instance, the most recent sales can be advertised via video commercials and poster-like visuals.
Services that are in lower demand can use app promotion to draw customers by offering temporary price reductions. This would be useful for promoting the service and preventing losses due to low usage.
8. Helping with Customer Queries using Chatbots
One possible downside of developing a comprehensive mobile app for your hospitality business is that it may make your customers feel less special. Because the success of your business depends on your ability to keep in touch with your consumers, a chatbot is a great way to give your hotel's mobile app a more human feel. Customers would feel less alone in the service request and fulfillment processes if you did this. As a result of chatbots, clients will no longer worry that they won't be able to get help in the event of mistakes.
Incorporating chatbots into your mobile app provides users with automated, step-by-step guidance when they need it.
Additionally, chatbots included into apps can compile a glossary of frequently asked-about topics. You can programme in predetermined replies using this index, streamlining the flow of data and support. As a result, you'll have an easier time communicating with a large group of individuals that have similar worries.
9. Build a Faithful Group of Supporters
Everyone appreciates feeling like they belong somewhere. This sentiment would be unrivaled if the neighborhood is a positive experience overall.
Building a relationship with repeat consumers who are interested in the hospitality services your brand offers is essential. Long-term success can only be achieved if your consumer also reaps certain benefits from being a part of your group.
With the help of a mobile app, you can easily manage your customer loyalty programme and the prizes you offer to your repeat customers. A sense of reciprocity between you and your clients can be fostered by rewarding them for using your app to make reservations. This will also encourage them to continue supporting the brand.
The perks of your customer loyalty programme may include:
Every time you buy a service, you'll get reward points.
Pricing reductions for future reservations made by the customer
More perks for free in exchange for higher levels of brand loyalty, etc.
You can turn your loyal customers into advocates for your brand by using an app-based loyalty programme to incentivize them to spread the word about your business and encourage their personal networks to try out your products and services. In the hospitality business, this is a huge boon to your brand's exposure.
An increase in brand loyalty is a direct result of providing a better user experience. In doing so, you'd pave the way to a steady stream of income.
10. Get ahead of your competitors
Due to a lack of awareness, even today only a small percentage of hospitality brands have developed mobile apps. Right now, if you took the initiative to create a mobile app for your brand, you'd have a leg up on the competition. A mobile app can increase your brand's exposure and provide users with a more satisfying interaction with your business.
Companies have a great opportunity to get to the forefront of innovative advertising practises in the hotel sector if you were to implement such tools early on.
Having a branded mobile app shows that your business is committed to providing the highest quality of service possible.
This would also reduce the requirement for additional staff members to handle things like taking reservations and answering inquiries from customers. Human errors due to distraction, inaccuracy, or misunderstanding will be reduced as a side effect of this service to your customers. All of this can be handled independently by mobile apps with minimal oversight on your part.
Conclusion
Mobile app adoption has more benefits than drawbacks for expanding a company's presence in the hospitality sector. Spending money on creating a branded mobile app means always having an open line of communication with your customers. The creation of such apps is motivated by a desire to facilitate more communication and participation. Thus, keep in mind that a mobile app's performance only improves with competent development.
If you own a firm in the hotel and hospitality industry, you probably have some new ideas for improving productivity and strengthening connections with customers. So, what are you waiting for? Develop your mobile strategy and get started today. Talk to our WAM experts to know more.