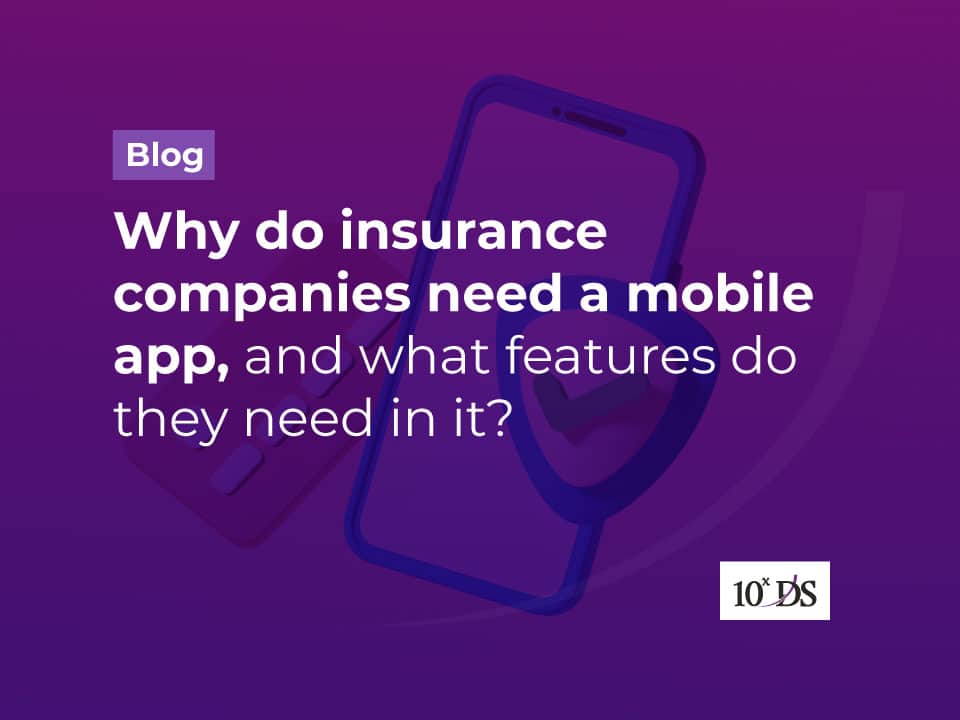 Why do insurance companies need a mobile app, and what features do they need in it?
Users expect an improved digital experience with efficient, user-friendly insurance mobile apps across the entire customer value chain due to the proliferation of insurtechs and similar trends in other consumer-facing industries. Ecosystem services are having an effect on customer loyalty, as stated in the Customer Behavior and Loyalty in Insurance report by Bain & Company. At its most basic, an ecosystem is a group of products and services from different companies that work together to help users meet multiple needs in a single way.
An insurance mobile app is a potent asset in the consumer ecosystem-building process. Considering that 40% of insurance-related time is already spent on mobile devices and that 45–62% of insurance users seek to purchase new insurance via a messenger app, it's no surprise that mobile applications are highly anticipated by many of them.
The time has come where the massive amounts of data available need to be put to good use.
It is challenging for insurers to determine the value of the data they have access to now because it comes from so many different places. This deluge of data can be overwhelming, but with the right analytics tools, businesses can turn it into valuable intelligence. The huge quantity of data is exploitable by the insurance management app.
A problem-free transaction is important to customer
Customers often feel exhausted by the time it takes to shop for and purchase insurance. Furthermore, they are looking for more pleasurable activities. Since insurance claims are typically filed during people's most trying times, it's crucial that their interactions with their insurance providers be as easy and stress-free as possible.
Effectiveness and quickness are crucial in business
There is still a lot of manual labour and paperwork involved. Increasing the speed at which underwriting and claims are processed without sacrificing accuracy or efficiency
To that end, insurance-related software is no longer a fad. Mobile applications for insurance do much more than simply connect providers and customers; they also aid businesses in enhancing a wide range of processes, which in turn allows them to provide even better service.
Many established insurance companies have been developing niche products in response to shifts in the ways they operate, but they lag behind newer companies when it comes to making those products available to customers via mobile devices.
Exactly what are the advantages of mobile apps for insurance companies?
1. Adapting to market needs
Customers in the modern era are grateful for the ability to use their mobile devices for insurance-related tasks like conducting research, shopping for the best possible package, and managing accounts. Digital insurance platforms are the best way to meet these needs because they make interactions with customers much more meaningful, and consumer demand is expected to keep going up.
2. Developing a Strategic Advantage
To gain an edge over the competition, all it takes is a mobile app and some appealing services. Consider the business of health insurance as an illustration. Health insurance providers can make their services more appealing to customers in the long run by developing a user-friendly insurance app that provides various useful features like e-prescriptions, treatment histories, and appointment scheduling.
Insurance agent recruitment efforts can be streamlined through the use of mobile apps, which do more than just improve communication between businesses and their customers. Lastly, mobile insurance solutions let insurance companies advertise their mobile insurance platform in other apps, which increases the number of people who might be interested in their services.
3. Boosting customer interactions and devotion
One of the most pressing problems in the insurance industry today is increasing the frequency with which they interact with their policyholders. Insurance customers have 2.7 interactions with their insurers per year, most often to discuss policy renewals and damage reports.
An interesting and easy-to-use insurance app is crucial for establishing rapport with customers in these situations. If the app meets the users' expectations in these "moments of truth," then it stands to reason that they will be more likely to explore its other features. A well-designed mobile app can keep users engaged for longer and encourage them to try new things.
4. Analyzing customer data
Using mobile analytics, the insurance industry can conduct previously impossible levels of research. Apps make it simple for businesses to learn more about each customer.
Identity Data: Identifying information includes personal details like full name, DOB, physical and electronic addresses, telephone numbers, and links to online profiles on sites like LinkedIn and Facebook.
Quantitative Data: Information that can be measured numerically, such as a person's credit score, payment history, bank account numbers, etc.
Descriptive Data: Users may share descriptive information such as their occupation, marital status, age, and education level.
Qualitative data: Subjective and behavioural information, such as favourite colours and pastimes, are examples of qualitative data.
Companies in the insurance industry can learn more about their customers' habits and perspectives with this level of detail. Insurers can then provide better digital customer service and more relevant, personalised offers as a result.
Numerous mobile insurance app categories
It's important to consider the specific market your insurance agency serves when designing a mobile app. Here are some examples of common types of insurtech-related mobile apps:
Health coverage
Vehicle coverage
Life Insurance
Travel Insurance
The specific types of insurance companies heavily influence the feature requirements for apps. However, regardless of the niche your company fills in the insurance market, there are core features that can be observed across the board. Okay, let's take a look at those.
The primary features or controls for better customer experience
1. Details of the Policy
The policies, etiquette, and scope of an insurer's benefits are detailed here. If the insurance company offers a variety of plans, this is where interested parties can begin their policy search based on specific criteria. Clients will also appreciate recommendations that are unique to their individual circumstances, such as their income, health, location, etc.
2. Getting Quotes
The app can retrieve user information from its database and then provide a quote for a policy or put users in touch with an insurance agent. Insurance companies that make use of big data can target customers with discounts and perks based on how often they shop for new coverage.
3. Make a claim
To this day, the most crucial part of making an insurance mobile app is coding in a claims-submission button. The days of playing phone tag when filing a claim are over. Claiming compensation after an accident must be quick and easy. It should be as simple as taking a picture to upload evidence, whether using the app's scanner or the phone's camera. The entire process, as suggested, should fit on one page.
4. Payment Gateway Integration
There is no denying the significance of a reliable payment gateway in the creation of any financial application. Mainstream payment systems like MasterCard, Visa, American Express, and others must be supported by the in-app purchase system. Payments can be made with a single click or through automated billing for EMIs.
5. Improved customer service
Quick solutions to common issues can be found in the form of automated responses leveraging chatbots. However, what should be done in unanticipated circumstances? If a customer calls in to report that their car has broken down and they have nowhere to go, you can't expect them to rely on automated responses. Consequently, it is strongly suggested that you either request a callback or connect with a customer service representative. In-app calling features like these help the app serve its intended function as a rapid response system in the event of an emergency.
6. Warnings, Alerts, and Notifications
Many insurance companies will seize the chance to expand into untapped markets. You need a justification for freebies, and your customers need a reason to buy. As a result, it's important to regularly notify customers via push notifications of their outstanding balance, special offers, and new policies that may be more suitable for their needs.
7. File Sharing and Storage
What if the insurance app development didn't incorporate a way for the user to upload a photo of their documents? The mobile app needs to be able to import documents from external services like emails as well as from local file directories.
Aside from the standard fare of insurtech apps, the following are some additional B2C-level features that can be found within the app that are relevant to specific domain
What is the cost of creating a mobile app for the insurance industry?
When it comes to creating apps for mobile devices, there is no universal formula. In reality, it's highly context-dependent and thus varies considerably. What you pay for an app developer is typically proportional to their level of experience and expertise. Pay increases in proportion to one's level of experience. Expertise, or a developer's command of a particular set of technical skills, is also a major factor in establishing compensation. Developer rates might be a little different depending on whether iOS, Android, or both will be used to make the app. Technologies for building mobile apps vary greatly in price, so it's important to carefully plan your budget before starting to build an insurance app. Web apps, native apps, hybrid apps, cross-platform apps, and component-focused JavaScript frameworks are just some of the options available.
How can 10xDS help?
At 10xDS, we provide insurance firms with guidance in identifying and implementing effective strategies for enhancing operational efficiency. Our mission is to supply our clients with the tools they require to accomplish their goals, whether that be the automation of repetitive data entry duties or the identification of a solid answer to their customers' concerns. We also assist insurance companies in implementing mobile applications and chatbots, among others, to handle client complaints and questions, which can lead to valuable market research and the opportunity to improve existing products. Also, 10xDS gives insurance companies the best possible help as they try to implement cutting-edge technologies that meet industry standards for regulatory compliance.
Get set to launch your insurance app! Talk to our experts now to begin your digital transformation immediately.