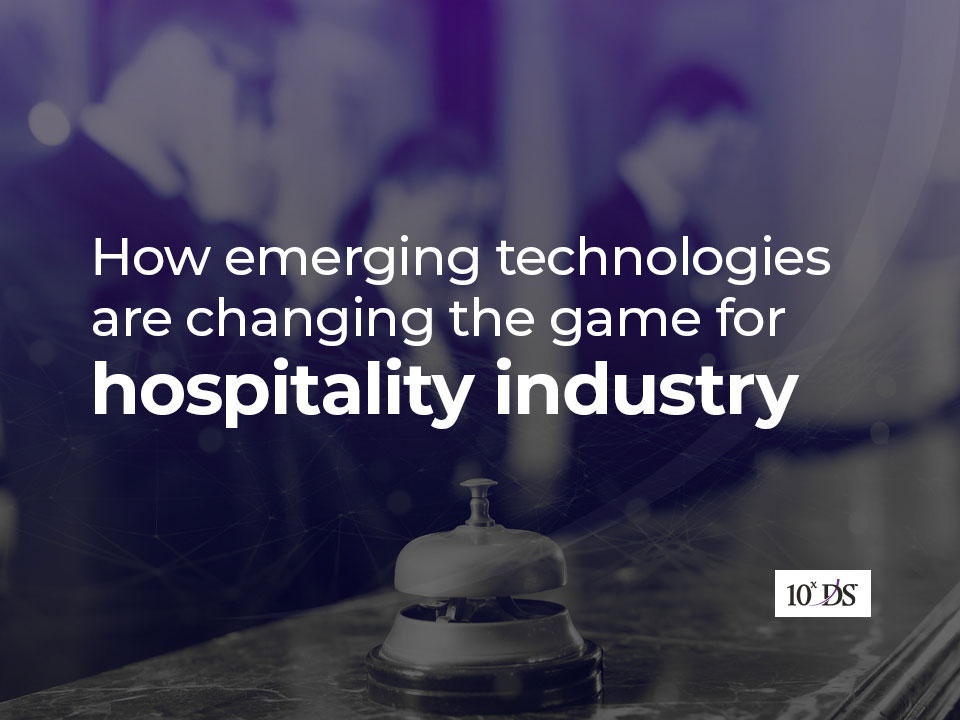 How emerging technologies are changing the game for hospitality industry
Over the years people have become more willing to explore new places, visit different countries, giving a boost to the Travel, Tourism and Hospitality industry. With the advancement in technology and the emerging digital trends, hospitality services have become more accessible to customers across the globe. There has been a paradigm shift in how the industry works, with the significant disruption in recent years due to emerging business models. For instance, Airbnb has an innovative business model comprising of a platform for individuals to rent out their primary residences as lodgings for travellers. The model in itself is unique yet simple, creating a multi-sided marketplace that connects travellers with host and experience providers.
With the emergence of smartphones and the availability of high-speed yet cheap mobile data, things have become far more convenient for travellers, bringing in more pace in travel consumption. Moreover, the rise in travel trends has created a demand for enhanced convenience in accessing sophisticated arrangements at travel destinations.
Digital Transformation in Hospitality and Tourism
There has been a significant change in the market dynamics and the companies in the travel, tourism and hospitality sector are shifting their focus towards digital customer engagement approaches. Today, delivering value to the customers means ensuring high-end customer engagement by offering innovative services with the easy access of high-speed uninterrupted connectivity. This requires companies to adopt and drive digital transformation by leveraging advanced technologies such as Robotic Process Automation (RPA), Artificial Intelligence (AI), Advanced Analytics, among others to derive the best outcomes in terms of customer satisfaction.
Real World Use Cases in Hospitality and Tourism Industry
Many companies have started transforming the roadmap for the travel and hospitality industry addressing the challenges and adopting the emerging technologies to redefine the customer experience.
Here are some of the real-world use cases in the hospitality and tourism industry.
1. Booking
Booking bots, leveraging AI-powered booking tools, help boost conversion rates and turn online travel portals into highly profitable sales channel by automating reservations processing and handling promotional offers based on individual customer preferences. Booking bots increases the efficiency of promotions because they reach precisely their targeted audience. Automating the bookings can help streamline the process, significantly reducing the waiting time and improving customer satisfaction levels.
2. Compliance Reporting & Auditing
Employing RPA bots, companies can significantly reduce the regular manual effort needed for scanning data from multiple sources to examine the accuracy of the financial accounts. Automating the process enhances the accuracy of reporting, also ensuring necessary compliance based on the regulatory changes. Since the process requires minimal human intervention and supervision, RPA can help improve the overall operational efficiency.
3. Invoice and Claims Processing
Managing a huge volume of invoices, claims, bills, and customer complaints manually each month can be tedious and time consuming for hotels. This process is entirely rule-based and repetitive involving tasks done by humans such as copy-pasting data, verifying proofs, or moving files from one location to another. By deploying AI and RPA solutions, hotels can speed up the process and make it more efficient, reducing waiting time and delivering a better customer experience.
4. Competitor Pricing Analysis
Hotels have to always analyse the changing market trends. They have to carefully examine how much their competitors are charging their customers and how they are promoting their services. The process can be time-consuming if the employees have to manually run through the data to do the analysis. With the help of RPA and AI, bots can easily keep an eye on the market trends, delivering faster and much accurate performance. This can give hotels a competitive edge in the industry and drive greater ROI.
Conclusion
The hospitality, travel and tourism industry are highly competitive and with the market dynamics shifting towards digitization of key processes and enhanced engagement, things are getting tougher. Industry leaders and companies focusing on delivering high standards of customer service, building brand awareness, leveraging emerging technologies to streamline key processes can get ahead of the curve and thrive in this ever-changing landscape.
10xDS team has the experience and expertise to provide you with the right answers to address the challenges in the travel and hospitality industry. Talk to our experts to ensure the right technology deployment for your business and take your brand to new heights.