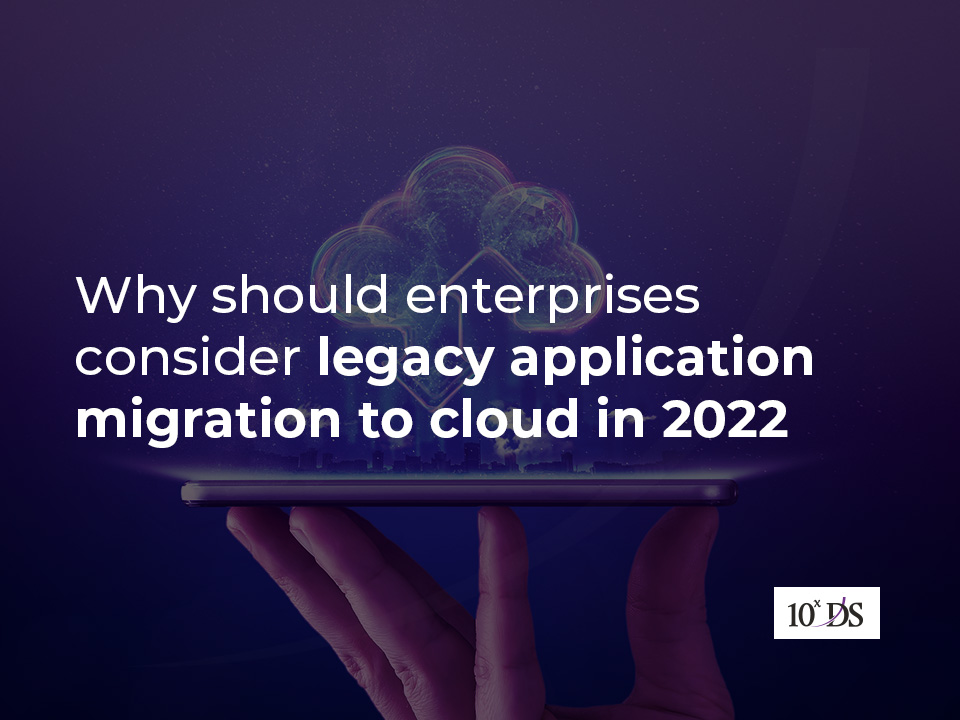 Why should enterprises consider legacy application migration to cloud in 2022
As the entire digital landscape is evolving, the world is witnessing a mass shift towards cloud-based IT environments. Many businesses have started realizing the fact that outdated legacy applications can contribute to an overall loss in productivity, inefficiency in operations and reduced business value. The longer an enterprise continues using legacy systems, the harder it is for companies to manage things, also find trained staff who can work with it seamlessly. Several companies are looking to cloud to upgrade their legacy applications and leverage the enhanced flexibility, cost savings and productivity. According to Gartner, Twenty-eight percent of spending within key enterprise IT markets will see a significant shift to cloud by 2022, considering the increasing trend of cloud adoption by enterprises.
Why should enterprises adopt the cloud?
For many companies, moving away from legacy applications can strike fear into the hearts of owners and leadership. This is mainly because some believe that the transition can be tedious and time-consuming at times. However, the benefits far outweigh the drawbacks because of the increased security, speed, boosted agility, enhanced resilience and performance, simplified updates, high availability even at increased loads, and reduced development and operational cost, among others. Even the migration can be hassle-free if you are using any good quality ready-to-go cloud services, in a pay-as-you-go cost structure.
There are several ways to bring your enterprise's applications into the cloud, let's have a look:
1. Application re-hosting, or Lift and Shift
Application re-hosting means just lifting the legacy application as-is and shifting it to the cloud. This can be an intermediate step, which involves an easy and quick migration method. However, as far as utilizing the inherent cloud-driven benefits are concerned, you may not get much out of it or it's very limited. This is usually only recommended when enterprises are looking for anywhere access to the application. This can also help optimize the usage of hardware resources to an extent and enable DevOps for software maintenance and its further evolution. Its usually used for large antiquated applications to deliver infrastructure savings and be able to access from everywhere.
2. Application re-platforming
This is another method of migration to the cloud where the shift of a legacy application happens with some optimizations done in the application architecture, but there are significant changes done to the software. This can be an intermediate step to refactoring. This method can come in handy for leveraging some of the cloud services. For instance, if your enterprise is looking to switch from an on-premises database to AWS RDS or Azure SQL Server. This can ease the administration challenge and simplify scalability. To sum up, this is a low-cost option, delivering infrastructure and elasticity benefits, but even this method does not provide a full range of cloud benefits to companies.
3. Application re-factoring/re-architecting
This option, as the name suggests involves significant changes to be made to the legacy application, transforming the legacy architecture into independent, self-contained microservices. This is a more complete migration scenario where several cloud services can be utilized to drive easier development, operations, and innovations. The cloud capabilities such as scalability, availability, portability, and resilience can be leveraged to its fullest, including aspects such as self-recovery and dynamic loading. This method is ideally suited for developing any critical custom application. The greatest benefit of this method is the ability to utilize the new features of cloud-native applications, but overall, this option can be expensive.
Choosing the right cloud adoption method
Many companies find it difficult to understand which cloud adoption method best suits their need. It is always better to minimize risks and ensure a successful cloud migration process. First and foremost, companies that look for cloud migration should set their objectives right and create a business case analysing the benefits of cloud transformation against the potential risk in terms of complexity, cost and other factors. The first step in the process involves identifying the desired improvements. Then they should undergo a thorough analysis of the technology, architecture, data, and infrastructure. Thirdly, companies should consider the security aspects, whether the cloud migration gives greater security compared to the existing legacy systems. Fourthly, the companies should calculate the migration ROI, to understand whether it is worth migrating. Then, fifthly, companies should create a comprehensive report on the migration feasibility and finally the choice of the right strategic approach to migration that provides the best chance to have a successful migration.
Migration option bringing least possible disruption to business processes
Legacy systems though they are age-old monoliths, can be critical for your business processes and operations. So, the migration should not have significant downtime or ideal case no downtime. The best way to achieve this is to plan and structure the migration process so that there is no disruption to the business. Automated tests enable checking the changes promptly and more thoroughly.
Choosing the best-suited cloud provider
For migrating to public cloud, you have some very good options available. Microsoft Azure and Amazon Web Services (AWS) are two of the most popular and highly useful and robust cloud providers in the market. Both Microsoft and Amazon have been significantly improving and optimizing their cloud platforms over the years, with their advanced cloud services offerings. The cloud providers differ in their pricing models, range of services, partner ecosystem and also the cloud technology architectures. Even though there are other popular public cloud providers like Google Cloud Platform, Digital Ocean, among others, which provide services at affordable rates, companies should check whether their offerings fully satisfy their needs.
Conclusion
Migration of legacy applications to cloud can be complex, requiring a better understanding, expertise, and experience to drive such transformations. It is also crucial to choose the right cloud adoption method to enable a smooth and successful transition to cloud. If the in-house development is not experienced in handling these projects, it is always best to look for service providers who can best handle the legacy upgrade.
Talk to our experts to support you at any stage of the cloud adoption journey! We are here to simplify and enable a smooth transition of your legacy applications to cloud.