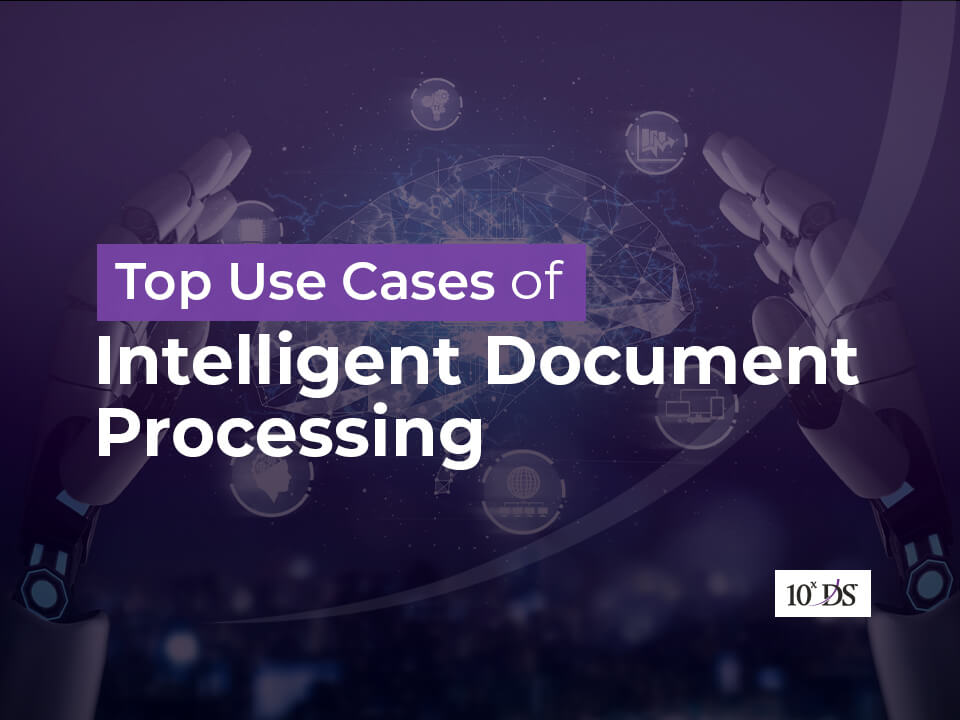 Top Use Cases of Intelligent Document Processing
The article covers,
The major challenges in processing unstructured documents.
Sector-wise use cases of Intelligent Document Processing.
---
While enterprises are moving towards digital by automating more and more processes, the documents that come in unstructured forms and scanned images are posing greater challenges. 80% of data within an enterprise is said to be unstructured and is growing further. The major challenges were:
Understanding the context or purpose of a variety of documents
Extracting only the required unstructured data from the document
Combining the context and the extracted information
Routing the now-structured data down the process map in the right sequence
Tracking this challenge is a priority as well as an opportunity. With the emergence of artificial intelligence (AI), Optical Character Recognition (OCR) and Intelligent Character Recognition (ICR), businesses can tame the unstructured, scanned and even handwritten texts. Determining the context based on dynamic criteria and using AI, OCR based tools for data extraction is now possible. By using automation, enterprises can integrate business decision engines and intelligent OCR engines along with disciplining the variations and exceptions by involving a human user.
You may refer our blog from Insights library to understand more on how Intelligent Document Processing works.
In this blog, we will discuss more on the sector-wise applications of Intelligent Document Processing. For many industries, the idea of a paperless office is far from reality and Industries such as Banking, Insurance, Healthcare and Government are all riddled with paper documents.
1. Banking and Financial Services
Even though cryptocurrencies are making way for traditional transactions, cash is very much prevalent in the economy and hence cheques are also much in use. Verification of signature in a cheque is a manual task where officers need to access the KYC document and verify the signature for authenticity before honouring a cheque payment. Large volumes and repetitive processes make this a time-consuming process. Image processing solutions can make this process touchless. This is one part of Intelligent Document Processing and 10xDS has implemented this solution for a leading bank in the Middle East.
Banks also have Account opening forms, Maintenance forms, Mortgage applications, KYC and Tax forms that can be transformed by using IDP solutions.
2. Insurance
Claims forms are a menace for Insurance companies to tackle. These are paper forms signed by claimants. Insurance officers need to verify the claim against the policy documents for coverage and eligibility. This is applicable for all type of insurance. Supporting documents like invoices and receipts are also required to be verified. IDP is very useful in the Insurance industry with documents varying from Life insurance applications, Auto accident claims, Disability forms, Change of beneficiary forms, Annuity account forms etc.
Our solution for leading Insurance Company in India to read large volume transactions from the insurance estimates and invoices is an example. These documents are submitted by different dealers and the data extracted is used for claims processing post-approval.
3. Healthcare
Patient intake forms, Enrollment documents and Health Insurance claim form and many more paper documents are used in Healthcare institutions. Administrative overhead to process the data from these documents is huge. Digitization and data extraction and processing of these forms constitutes a huge opportunity for the healthcare sector to focus.
4. Government
Governance related documents and forms in many parts of the world are paper-based. Even though digitization is being pursued by many Government organizations, they are unable to do away with paper-based signed forms and processing archiving of these documents pose a great challenge. Employment Applications, Tax forms and Social security documentation are only a few such examples that can be considered for Intelligent Document Processing.
Conclusion
It is needless to say; the number of such documents will keep on piling up and making it impossible for many organizations to manage effectively. Organizations should be able to make use of this data for the benefit of businesses, but when it becomes so voluminous in physical documents gleaning insights from it will become even more tedious.
With the use of Intelligent Document Processing, the time-consuming, monotonous, and tedious process is made simpler without any risks of manual errors. This way, data becomes more powerful even in varying formats and also helps organizations to ensure enhanced productivity and operational efficiency.
Talk to our experts to learn more about Intelligent Document Processing and see how it can offer a multitude of benefits for any business!