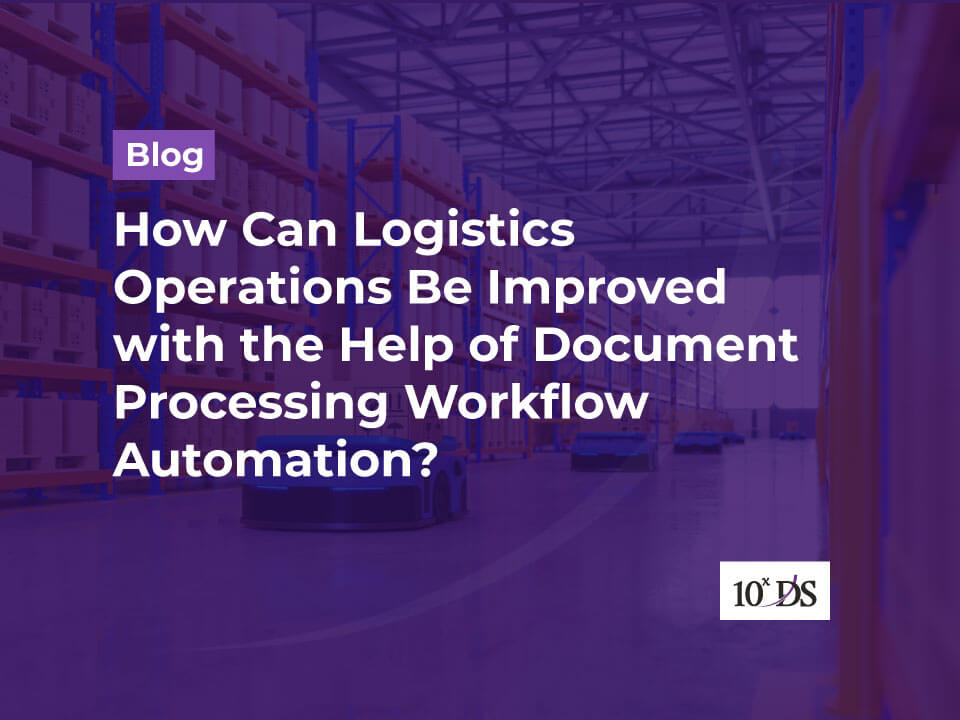 How Can Logistics Operations Be Improved with the Help of Document Processing Workflow Automation? 
Freight and logistics companies process and exchange myriad documents from time to time. In fact, they exchange all kinds of documents in all available formats. The companies or parties that receive these documents would have to invest heavily in adopting the right methods for retrieving the intended data from these documents.
Some parties would use manual retrieving methods for decoding the data from these documents. However, the major challenge they faced was the inaccuracy of information collected from the documents. Moreover, the parties sometimes would use ERP or TMS systems to store these data.
Manual retrieving wouldn't work as expected in such cases. It is in this context that one would think of the advantages of switching to automated document processing systems.
What is document processing?
Document processing is a modern method of turning manually created data, for instance, handwritten or typed data, into properly structured information that machines can easily read.
Ideally, it would mean converting physical data into digital format. To do this effectively, various modern and innovative solutions like OCR (Optical Character Recognition) and Artificial Intelligence (AI) are effectively integrated and used in the process.
How does automated document processing work?
Today, document processing has become heavily dependent on artificial intelligence. In an ideal scenario of automated document processing, data is retrieved from the conventional type of documents such as surveys or forms with the help of intelligent data capture systems.
The concerned businesses can pre-set the format that they require the data to be converted to and then subject the documents that they have for scanning and text recognition. The data retrieved from the given sources are then converted to the chosen format as the parties wanted it to be.
AI in document workflow automation
The introduction of AI has contributed immensely to document workflow automation. In the previously used models of document processing, one had to extract data from certain files or images by employing various methods like filters, detection, and more.
You would get a somewhat expected result when you heavily depend on all these means. Human efforts were always needed for the final output. AI is going to change the entire scenario. When you use AI for document processing, your inputs are required only once for training the system. After that, the model that you have trained in the AI would do the rest of the work without your input.
In a conventional automation system, processing heavy loads of documents, particularly in the context of shipping and logistics, were time-consuming. AI-powered automation tools bring forth a systematic and revolutionary change to this.
The main plus point is that it facilitates automating document-heavy processes by supporting a series of operations such as data verification, data transfer, equipping end-to-end automation for the existing data, and more.
Moreover, the errors that result from human intervention when there are back-to-back processes can be completely reduced by depending on AI-based automation in logistics operations.
Four steps in automated document processing
When you use an advanced AI-based automation system of document processing, you will get the end result after four different stages. They are:
1. Classification of documents
A logistics company deals with a huge number and types of documents. Each of these documents needs to be classified before any further steps.
2. Data Extraction
The classified documents are uploaded into the system where the data is extracted from each.
3. Rejection or exception
If any document contains data that the AI cannot process or identify due to one or the other reasons, the document will be rejected and the concerned manager from the logistics department can review it and use the inputs to train the AI for better performance next time.
4. Data Output
In the final phase, the processed data is released to the end-user or converted to pre-set format as the AI has been trained initially.
Advantages of using AI-powered automation solutions in the operations of logistics companies
The following are some of the notable benefits that logistics companies can enjoy by depending on end-to-end AI-based automation in document processing.
It enhances the accuracy of processed data.
It facilitates document processing without the risks of errors
Companies can make use of employee time more efficiently.
It saves a lot of time since AI-based document processing completes tasks much faster.
It improves the overall efficiency of document processing and increases the productivity of the workforce.
Conclusion
In the modern world, a growing number of businesses are switching to automation in all the possible venues where they could implement it. Logistics companies are, in fact, the type of companies that can utilise AI-based automation in document processing most effectively and efficiently. Ranging from back-office operations to front-end operations, these companies can incorporate automation in several ways and scenarios.
Talk to our Experts to leverage our AI, hyperautomation, Analytics and other exponential technologies' COE and solutions to streamline processes and jump on the data-driven culture in the logistics industry.