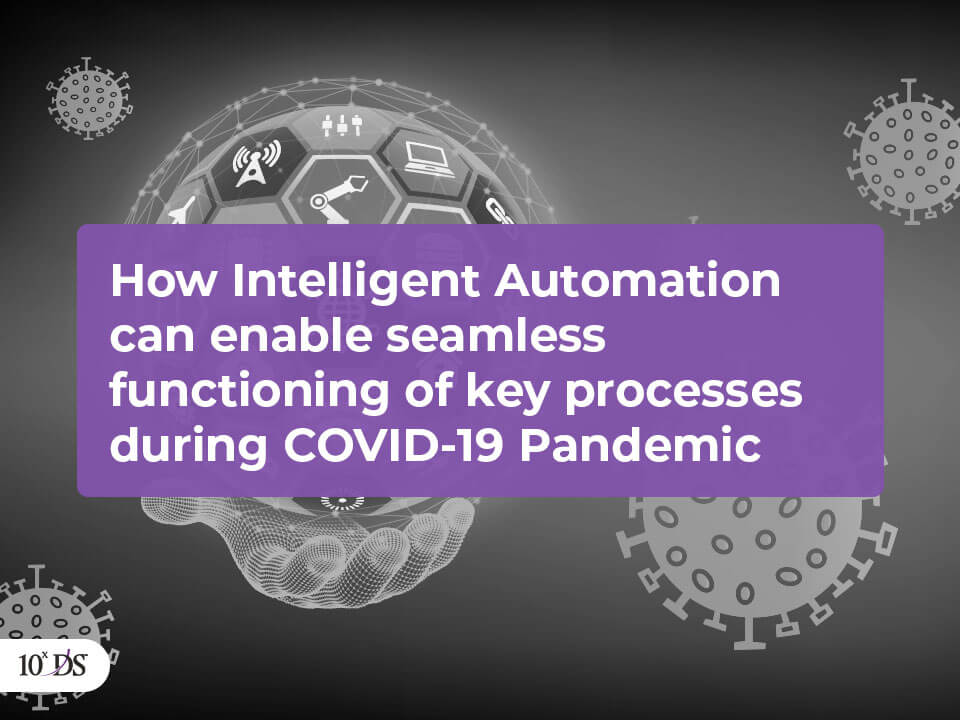 How Intelligent Automation can enable seamless functioning of key processes during COVID-19 Pandemic
How Intelligent Automation can enable smooth functioning of key processes, increase productivity and reduce cost during COVID-19 Pandemic
The World Health Organization (WHO) declared COVID-19 a pandemic on March 11, 2020. As the virus continues to spread across the globe, there are some pressing problems company leaders are facing and it will more likely create a huge impact in the business world.
Pandemics like the one caused by the coronavirus outbreak unfold over months and they can cause businesses several uncertainties and disruptions. Some organizations experience obstruction in their operations, to the point where their functioning becomes difficult, while others thrive during the outbreak. No matter how grave the situation is, it is always best to make yourself ready to deal with the issues caused by this pandemic, in your organization.
On an operational level, for instance in organizations where staff availability is a must, such as call centres, where callers might have to face long waiting period, the situation may prevent callers from receiving the necessary help. Such organizations might be heavily short-staffed in this situation. Businesses are bound to face unpredictable requests for services and dealing with these spikes can be challenging.
Here are some crucial measures, strategic decisions and approaches that might help mitigate the situation and invest in the future.
Gain efficiency through strategic investments in emerging technologies
Usually, organizations try working more towards damage control, patching holes in the system for steading the ship when faced with such a crisis. However, along with these measures, its also important to look at the future, after the business becomes steady and the market bounces back. It is necessary to harness the right technology.
Technologies such as Intelligent Automation, Artificial Intelligence, Conversational artificial intelligence (AI) and others can help businesses gain the lost agility. These technologies have the potential to increase service availability, filling the staff gap during and after the crisis, reducing costs and increasing efficiency.
Intelligent Automation as key enabler for mitigating risks
Instead of disrupting services due to staff unavailability, businesses can identify ways to adopt intelligent automation to help increase. Starting with day-to-day repetitive work activities, automating the manual intensive rule-based processes can help reduce the burden on the available staff and they can be re-assigned for more strategic and value-add activities.
Technologies such as IA and RPA are non-invasive and easy to integrate without changing the existing enterprise IT landscape of the organization.
Supporting Workforce
Virtual agents can provide the necessary support to work-at-home agents by transferring automated self-service calls. The great thing here is it doesn't matter if the service agent is working from the office or from home in this case.
Virtual agents can automate IT helpdesk tasks to support employees. Such an IT chatbot can verify the identity of the requestor, identify and resolve the issues, and then update the resolution to the requester without any manual intervention. Such virtual agents enable high productivity, handling a high volume of requests, freeing up the helpdesk and IT support teams to do more value add and technical tasks requiring greater functional expertise.
Cost Reduction
The COVID-19 pandemic may have created operational challenges and cost burden on several organizations. This is the time when technologies such as IA, Artificial Intelligence and Analytics can be leveraged to augment the human workforce to handle time-consuming and error-prone tasks reducing operating costs. Such technologies can offer quick ROI, outweighing the initial expenditure for setting up.
Considering the current situation most businesses will likely focus on postponing purchases and upgrades of high expenditure on-premise software and hardware. Instead, technologies such as Intelligent Automation, AI and Analytics can help enable the necessary automation with much less investment. Companies can also go for software-as-a-service (SaaS) and pay-as-you-go models.
Best time to Automate and Mitigate Risks
This is probably the most critical time when the necessary processes must operate at their optimal levels when such a pandemic or crisis has unfolded. When short staffed, mistakes are bound to happen and most of the time high-risk mistakes occur with data management and this is where deploying intelligent RPA bots in business operations can be a lifesaver.
IA or RPA can handle highly intense data management and processing tasks to avoid errors and significantly improving the speed of processing. Some of the high-risk tasks for the finance departments such as verification of bills and invoices that are submitted by or given to customers, employees, vendors, partners, and others can be easily streamlined and made faster by leveraging Intelligent Automation.
Even in the HR departments of huge organizations, IA can help in resume shortlisting for specific vacancies within the organization, especially when your department is finding it difficult to work smoothly in such pressing circumstances. Intelligent Automation can save significant amount of time and effort for recruiters and help shorten hire cycles. There are other areas too such as marketing and sales, Business Process Management, IT Support and customer support where IA can make a huge difference.
Conclusion
We do understand the current crisis due to the COVID-19 pandemic can have a profound impact on several organizations across the globe. However, investments in automation makes organizations more agile and this, in turn, allows them to weather the storm and better deal with the uncertainty. As discussed above, businesses can gain more out of automation such as reduced costs, mitigated risk and significant increase in productivity.
How 10xDS can help?
Team 10xDS is working in full swing and going as good as ever by switching to 100% remote work. 10xDS continues to drive digital transformation for our global clients by leveraging our expertise in Intelligent Automation, AI, Analytics and other exponential technologies and our deep sector experience. If COVID-19 has affected the smooth functioning of your key critical processes, 10xDS Intelligent Automation team is ready at your disposal to enable the automation of these processes and make things more hassle-free.
Want to gain further insights into 10xDS Digital Transformation solutions? Talk to our Experts!