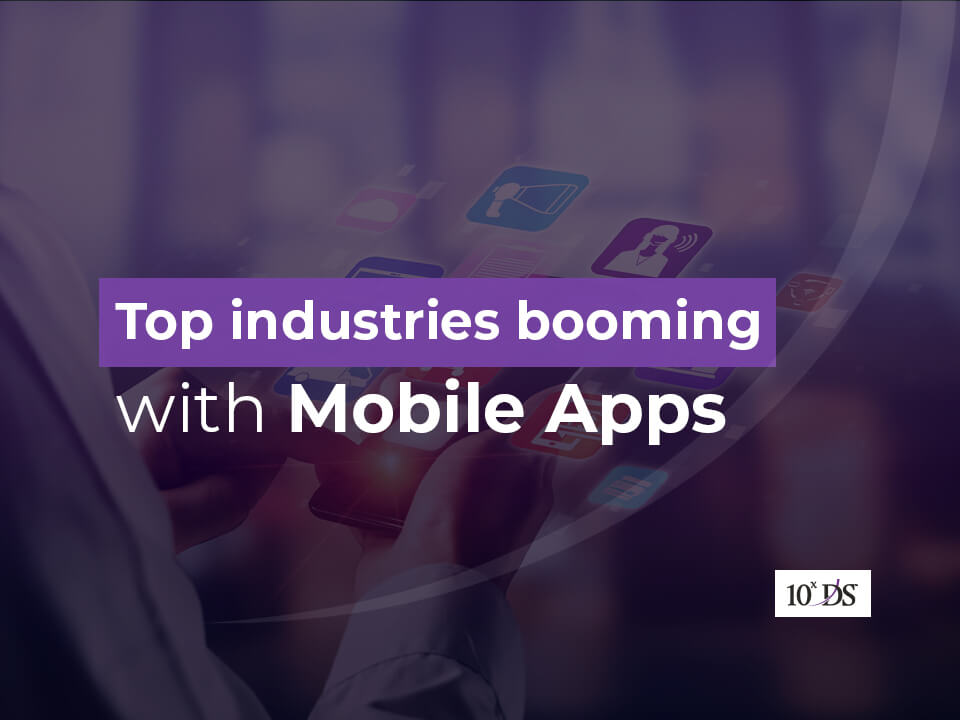 Top 5 Industries Booming with Mobile Apps
We are living in the mobile-first era and mobile applications have become a significant part of our day to day lives. People prefer to have access to everything with the click of a button and in a personalized way. Mobile app growth is forecasted to continue, with revenue projected to hit nearly $1 trillion in 2023. This is according to a study by Statista and it is no surprise for us.
We all have a minimum of 5 downloaded apps above the default ones that comes with the smartphone and we spend a good number of hours in these mobile apps. Companies are leveraging the mobile app platform to propel their growth and it is right to do so. Most of the industries are developing mobile apps to reach their global audience and to stay connected with them.
In this blog, we will discuss the top 5 industries that are thriving on mobile apps.
Top 5 Industries Thriving on Mobile Apps
1. Retail eCommerce
There are an estimated 24 million eCommerce sites across the entire globe and more than 70% of eCommerce traffic happens on mobile devices. That is a compelling reason to launch and sustain a mobile app for your store. Other than just giving an intuitive platform for seeing and buying the product, apps also give enough information about the products ad reviews from buyers.
Be it anything, fashion, grocery, electronics, home appliances, decors, eCommerce is offering convenience to the buyers and convenience is the main reason why buyers shop online. Whether is B2C or B2B, eCommerce trends suggest that it is worth investing in an intuitive user-friendly mobile app to win and sustain customers.
2. Finance
Every new-age bank now relies upon safe and secure banking apps to be connected with customers and also to be at their fingertip. Send and receive money, applying for loans, insurances etc, UPI based payments, Utility bills, Instant KYC etc are just a few use cases that are around the corner for a while.
Financial institutions are spending heavily on digital transactions as more and more customers are preferring to do transactions from their mobile phones, due to their enhanced convenience.
3. Education
When schools were closed during the COVID pandemic, online learning gathered much attention keeping aside the earlier advise to children to spend fewer screen hours for their wellbeing.  Schools started adopting online methods to continue giving their classes. Mobile apps turned smartphones into virtual classrooms where students do curricular activities with ease and focus.
The education landscape is evolving with learning apps and learning management software introduced by several e-learning firms. Apps are helping to learn subjects, organize classroom activities and learning new skills.  Google classroom, edX, Khan Academy, Duolingo are just a few examples of learning apps that are creating ripples in the sector.  Even with the pandemic coming to an end, the shift in education has already taken place and app-based learning will be the way forward.
4. Entertainment
Silver screen turning small and fitting into a mobile screen is something that not many have imagined. But movies releasing in OTT platforms is a reality now, and it is the survival technique of the entertainment industry to come out of the pandemic. OTT is an over-the-top media service offered directly to the viewers via the internet. Web series are also giving an opportunity to aspiring creative talents and its popularity is increasing day by day. While there is demand, companies are coming up with apps that are easy to use anytime anywhere.
Netflix, Amazon Prime Video, HBP Max, among others are few platforms that are offering an amazing mobile experience to its users. This is not just limited to visual content, but music apps are also very popular. While many regulatory aspects are still evolving, these apps are just "entertainment on your fingertips".
5. Healthcare
MyFitnessPal, Headspace, Fitplan are some fitness apps that are very popular among users. While people are more concerned about their health, the help fitness apps bring to their table is huge, because the number of people using such apps has increased significantly and due to this, the field of health and fitness mobile apps development is gaining popularity.
Not just healthcare apps, Hospitals are increasingly adopting apps that are integrated with Hospital Management Systems for booking appointments, first-hand diagnosis etc.
The benefits of mobile apps are not just limited to these five industries but are only a representation of the wider app universe. IT, Travel & Tourism, Hospitality, Gaming etc are also benefitting largely from mobile apps.
You may also read our blog on how mobile apps brought forth a business model named hyperlocal delivery business model.
Conclusion
Businesses grow when they are connected with their customers, making it easy for them. User-friendly and convenient mobile apps are generating huge profits and customer base for the business. Bringing life to these applications require bright ideas, creative thinking, detailed planning and execution with technical expertise and experience.
Talk to our WAM experts to know more