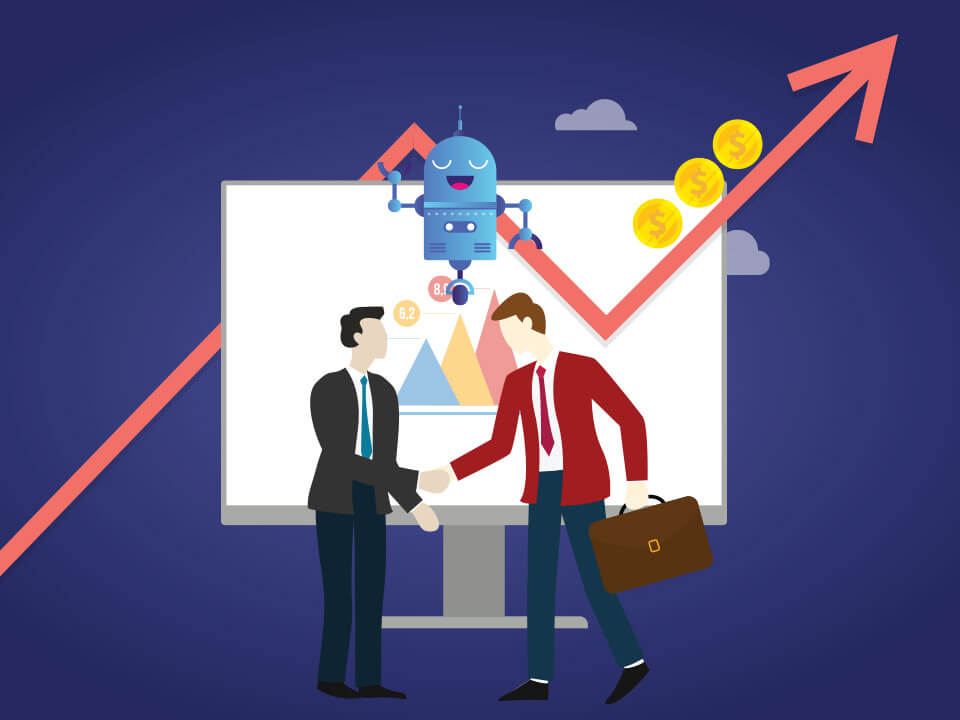 How Sales Process Automation can transform your Business?
"Seize your opportunities with RPA, AI & Analytics"
Having a clearly defined sales process helps in knowing how to close a deal in the least turnaround time. Organizations need to make sure that the sales process is efficient enough to ensure a healthy pipeline and conversions. Organizations can streamline the sales order process by automating repetitive mundane tasks, helping the Sales team close more deals and manage all the sales channels – website, phone, chat, email and social media. Let's go through how sales process automation help organizations and sales team in various activities of the sales process.
1. Lead generation
Capturing leads and customer contact information is crucial for sales departments. Lead generators spend a lot of time building the list of prospects, verifying the information thus spending their valuable time which should have been ideally invested in lead generation.  For a CRM to be helpful for the Sales team, it should be updated with accurate information on an ongoing basis. Some companies have dedicated sales staff to do this mundane task. But unfortunately, it increases the overhead to a great extent and accurate information cannot be guaranteed.
This is where Software Robots can play a significant role when deployed to aggregate contacts for sales staff so that they don't have to spend time searching for companies, names, phone numbers, and other contact information. BOTs can be used to update CRM with this new contact data. BOTs can even be used to crawl the web and other software programs, aggregating additional information on existing CRM contacts and layering additional context onto prospect profiles. These robots act as lead generators thus enabling the sales team to be lead generators.
2. Lead qualification
No Sales team wants to spend their effort on a prospect with a weak financial position. Hence profitability is one key criteria for qualifying a lead. Mostly, Sales team spent a considerable amount of time with the prospects to understand the company's financial position to decide whether to go ahead or not.
Robots assists the Sales team to quickly arrive at a decision on potential clients with an instant understanding of their financial position. This enables the sales team to focus more on profitable prospects to convert them to customers.
3. Customer on-boarding
Onboarding is a tedious and error-prone task since the processes are paper-based up to 50%. A Sales representative needs to understand the customer's intent, perform the necessary actions by switching between application forms, different systems and applications and inform the customer. This has several disadvantages, customer needs to wait while the rep is busy dealing with data, sometimes asking for information that had been asked before. This reduces customer satisfaction. It's one of the examples of a company wasting its resources while creating dissatisfaction for its customers.
Artificial intelligence can go a long way when it comes to paper-based onboarding.  AI solutions assist in extracting the customer data from forms and supporting documents to onboard them into company ERPs. Sales reps can take the help of a BOT to monitor the sales call and make real-time changes that the customer requests. A BOT is also helpful whenever several pieces of data need to be synchronized across systems. With the press of a button, the bot completes all actions swiftly. This is a simple RPA implementation that can be programmed easily despite complex IT landscape and create value quickly.
4. Campaign management
Planning a campaign can be overwhelming for the Sales team. Enormous research is required to understand what works well in each market. Preferences from people, countries and geographies differ hence customizing campaigns is a time-consuming task.
BOTs take up the basic research about people, country, preferences and market conditions to enable the sales team to plan campaigns better to yield good leads. Once a campaign is planned and scheduled, BOT takes up the role of an administrator to run the show and give the sales team report on interactions and leads.
5. Sales reporting
Sales team generates a multitude of data however not many are able to make use of it for better deals. The sales team might not possess the right skills to analyze the enormous amount of data produced. CRMs are also able to produce only basic reporting.
Robotic Process Automation (RPA) can be used to collate the data and advanced analytics to derive meaningful insights from it. BOTs identify new entrants into the market and notifies to be alert, they also track events, campaigns, and messaging that competition is using to promote products or run sales. They provide insights into existing account activity. For example, if a current account is overdue on a payment or has failed to renew a subscription product, then an alert could automatically notify a sales rep, creating an opportunity for the rep to follow-up with the customer. Analytical dashboards on sales data provide trend and best time to market for each season.
6. Pricing
Pricing is one of the most important decisions for any organizations to make. With many competitors and e-commerce channels, if the pricing is not right, it marks the fall of the organization slowly or in a swift. Every organization understands the importance of data in making decisions.
Robots tracks competitors' websites and prices in real-time and notifies when there's a change and organization can adjust prices based on real-time market conditions. Reports can be sent on the frequency configured in the BOT. This helps to maintain a competitive edge without taking valuable time to manually browse competitor's websites. Pricing analytics also helps companies understand internal and external factors affecting profitability at a diminutive level. It also gathers data from social media and analyze them on customer sentiments and make them available to stores for informed decisions.
Now that you have a fair idea of benefits of embracing digital technologies for the sales process, talk to our experts to jump on the automation bandwagon.