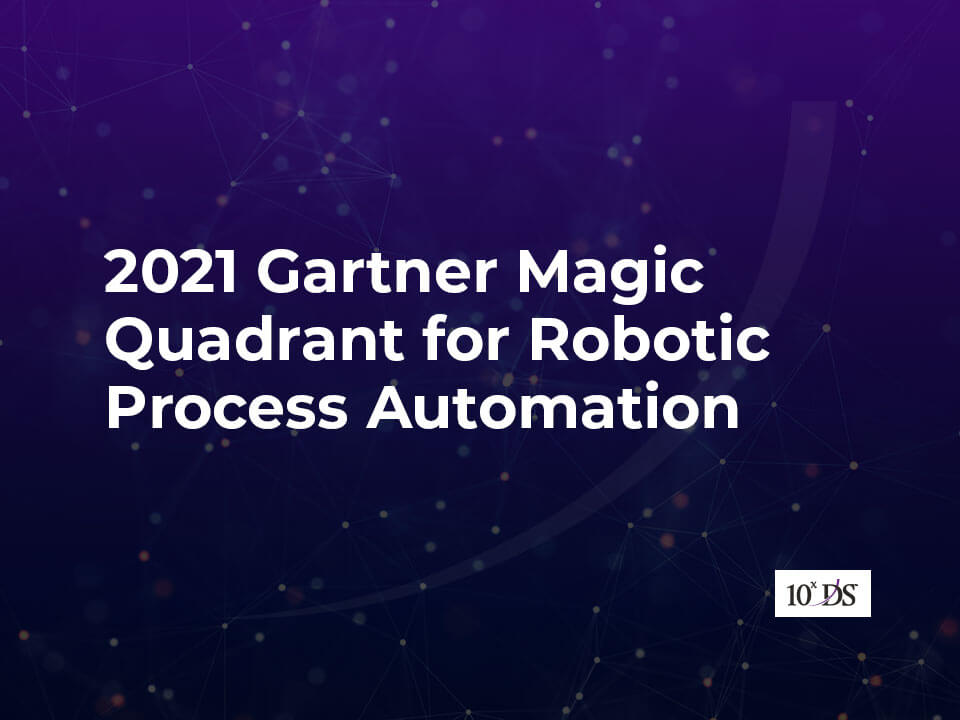 2021 Gartner Magic Quadrant for Robotic Process Automation
Gartner has finally released their Magic Quadrant for Robotic Process Automation for 2021. The RPA ( Robotic Process Automation) market has been defined as "the market for licensed software platforms used for building scripts to integrate any application via a user interface and a control dashboard or orchestrator. RPA platforms automate repetitive, rule-based, predictable tasks" by the researcher.
In its 2021 Magic Quadrant for Robotic Process Automation, Gartner states that the RPA market will continue to consolidate and mature through the year 2024. Gartner made this prediction even though the analysts are well aware that the RPA market is very fragmented as several vendors have just started to provide RPA capabilities.
Most Robotic Process Automation software platforms use a combination of APIs ( Application programming interfaces) and UI ( User Interface) interactions. This is done to integrate different types of enterprise applications that include mainframes, server/client systems, ERP applications, and more.
The vendors that are named in the latest Gartner report are not service providers, which utilize RPA technologies from other vendors. Instead, they are actually providers of Robotic Process Automation software products.
RPA software platforms should be able to enable citizen developers to create automation scripts and integrate it with other enterprise applications through the method of UI scrapping. In addition to that, such platforms should be able to offer orchestration and administration capabilities that include monitoring, security, and configuration.
Some RPA tools are capable of offering advanced capabilities such as auto machine learning, natural language processing (NLP) libraries, and intelligent document processing with drag-and-drop models. Several cutting-edge features like the following have also started to pop-up in recent years.
API connectors, which can be easily orchestrated with UI scrappers
Low-code UX to build UI front end for bots
Serverless or headless automatic workflow orchestration
Gartner has made slight adjustments to its inclusion and evaluation criteria for Magic Quadrant for Robotic Process Automation, as the software market is continuing to evolve. Gartner also added that it hasn't changed their views on vendors, who are dropped from the research firm's Magic Quadrant one year. Instead, it reflects a change of focus by vendors or a change in the RPA market.
Jacada, Kofax, HelpSystems, and Antworks were all dropped in the Magic Quadrant for Robotic Process Automation 2021. They were dropped because they failed to meet the inclusion criteria of the researcher. However, Kryon, Nintex, Lalye, Cyclone Robotics, and Appian were all added to the report, as they were able to meet Gartner's inclusion criteria.
In their latest Magic Quadrant for Robotic Process Automation, Gartner has evaluated the weakness and strengths of 18 providers, who are considered to be very significant in the RPA marketplace. In their latest report, the research firm has offered us a graph to help us learn more about the current RPA market.
The graph has been divided into 4 quadrants: leaders, visionaries, challengers, and niche players. On the X-Axis of the graph, you can see that Gartner has added the completeness of Vision, which is plotted against the vendor's ability to execute on the Y-Axis.
You can find that there are 4 visionaries in the 2021 Gartner Magic Quadrant for Robotic Process Automation. Servicerace and Pegasystems are the only two providers who were listed in Gartner Magic Quadrant for two consecutive years. Appian is the latest addition in the new report while WorkFusion was a leader previously.
WorkFusion can be seen close to the X-axis on the graph because they only slightly failed in their ability to execute. WorkFusion focuses on catering to the automation requirements of the financial and banking services industry. They have also displayed superior Machine Learning and Artificial Intelligence capabilities. This was done by augmenting Robotic Process Automation technology with prepacked Machine Learning models.
The differentiating capabilities of Appian consist of full-stack automation features that include workflow orchestration, prebuilt integration with AI, automation planning, and more. End-to-end life cycle support for DevOps is also included with the full-stack automation features of Appian.
Conclusion
The leaders of the 2021 Gartner Magic Quadrant for Robotic Process Automation are Blue Prism, Microsoft, Automation Anywhere, and UiPath. UiPath has enjoyed a considerable growth of revenue between 2019 and 2020 while Automation Anywhere was able to display the highest completeness of vision among the leaders of 2021.
Microsoft, who was a visionary in the 2020 report has emerged into a leader this year. The remaining leader in the 2021 Gartner Magic Quadrant for Robotic Process Automation, Blue Prism contains a vertical-market strategy with accelerator tools and industry-focused experts.