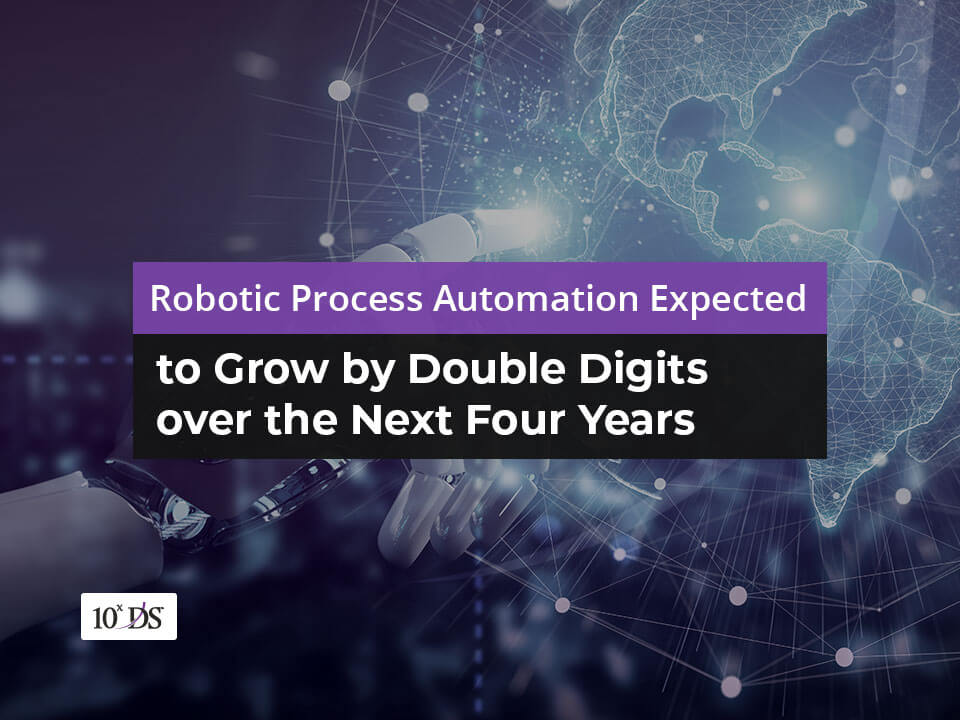 RPA Market Expected to Grow by Double Digits over the Next Four Years (Gartner)
Robotic Process Automation (RPA) has been touted as one of the most revolutionary developments in technology for quite some time now. Although many businesses were hit by the COVID-19 pandemic, it has led to a boosted interest in RPA solutions. The market research giant Gartner predicts that the RPA industry will grow further in the upcoming days and it will reach around $1.89 billion in revenue by 2021.
More and more businesses are looking to employ RPA tools to automate various day-to-day operations in their company, which would help them to ease the stress on their employees and use the available resources for other aspects of their business. RPA solutions involve using simple software bots configured to carry out routine tasks, such as data entry, transcription, generating invoices, etc. The RPA bots perform the task with minimal human intervention and will work round the clock, which makes the business available for addressing simple customer queries and grievances at any time of the day.
According to Gartner, businesses are likely to scale up their RPA usage over the next couple of years. It is expected that RPA software revenue will grow 11.9% by the year-end to reach around $1.58 billion when compared to around $1.41 billion in 2019. The research giant also says that around 90% of large organizations will employ RPA solutions in some form by the year 2022 and expand their investments in RPA software licenses through 2024. This means that despite the economic disruptions caused by the impact of COVID-19 pandemic on the world, the RPA industry will still grow at double-digit rates at least through 2024.
Fabrizio Biscotti, research vice president at Gartner, said, "The key driver for RPA projects is their ability to improve process quality, speed and productivity, each of which is increasingly important as organizations try to meet the demands of cost reduction during COVID-19. Enterprises can quickly make headway on their digital optimization initiatives by investing in RPA software, and the trend isn't going away anytime soon."
Gartner reports that the worldwide RPA revenue will grow a further 19.5% by the end of 2021 and peak at near $1.89 billion. This is because the market research giant believes that the average prices of RPA solutions will go down by 10% to 15% by the end of 2020 and a further 5% to 10% in the next couple of years. This will not only create strong downward pricing pressure on the leaders but also allow more companies to invest in different automation solutions to boost their operational efficiencies and productivity.
As businesses globally are looking to digitally empower their critical processes with resilience and scalability while reducing manual effort, it has opened up great opportunities for the RPA market to thrive. According to Cathy Tornbohm, research vice president at Gartner, the research giant "anticipates RPA demand to grow and service providers to more consistently push RPA solutions to their clients because of the impact of COVID-19. The decreased dependency on a human workforce for routine, digital processes will be more attractive to end users not only for cost reduction benefits, but also for insuring their business against future impacts like this pandemic."
It is also believed that large organizations will grow their capacity for using RPA solutions by 2024. This will lead to a purchase of "add-ons" from RPA vendors to enhance the features and functions of their RPA solutions and integrate them better within the ecosystem. "As organizations grow, they will need to add licenses to run RPA software on additional servers and add additional cores to handle the load," Gartner vice president, Fabrizio Biscotti added. "This trend is a natural reflection of the increasing demands being placed on an organization's 'everywhere' infrastructure."
The awareness of using RPA solutions to improve various business processes will also increase in the upcoming months when more and more organizations adopt automation tools. Gartner even predicts that nearly 50% of all new RPA customers will be from non-IT companies. "Leading RPA software vendors have successfully targeted chief financial officers (CFOs) and chief operating officers (COOs), instead of IT alone. They like the quick deployment of low-code/no-code automation. The challenge they have is integrating RPA successfully across heterogeneous, changing environments, which is where IT coordination can make the difference," Fabrizio Biscotti further said.
As Robotic Process Automation is proving to be highly beneficial to serve the need for superior agility and efficiency, and save costs by automating labor-intensive and time-consuming repetitive jobs amid the COVID-19 pandemic, it seems that the predictions by Gartner are right on the point. While the global economy is recovering from the impact of the crisis, low pricing strategies from RPA industry leaders can likely accelerate the adoption of automation and modern technologies by businesses across industries.
Talk to our experts to learn more about RPA and see how it can be beneficial to optimize and improve many of the legacy operational processes.