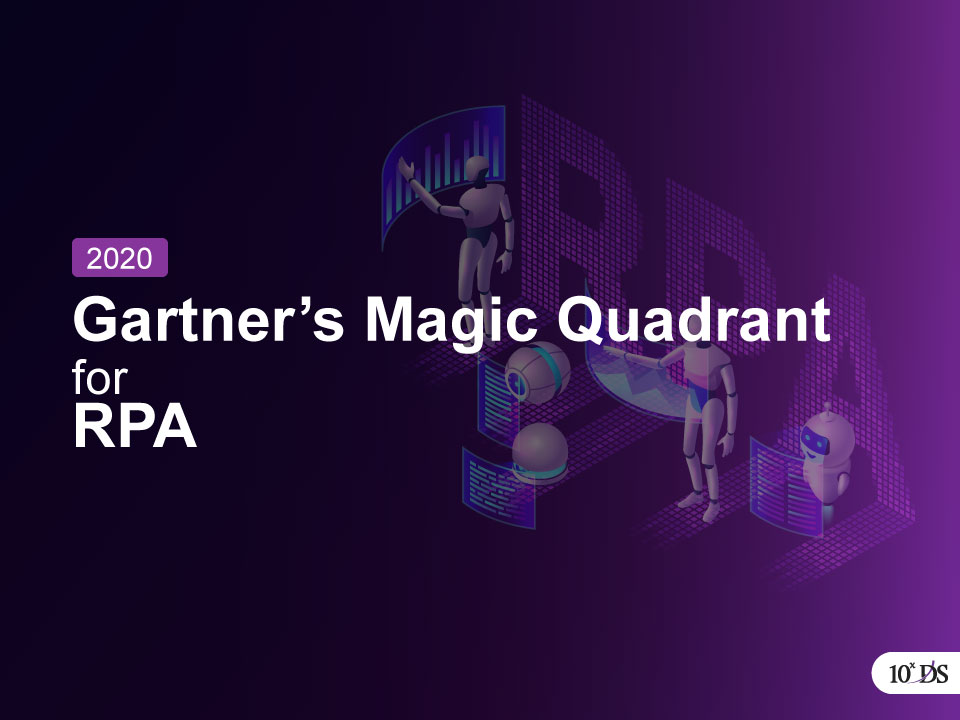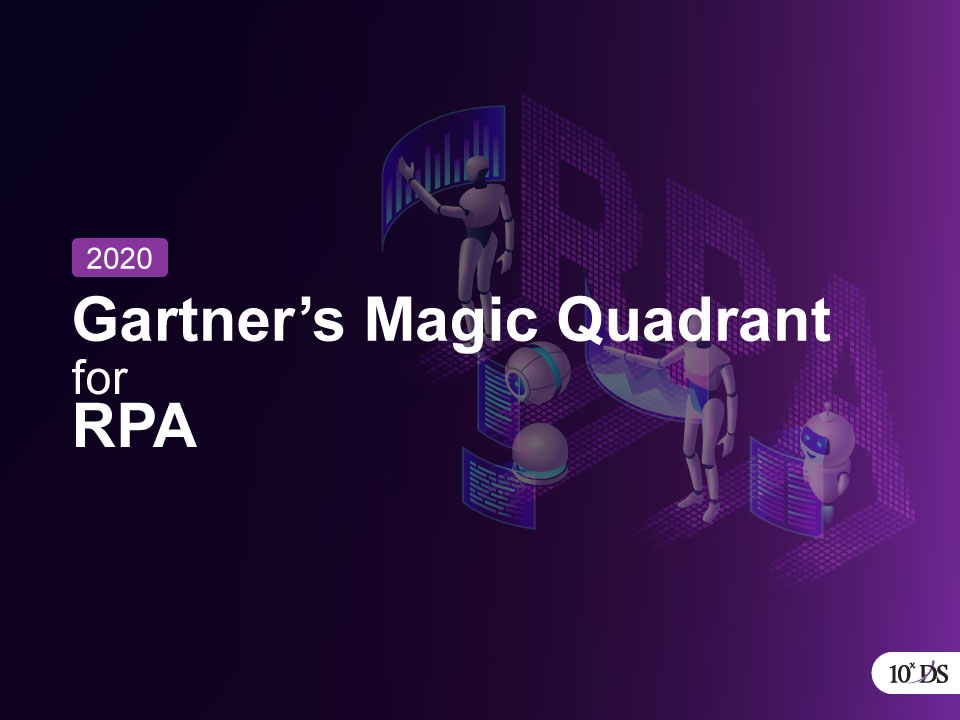 2020 Gartner's Magic Quadrant for RPA
Gartner published its first Magic Quadrant for Robotic Process Automation last year to help us understand how technology providers are positioned in the industry. Gartner's Magic Quadrant is a culmination of their extensive research in the RPA market, which provides a quick view of the positioning and performance of technology players and their strategies for remaining competitive in the industry.
Robotic Process Automation refers to deploying software bots to automate and streamline routine business processes. RPA can be described as a digital workforce in an organization that interacts with the relevant systems and perform the actions as required. RPA bots can be configured to suit any business environment and scaled and modified as well if needed. The major benefit of RPA is that it is a non-invasive method that helps to drive increased compliance, reduce human errors, and lead to better cost savings. The technology is immediately quantifiable and can facilitate greater ROI by freeing resources.
According to Gartner, "The RPA market is rapidly growing as incumbent vendors jockey for market position and evolve their offerings. Over the next two to three years, the market will continue to mature and consolidate."
The Wall Street Journal also reports that "Companies are expected to ramp up automation in the aftermath of the Coronavirus outbreak as employers seek to cut costs and boost productivity."
Gartner added in their 2020 Magic Quadrant for RPA report that, "the bar has been raised for market viability, relevance, growth, revenue and how vendors set the vision for their RPA offerings in a fluid market." All this points to how RPA technology will play a vital role in reshaping the future and help businesses in their digital transformation journey.
The Leaders in the RPA Market
Overall, 16 top RPA vendors were evaluated in the Gartner Magic Quadrant research. The research and advisory pioneer categorized technology providers into four types – Leaders, Visionaries, Niche Players, and Challengers. Gartner placed UiPath, Automation Anywhere, Blue Prism, and WorkFusion in the "Leaders" quadrant based on how well these players are positioned in the market and execute well as per their visions. The contextualization by Gartner is their attempt to give a quick snapshot of the notable players in the RPA industry.
Gartner says that "Leaders in a market combine an insightful understanding of the realities of the market, a reliable record, the ability to influence the market's direction, and the capability to attract and keep a following. In the RPA market, leadership implies an understanding of the demands of the enterprise and the opportunities of adding additional functionality, products and services to the core RPA offerings. A Leader must have demonstrated a market-leading vision and the ability to deliver on that vision."
UiPath, Automation Anywhere, Blue Prism, and WorkFusion were found to have exhibited superiority in their execution as well as the vision to demonstrate efficient leadership. The 2020 Gartner Magic Quadrant report placed Microsoft, 10xDS partner, as one of the top visionaries along with Pegasystems, and Servicetrace in the 'Visionaries' quadrant, while Samsung SDS, SAP, NTT, AntWorks, HelpSystems, and Jacada were positioned in the 'Niche Players' quadrant. On the other hand, the 'Challengers' quadrant included EdgeVerve Systems, Kofax, and NICE.
Gartner further said that the need for RPA solutions would remain consistent as more and more organizations are looking to automate legacy business processes for better efficiency. RPA also helps to execute data transcription tasks across enterprise systems, which gives organizations a flexible way to adapt to the changing circumstances. Robotic Process Automation can always keep working at 100% efficiency and even handle the most complex unstructured information easily to automate any business process.
10xDS Strategic Alliances with 'Leaders' and 'Visionaries'
Modern-day customers look forward to an intelligent, end-to-end form of automation, which can be achieved with the combination of different automation tools and machine learning applications or packaged software. RPA is one of the main subsets that support this hyper-automation demand effectively by being able to execute in any environment. 10xDS realizes the need for strategic approaches and proactive tactics to deliver the best RPA solutions. This is why 10xDS has partnered with the RPA industry 'Leaders' including UiPath, Automation Anywhere, Blue Prism, and others.
10xDS leverages RPA solutions from top players in the RPA market to deliver excellent services and meet the varied demands of its clients. Collaborating with industry leaders allows 10xDS to provide innovative solutions to fulfill the complex demands of users in all segments and ensure greater business value.
Talk to our experts to learn more about RPA and see how it can be beneficial to improve operational efficiencies, reduce costs, enhance customer experience, and lead to higher ROI.