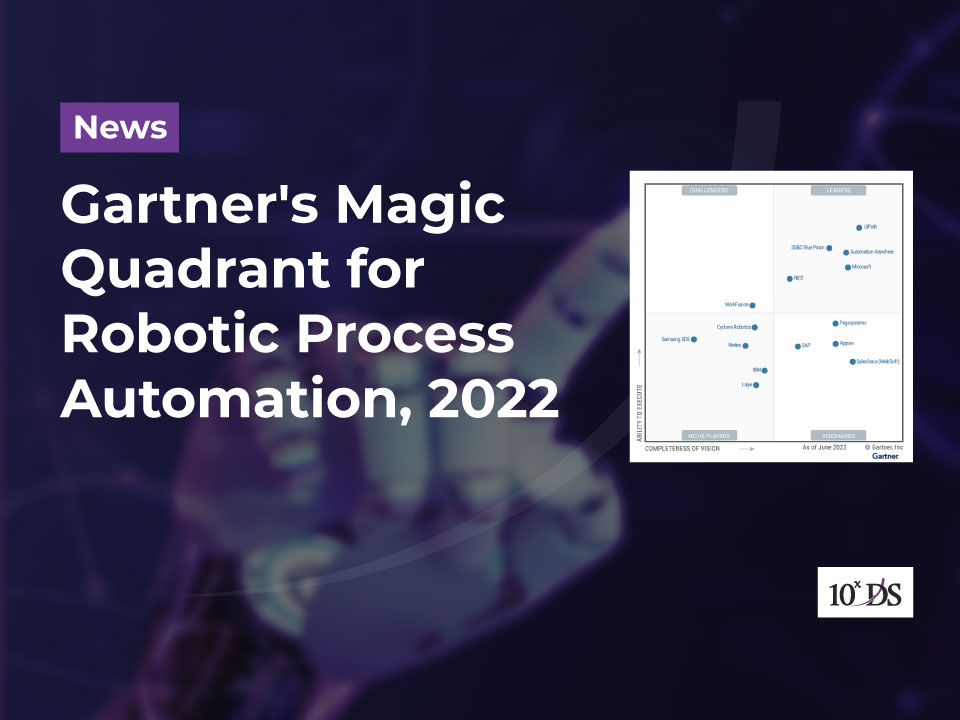 Gartner's Magic Quadrant for Robotic Process Automation, 2022
Gartner's Magic Quadrant for Robotic Process Automation, 2022, has been released. According to Gartner, the Robotic Process Automation market is still very popular and will continue its consolidation and maturation. This software helps to improve operational efficiency and tactical automation, which most often happens via screen scraping. This Magic Quadrant reviews 15 enterprise RPA vendors in order to help enterprises choose the right vendor for their task automation needs. According to the technological research and consulting firm, by 2024 95% of RPA vendors will offer automation via API integration. This will allow 80% of enterprises who have previously deployed attended automation primarily on a computer to move to a wider UX that includes web, mobile, and voice interfaces.
Gartner's market outlook is focused on transformative technologies, and approaches that meet end user needs. This Magic Quadrant assesses RPA software providers and not service providers using RPA capabilities licensed from another vendor. According to the research firm, the mandatory capabilities required for enterprise RPA platforms include integration with enterprise applications through UI interactions, support for script development using standard programming languages, vendor-specific low-code representations (including graphic development), capability to capture a task and turn it into a script that is ready for deployment, support for attended and unattended automation and the ability to manage users, scripts, and runtimes, including configuration monitoring and security. The optional capabilities of RPA platforms include augmented citizen developer capabilities, task mining and discovery, task mining allows for automatic generation of workflows, intelligent document processing (IDP), features include image capture, classifications, and model training, API connectors, including HTTP/REST and SOAP, as well as Open APIs and Low-code User Experience (UX), for creating GUI front ends for bots
Gartner's latest Magic Quadrant for Robotic Process Automation has assessed the strengths and weaknesses of providers who are very important in the RPA market. To help us understand the current RPA market, the research firm has provided a graph in their most recent report. Gartner places vendors into Magic Quadrants based on two axes: "Completeness of vision (X-axis)" and "Ability to execute" (Y-axis). These axes are determined by a range of criteria that evaluate each vendor's future performance and vision. Vendors are awarded scores based on Gartner's Magic Quadrants methodology. To help with the evaluation, vendors are required to fill out briefings and questionnaires. Evaluations can also be based upon Gartner customer surveys and information from clients The graph is divided into four quadrants: visionaries, leaders, challengers, and niche players.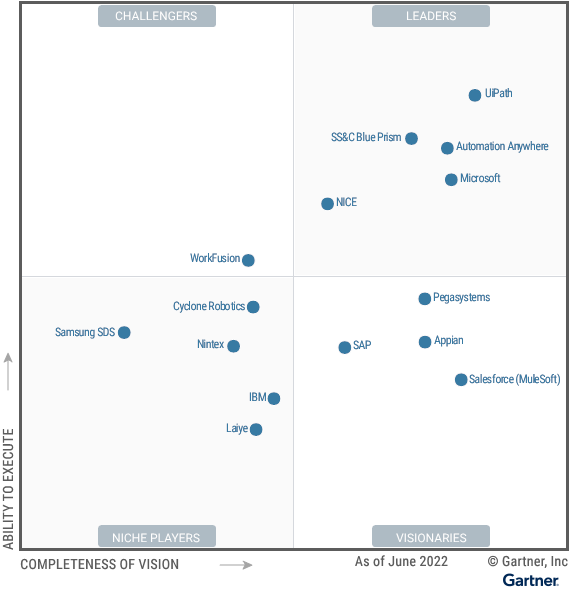 The 2022 Gartner Magic Quadrant report placed 10xDS partners – UiPath, Automation Anywhere, Microsoft, and SS&C Blue Prism as "Leaders", as they were found to have exhibited superiority in their execution as well as the vision to demonstrate efficient leadership.
Gartner evaluates vendors based on how competitive, efficient, and effective their processes, systems, and procedures are. Every vendor is evaluated on its ability and willingness to execute such as whether Product or service, Overall viability, Sales Execution/Pricing, Market Responsiveness/Record, Marketing Execution, Customer Experience, and Operation. The evaluation criteria for Completeness of Vision include Market Understanding, Marketing Strategy, Sales Strategy, Offering (Product Strategy), Business Model, Strategy for Vertical/Industry, Innovation, and Geographic Strategy.