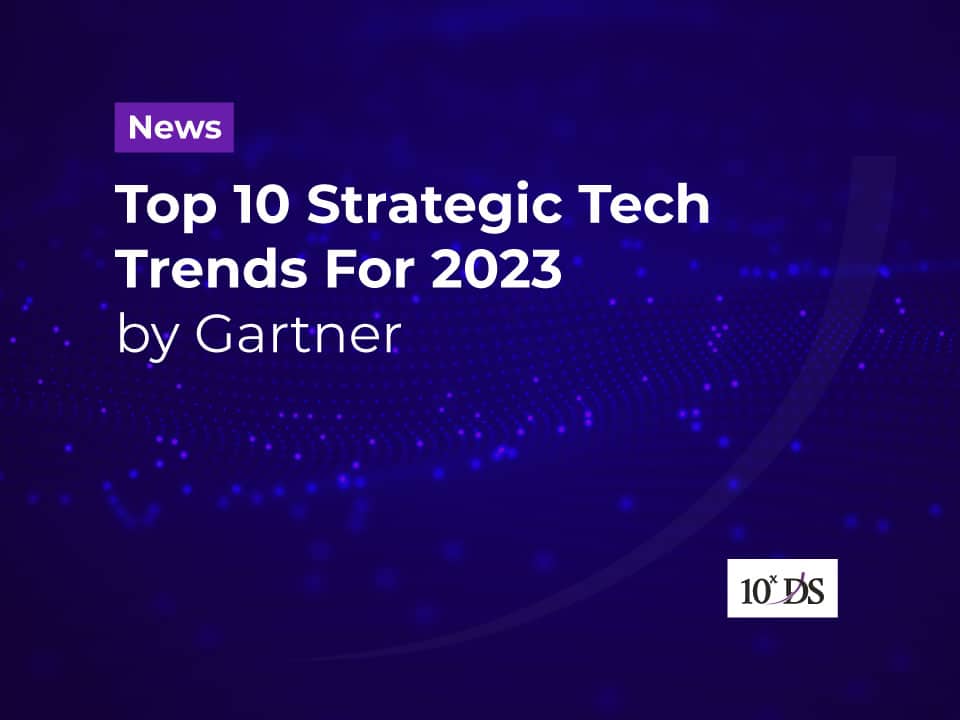 Gartner Announces the Top Strategic Technology Trends For 2023
Emerging technologies not only herald fresh opportunities in terms of products and markets, but also may usher in creative approaches that provide any business a special edge. They not only shake up business structures, but also foreshadow the development of technologies in a specific field or on a worldwide scale over the next few years. The ways in which clients find or engage with your firm, as well as any expansion plans you may have, and are all influenced by the prevailing trends of the time. There will be a competitive advantage for businesses that are early adopters of new technologies as technological trends spread into new areas. It would be wise to have a look at the top 10 key technology trends for 2023 that were announced at the Gartner IT Symposium/Xpo 2022 in Orlando, Florida, in October 2022 as we ring in the new year. Trends were presented in 4 different themes as Optimize, Scale, Pioneer and Sustainability.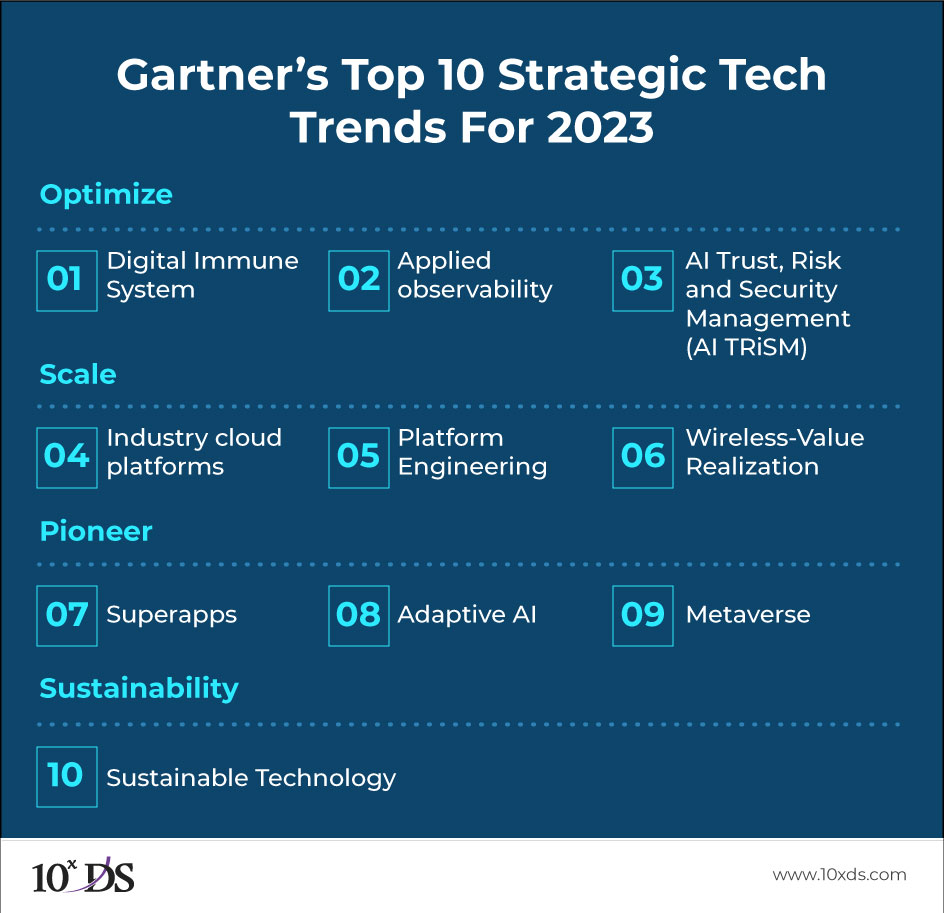 Let us have a look the each of these technology trends briefly.
1. Digital Immune System (DIS)
A digital immune system independently reacts to attacks on the normal state and independently restores the normal state. DIS combines several software engineering strategies such as observability, automation, and extreme testing to enhance the customer experience by protecting against operational and security risks. Gartner predicts that organizations that invest in building digital immunity will increase end-user satisfaction through applications that achieve greater uptime and deliver a stronger user experience. The organizations need not heavily invest on maintenance of their systems after embracing DIS.
2. Applied Observability
Garner defines Applied observability as the applied use of observable data in a highly orchestrated and integrated approach across business functions, applications, and infrastructure and operations teams.  Gartner notes observable data as an organization's "most precious monetizable asset" and encourages leaders to seek use cases and business capabilities in which this data can deliver competitive advantage.
3. AI Trust, Risk, and Security Management (AI TRiSM)
AI TRiSM is concerned with ensuring that appropriate safeguards and governance is employed in order to avoid inappropriate use of artificial intelligence. This framework enables AI governance, reliability, fairness, efficacy, and privacy and it includes tools and processes that make AI models easier to interpret and explain while improving overall privacy and security. We need to wait and watch if AI TriSM is able to give answers to the debate on AI ethical considerations as it evolves.
4. Industry cloud platforms
Industry cloud platforms are designed to meet the specific needs of industry segments inadequately served by generic solutions. This combines software as a service (SaaS), platform as a service (PaaS) and infrastructure as a service (IaaS) to create holistic solutions and systems. Since this is based on public cloud services, it gives organizations an agile way to manage workloads and accelerate changes in "pay only for use" models.  Gartner expects that by 2027, enterprises will use industry cloud platforms to accelerate more than 50% of their critical business initiatives.
5. Platform Engineering
Gartner defines Platform engineering as an emerging technology approach that can accelerate the delivery of applications and the pace at which they produce business value. It improves developer experience and productivity by providing self-service capabilities with automated infrastructure operations. With Low code and No Code engineering already providing quicker to market software, Platform engineering will bring more efficiency by bringing in automation in infrastructure. Gartner also predicts that by 2026, 80% of software engineering organizations will establish platform teams with 75% of those including developer self-service portals.
6. Wireless value realization
Gartner describes Wireless value realization as the range of ways in which next-generation wireless technologies will soon deliver new and improved services and reduce capital costs. Battery free operations, IoT sensors, etc will help in this case. It is expected that  50% of enterprise wireless endpoints will use networking services that deliver additional capabilities beyond communication.
7. Superapps
Mobile-first experience is must for the current digital-native generation and hence the demand for an app for every need. This is achievable with the help of super apps, they are composable application that provides organizations the flexibility to allow end-users with a set of related features for a specific use. They can be accessed independently as "miniapps" that allow for a consistent and personalized user experience within a single app. Gartner predicts that more than 50% of the global population will be daily active users of multiple superapps by 2027.
8. Adaptive AI
Adaptive artificial intelligence enables models that can self-adapt in production or change post-deployment using real-time feedback from past human and machine experiences. This makes continuous improvement possible without the need of high maintenance by skilled resources. Gartner predicts that in a matter of just 3 years, organizations that operationalize adaptive AI models even in a small fraction can outperform their competitors.
9. Metaverse
Metaverse got into Oxford dictionary in 2022 and the meaning is defined as a virtual reality space in which users can interact with a computer-generated environment and other users. It joins multiple trends in technology into a collective virtual environment with expectation to increase collaboration and engagement.  Even though Gartner mention that Metaverse is still in nascent stages, and viability is still uncertain, organizations will be using metaverse based projects.
10. Sustainable Technology
ESG considerations need to be driven more fiercely than ever to sustain life, hence sustainable technology also is gaining much relevance. By 2025, Gartner predicts that 50% of CIOs will have performance metrics tied to the sustainability of the IT organization. : Leveraging technologies such as artificial intelligence, automation, advanced analytics, and shared cloud services, sustainability goals need to be achieved.
Conclusion
The 2023 technology trends address four key aspects such as 1. Optimizing resilience, operations or trust, 2. Scaling vertical solutions, product delivery or everywhere, 3. Pioneering customer engagement, accelerated responses or opportunity, and 4. Pursuing sustainable technology solutions. We must keep a close eye on how these developments in the trends are assisting businesses in reaching new heights. Those who are able to shift with the times will do well.
About Gartner
Gartner, headquartered in Stanford, Connecticut, is the preeminent IT research and consulting firm in the world. Research, implementation, program, consulting, and events are all sub-divisions of the Gartner Corporation. Business executives, chief information officers, and IT and venture capitalists all rely on their expertise to inform their technology-related strategic decisions. They have clients in 11,000 different businesses across 100 different nations. They started in 1979 and now have outposts all over the world, including in other parts of North America, Europe, Asia Pacific, the Middle East, Africa, Latin America, and Japan.