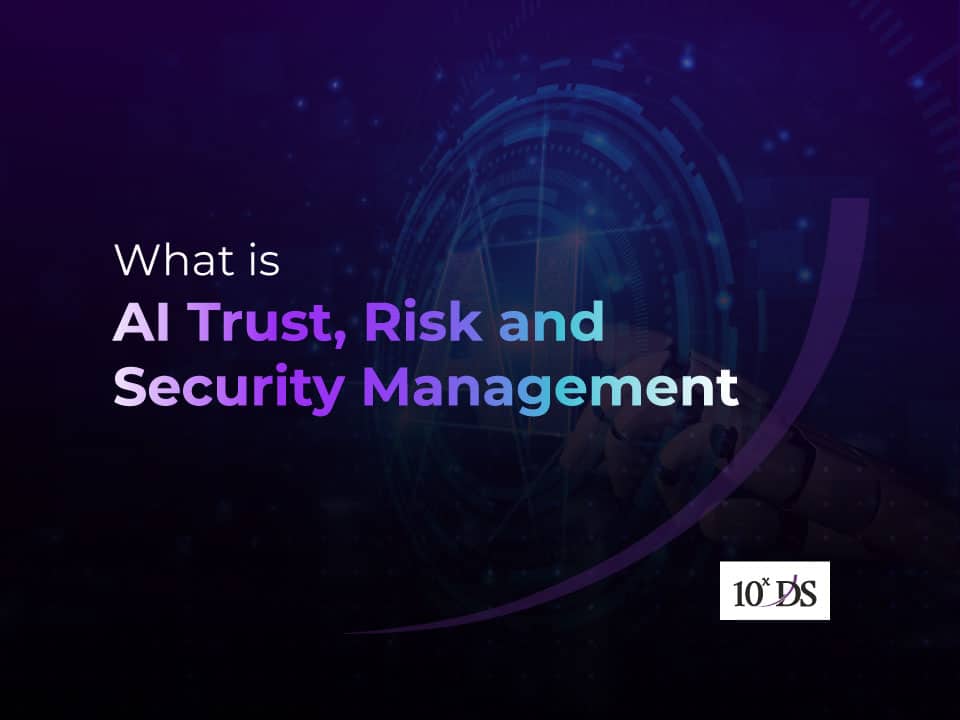 What is AI Trust, Risk, and Security Management? 
As more and more people become aware of how useful AI might be, the field is expanding rapidly. With the development of technology comes the emergence of new occupations, areas of application, and industries. Gartner Inc. is a well-respected technology research and consulting business that has organized developing AI-related technologies under "AI TRiSM" in an attempt to offer a better understanding of the evolving AI ecosystem.
(T)rust, (R)isk, and (S)ecurity (M)angement are abbreviated as AI TRiSM. AI TRiSM "ensures AI model governance, trustworthiness, fairness, dependability, efficacy, security, and data protection," as stated by Gartner. This includes tools and strategies for defending against adversarial attacks, ensuring the security of AI data, running models, and explaining their results.
What makes AI TRiSM so popular?
By 2026, Gartner predicts, businesses that have operationalized AI transparency, trust, and security will have seen a 50% improvement in the adoption, business goals, and user acceptability of their AI models. AI-powered robots will make up 20% of the global workforce and 40% of economic output, according to Gartner. But, according to a survey conducted by Gartner, hundreds, if not thousands, of AI models have been implemented without being fully explained or understood by IT management.
The management of AI trust, risk, and security covers a wide range of topics across the AI lifecycle. All the steps necessary to create, release, and maintain an AI application are included here. Those things are:
1. Research and Development of Artificial Intelligence Systems
Establishing standards and procedures to guarantee safe and responsible AI application development is a key part of AI system development. Good AI engineering techniques, training, security reviews, and testing are all part of this process. Artificial intelligence (AI) also necessitates procedures to guarantee that applications are developed with privacy and ethics in mind.
2. Validation of an Intelligent System Model
The purpose of AI model testing is to check AI models for flaws in their logic and safety. One way to do this is to put the AI models through their paces in a setting that closely resembles their potential production environment. Accurately gauging the degree of exposure of AI models requires not only the detection of both intentional and unintentional threats but also the use of attack surface analysis.
3. Security of AI-Based Applications
The term "AI application security" refers to the practice of keeping AI-powered programs and services safe from harm. Integrating defensive mechanisms (including identity and access management, network security, and encryption), as well as security measures, into the process of releasing and upgrading AI applications and services is essential.
4. The Compatibility of AI with Regulations
When it comes to artificial intelligence (AI), it's important to follow the rules. Building AI applications that adhere to industry standards for data security and privacy requires the establishment of policies and procedures. Building measures to ensure data is acquired and handled ethically and responsibly is also part of complying with the ethical use of AI.
5. Security of the AI Supporting Infrastructure
Protecting the backend systems that run AI programs and services is known as AI infrastructure security. Both the hardware and software (including servers and cloud services) must be protected from unauthorised access. It also includes keeping an eye out for and dealing with security issues, as well as taking precautions to prevent those occurrences from happening.
6. Auditing using artificial intelligence for safety purposes
Auditing the safety of AI programs and services. Auditing your security measures on a regular basis can help you spot any weak spots and keep an eye out for intrusions. It also necessitates procedures for handling security issues and implementing safeguards to prevent such occurrences in the future.
7. Analysis of Ethical Considerations in AI
Reviewing the ethical implications of AI applications and services is known as AI Ethics Review. Responsible and ethical usage of AI requires setting up procedures and rules to make sure it's done right. It also entails creating procedures to guarantee conformity with standard practices, legislation, and regulations in the sector.
To guarantee the safe and moral application of AI in their operations, businesses must implement AI trust, risk, and security management. When implemented properly, AI Trust, Risk, and Security Management may help businesses safeguard their AI applications and services from harm and promote ethical, lawful, and compliant AI deployment.
Conclusion
Negative AI outcomes and breaches are more likely to occur in organizations that do not manage AI risk. Models will underperform, resulting in harm to people, financial loss, damaged reputations, and other negative outcomes. The incorrect use of AI might also lead to bad choices being made by companies.
We assist organizations in evaluating and making informed decisions about the many AI solution options available to them as they seek to bring their operations into the contemporary era. Accelerate growth and maximize team and individual performance with the assistance of our experts as you implement the AI technology most suited to your company's needs.