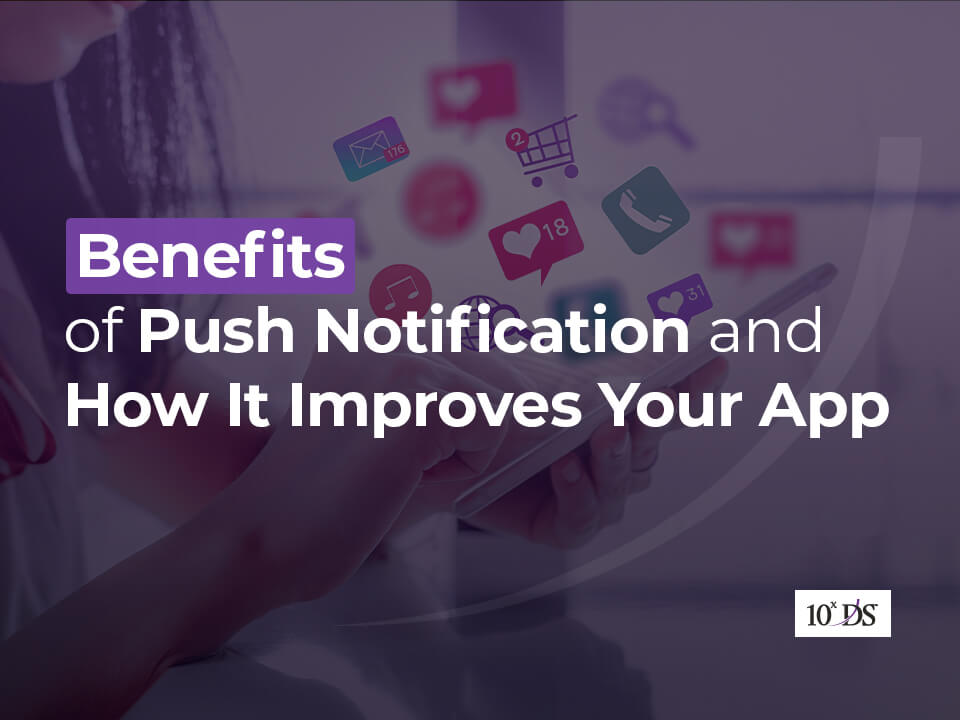 Benefits of Push Notification and How It Improves Your App
Did you know that approximately 43 percent of iOS users and 91 percent of Android users opt-in for receiving push notifications? Sending push notifications through mobile applications will help businesses to retain customers and boost conversions. As a result, most mobile applications make use of push notifications these days.
In simple words, push notifications can be defined as alerts that users receive from mobile apps in real-time. They slide in and appear on the top of the screen of your device usually. Mobile app developers will be able to send push notifications whenever they want to users who have installed their app.
Even if you are not using a mobile app or not signed into it, you may receive push notifications. Push notifications are an effective way for marketers and companies to communicate with their existing and potential customers.
That said, you will need to come up with careful strategies when using push notifications. If you do not have such a strategy in place, then you may end up annoying users with push notifications, which may urge them to uninstall the application.
Now, let us take a brief look at some of the benefits businesses can enjoy by using push notifications.
1. Target the Right Customers or Users
Mobile applications will request permission from users to access their location once they have installed the app or when they are using it. Most users will grant permissions, which allows mobile apps to identify their location. This will in turn allow businesses to use location-based push notifications to offer a personalized experience to users.
You can use push notifications to alert users regarding offers, which are applicable in a particular region. Businesses will also be able to target users based on city, state, or country through push notifications. Push notifications that are based on the location of users are sure to help businesses to increase user engagement.
2. Increase User Retention
User retention is an important factor that will give you a clear idea of how well your mobile app is performing. This critical metric makes it possible for mobile app developers and businesses to identify the number of users who have downloaded the application, used it, and later returned to use the application again.
App developers are constantly looking for feedback from users along with analysing other things like what features are more appealing to users when the app is being modified or updated. If a user downloads and installs your app in his or her phone, but does not return to the application, then it has zero value.
A recent report submitted by Statistica revealed that approximately 25 percent of mobile applications were downloaded by internet users all over the world in 2019, but they were used just once. Push notifications offer a simple but effective way to bring back inactive users. If implemented accurately, push notifications can boost the retention rate by 3 to 10 times.
3. Boost Conversion Rates
Push notifications will help businesses not just to bring back users and engage them with the application, but it will also boost online conversion rates. For example, push notifications that offer discounts will surely capture the attention of most users. It may even encourage some users to purchase products or services.
Several studies have revealed that well-crafted mobile push notifications are capable of boosting conversion rates by nearly four times. This is why businesses need to put more focus on segmented push notifications. These types of push notifications are basically personalized messages.
Businesses will be able to split up their mobile app users into separate categories based on factors like behaviour with the app, locations, interests, and more. Once you have created such categories, you will be able to easily send personalized and relevant push notifications to a specific category.
4. Increase App Engagement
Businesses that are implementing a solid strategy when it comes to push notifications will be able to boost user engagement. The best thing about push notifications is that they offer an effective way for businesses to engage and interact with their mobile app users.
Deep linking within the push notifications is another strategy that will take app users to exactly where you want them to be. For instance, if you want users to update the app to enjoy newly released features, then you can deep link the push notification with the link to update the application.
So, when users click on the push notification, it will take them directly to the app update option. All users will now need to do is to click on the update option and wait for the update to complete. You can do the same to introduce app users to newly released products by sending a push notification with a deep link to the newly released products page.
Conclusion
Mobile push notifications have become a sure-fire approach to boost conversions, enhance customer engagement and increase retention of customers for mobile app businesses. Businesses should focus on creating and executing the right strategy and approach for using push notifications for marketing purposes.
Talk to our WAM and Digital Marketing experts, to help with mobile application development, push notifications implementation, strategies and more.