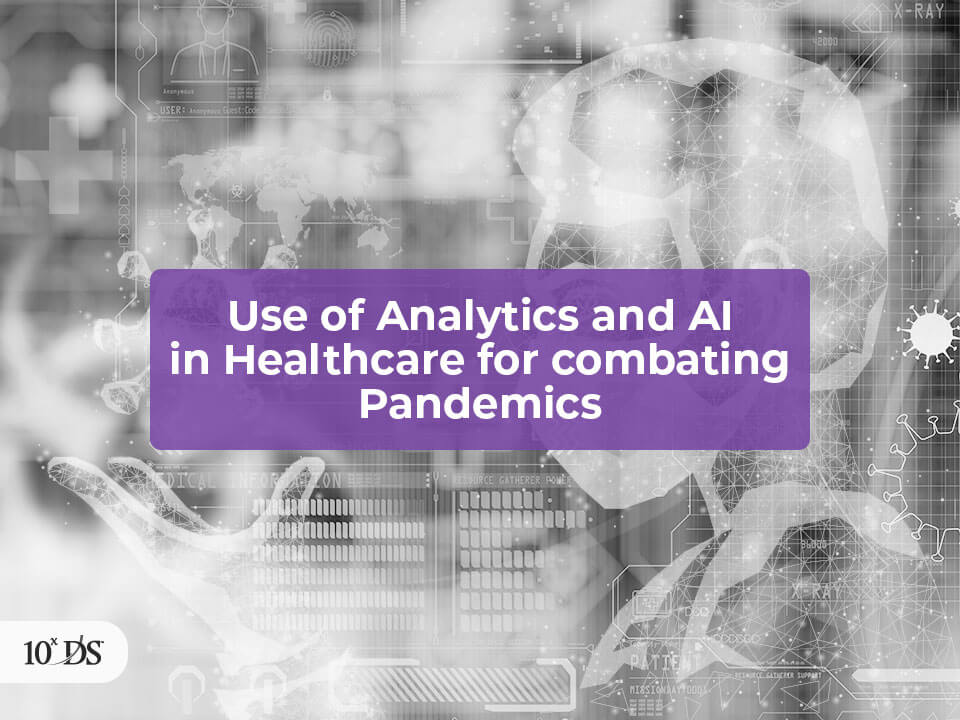 Use of Analytics and AI in Healthcare Industry for combating Pandemics
As the whole world grapples with the ongoing novel coronavirus outbreak, there will possibly be health and economic challenges in the coming months. The pandemic has put a huge strain on the healthcare system and has severely disrupted businesses and industries across the globe. Businesses are looking for ways to realign their strategies and adjust to this unavoidable new reality.
Technology has always been the guiding force to help and look towards solutions to complex real-time problems and challenges. One of the most trending emerging technologies, Data Analytics definitely shows tremendous potential to help the healthcare system and address the scale of the crisis in the wake of the pandemic.
In Data Analytics, data is aggregated and examined from several sources to derive key actionable insights that can be used for making better decisions. The pandemic has led to several innovations and opportunities to grow in the healthcare industry.
Let us have a look at some of these opportunities.
1. Pandemic Analytics
Pandemic Analytics is the use of Data Analytics in the study and fight of global disease outbreaks. The latest COVID-19 outbreak has become an eyeopener for the use of modern technologies to combat the proliferation of highly contagious diseases, causing pandemic.
Pandemic Analytics can help healthcare organizations to optimize allocation of personnel and resources in advance of a disease outbreak, using data-driven forecasting. These solutions leverage machine learning algorithms to enable predictive insights using available and accessible data on the extent of the disease spread, such as active cases, total deaths, contact tracking, and existing data such as population density, demographics, availability of doctors and nurses, and medical equipment and medicine stock. Healthcare organizations powered by data analytics can predict where the next cluster outbreak may arise, demographic most susceptible, when the virus is likely to mutate, among others.
2. Patient Data Analytics
The storage and analysis of Electronic Data Records (EMR) is one of the major challenges faced by the healthcare industry today. Now with further increase in the volume of data and the associated challenges in getting any valuable insights from the vast patient data over the past several years, Patient Data Analytics has become very essential.
Big data technologies can be leveraged to perform data analytics to mine the patient data records and look for meaningful insights. Such key insights can help deliver exceptional patient care as they serve as a potent tool for the physicians and surgeons in diagnosing and prescribing precision medicine based on past records. It also helps to identify patterns in medical records, which might help in identifying the root cause by applying it with other external data sources like epidemic information across various geographies.
3. Intelligent Digital Assistants
Amid this pandemic crisis, healthcare providers around the world are facing the huge challenge of managing the overwhelming number of patients interacting with the hospital front office staff. When hospitals are understaffed, understanding the patient needs, and booking appointments with physicians becomes cumbersome.
Intelligent Digital Assistants (IDAs) can help patients in booking appointments with physicians, seamlessly. They act as the primary layer of interaction with the patients. 10xDS developed IDA solution that enables preliminary diagnosis and critical primary information services to patients. The solution leverages advanced A.I system for recognizing and understanding natural languages. It is powered by Machine Language (ML) technology-based personalization for intelligent query suggestions using Patient Clinical Data, Symptoms, Context and Relevance. The solution has been developed to seamlessly integrate with any Hospital Management ERP. Physicians can use it during consultation to gain necessary information on the patient ailments or conditions.
4. Optimizing Staff Utilization
There is an acute shortage of staff in most health care organizations, in the COVID-19 affected areas, from nurses to physicians to pharmacists, all are heavily engaged. Machine Learning can help enable smart staff allocations based on patient volumes, understanding the urgency and priority of patients' treatments.
Conclusion
In such an arduous situation, governments across the world, technology companies, regulators, telecoms, and medical researchers can work together to revive the healthcare system and its efficacy. Emerging technologies such as Analytics, AI and Automation offers effective tools for understanding and handling pandemics and help develop proactive response mechanisms. Methodical use of such technologies can prove to be formidable and potent solutions to tackle several challenges in the industry.
Want to gain insights into our Analytics, AI, and Automation Services? Talk to our Experts!