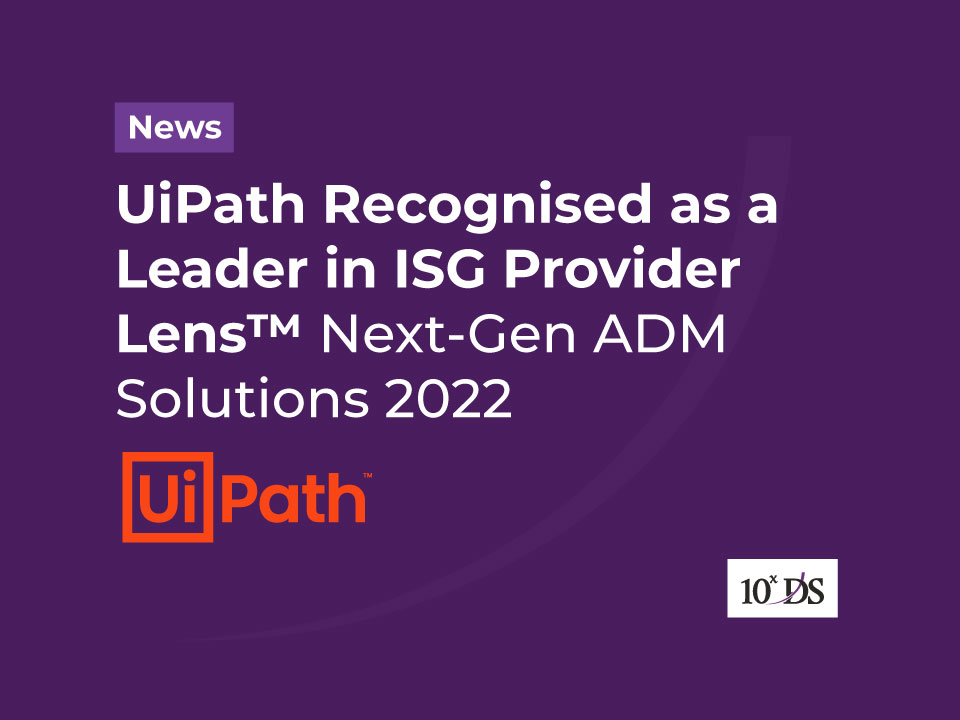 UiPath Recognised as a Leader in ISG Provider Lens™ Next-Gen ADM Solutions 2022 report
UiPath, an industry leader in enterprise automation software, recently shared the news that it has been recognised as a Leader in the Low-Code/No-Code Development Platforms category in the ISG Provider Lens™ Next-Gen ADM Solutions 2022 – Low-Code/No-Code Development Platforms report. According to the survey, UiPath Apps is a top choice for companies wishing to swiftly construct automation-powered applications. UiPath is recognised as an innovation leader at the convergence of enterprise automation and low-code application development.
UiPath Apps empowers developers of all skill levels to craft unique user experiences, consolidate data from various sources, and increase automation consumption. UiPath Apps is a low-code option to construct bespoke UX-focused applications, as per the ISG Provider Lens 2022 report. Every part of creating an app can be automated with the help of bots and digital assistants, that are accessible to both expert and amateur programmers.
Customers may utilise the entire range of automation with UiPath Apps, which is offered on the only end-to-end business automation platform in the industry, to bring about transformational business outcomes. Testing automation is made easy for software, automation, and quality assurance teams with UiPath Test Suite.
The UiPath Business Automation Platform is a user-friendly, scalable, and open platform that facilitates communication and cooperation amongst RPA professionals, testers, citizen developers, and business end users. UiPath's features and deployment options allow businesses to immediately control their software robots, no matter where they are in the automation lifecycle.
On October 31st, 2022, UiPath plans to provide to customers new capabilities that will aid developers in making cutting-edge commercial applications. UiPath Studio Web is a browser-based automation development tool that makes it simple to distribute automation at scale in an organisation and makes the power of automation creation available to users across platforms. Streamlining customer service and value chain situations will be facilitated by new features included in the upcoming edition. UiPath's Connection Builder makes it easy for developers to link the platform's API to a wide variety of back-end systems, including proprietary solutions and niche market software. This considerably increases the scope of the platform's potential for automation and app creation.
This analysis assessed the latest application development and management ( ADM) services and platforms that are allowing businesses to become more adaptable and responsive, ultimately leading to an improved customer experience. The vendors were ranked based on a number of factors, such as the quality of their user interface and integrated development environment, the ease with which apps could be deployed, the price plans they offered, and the size of their market share and user base.
About UiPath
UiPath is leading the 'automation first' era—championing a robot for every person and enabling robots to learn new skills through artificial intelligence (AI) and machine learning (ML). Through free and open training, UiPath brings digital era skills to millions of people around the world, improving business productivity and efficiency, employee engagement, and customer experience. The company's hyperautomation platform combines the Robotic Process Automation (RPA) solution with a full suite of capabilities, including process mining and analytics, that enable every organization to scale digital business operations at unprecedented speed. The company has already automated millions of repetitive, mind-numbing tasks for businesses and government organizations all over the world, including more than 50% of the Fortune 500 and 8 of the Fortune 10.