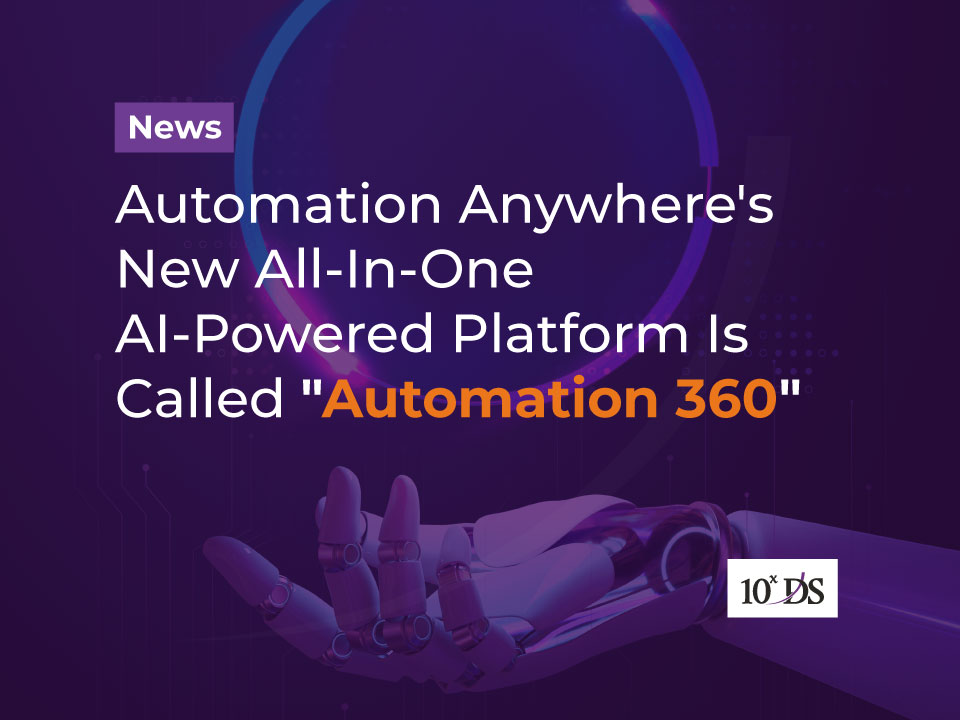 Migration to Automation Anywhere's New All-In-One AI-Powered Platform, "Automation 360"
According to Gartner, firms often experience significant setbacks and spend significantly more money than expected during their digital transformation journeys. The lack of intelligent automation in digital transformation projects is to blame, says Automation Anywhere.
In the opinion of Automation Anywhere, intelligent automation may greatly accelerate digital transformation projects. Finding, digitising, automating, and optimising processes throughout the whole business requires a scalable intelligent automation system.
Automation 360: A comprehensive and all-encompassing platform
Automation 360 is an online and cloud native platform built by Automation Anywhere to help businesses with their automation efforts. It is powered by artificial intelligence and is designed to streamline the process from start to finish. Automation 360 is a platform that helps businesses automate more by combining and integrating robotic process automation (RPA), artificial intelligence (AI), analytics, and process discovery.
With Automation 360, businesses may choose between a fully cloud-based deployment, an on-premises deployment on their own infrastructure, or a hybrid cloud/on-premises deployment without sacrificing functionality or user experience. With its cloud-native design, it's cheaper than equivalent on-premises alternatives.
Automation 360's microservices design allows for rapid web-based development and management, on-demand expansion via auto-scaling to accommodate volume and capacity changes without disturbing the existing IT infrastructure, and rapid innovation with the latest technology. By distributing tasks more evenly, the design greatly eases pressure of an organization's IT department.
Automation Anywhere also includes a robotic interface called the Automation Anywhere Robotic Interface (AARI), which is meant to improve productivity in the workplace by acting as a digital assistant to workers. The digital helper provides a user-friendly, low-code/no-code platform for creating and deploying bots, making bot creation and deployment accessible to the masses through crowdsourcing.
Organizations may increase their speed to scale, employee engagement, and customer satisfaction with the aid of Automation 360's features.
How 10xDS helped complete RPA migration from AA V11 to A360 for leading Manufacturers
10xDS helped a leading Manufacturer in Bahrain and an international organisation specialising in the design, development, manufacturing, and worldwide marketing and sales of footwear, to successfully complete the RPA migration project from V11 to A360. There were many scheduled tasks and subtasks of varied complexity that needed to be moved as part of the project's timeline. Here are the details of the migration project 10xDS performed for the companies:
8 finance processes with 31 scheduled tasks and 180 subtasks migration for leading Manufacturer in Bahrain
40 finance processes with varying complexity for a  multinational corporation that is engaged in the design, development, manufacturing, and worldwide marketing and sales of footwear, apparel, equipment, accessories, and services
Below are the migration activities:
Export and Clone Code using migration utility, Taskbots, Metabots & all documents
Create Folder Structure Global variables & Credentials vault, Hard-coded values
Resolve Visible errors and Execution errors
Compare Sample output files
Conduct CPR testing and finalize to deploy A360 Production machine
a component of the project, and they were all completed on time and without a hitch.
About Automation Anywhere
As the industry leader in RPA, Automation Anywhere greatly focusses on assisting clients in automating mission-critical, routine, and end-to-end business processes through the deployment of cutting-edge and highly intelligent software robots. The digital workforce driven by AI will do manual and repetitive jobs, freeing up human workers to focus on higher-value activities and providing superior customer service.