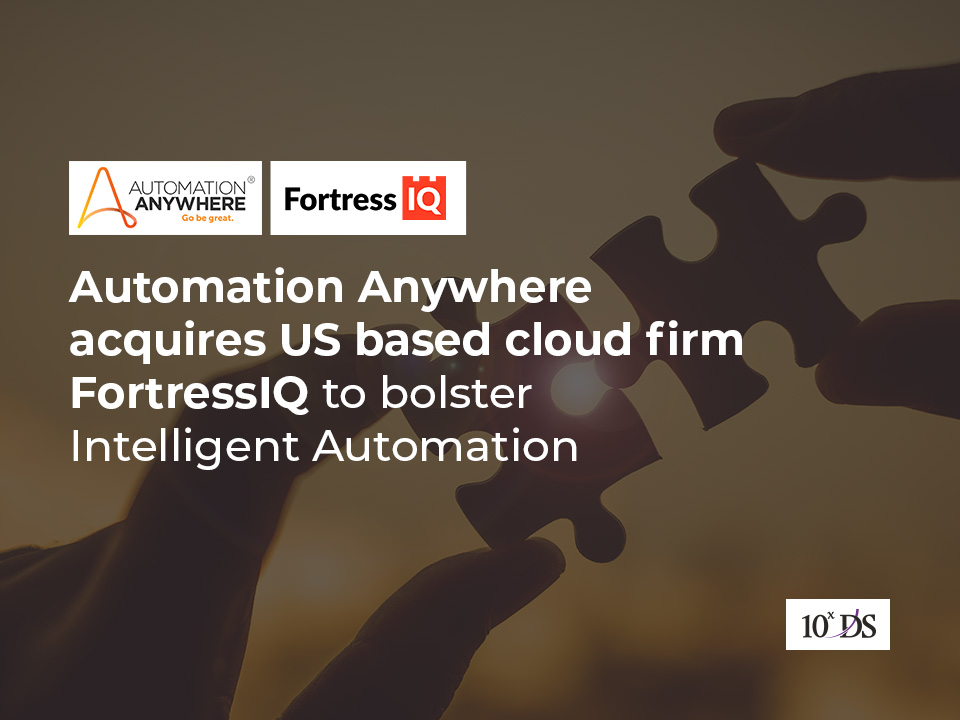 Automation Anywhere acquires US based cloud firm FortressIQ to bolster Intelligent Automation
Automation Anywhere, the leading Robotic Process Automation (RPA) provider, has announced that it has signed an agreement to buy FortressIQ a US-based cloud process developer.
Robotic Process Automation has a huge demand in the global market as the pandemic continues. Many businesses are harnessing the capabilities of RPA to streamline business processes. With the help of FortressIQ, Automation Anywhere can extend its services in the field of Intelligent Automation. Intelligent Automation brings together various techniques, tools, skills, and strategies to benefit businesses. It will pave a path to a new era of digital transformation.
According to Mihir Shukla, CEO and Co-Founder, Automation Anywhere, Automation Anywhere and FortressIQ will reshape the future of automation and change the way the customers automate, adapt, and accelerate as they undertake digital transformation efforts.
Pankaj Chowdhry, CEO and Founder, FortressIQ is excited to deliver common values to help customers succeed on a trusted platform. He further stated that in the coming years every company will redefine automation to be cloud-native and intelligent.
Automation Anywhere will be expanding its AI-powered, cloud-native Automation 360 platform with this latest agreement. This allows in-process identification, insight, and optimization of any system or application across any vertical. Ultimately with the new capabilities of Intelligent Automation, the company will deliver fast, accurate, effective automation services to all its clients across the globe.
About Automation Anywhere
The global leader in the field of RPA, Automation Anywhere greatly focuses on helping customers to automate crucial, daily, and end-to-end business tasks by offering innovative and intelligent software bots. Manual and repetitive tasks that require a great deal of time and effort will be performed by the AI-powered digital workers which results in improved productivity and better customer experience.