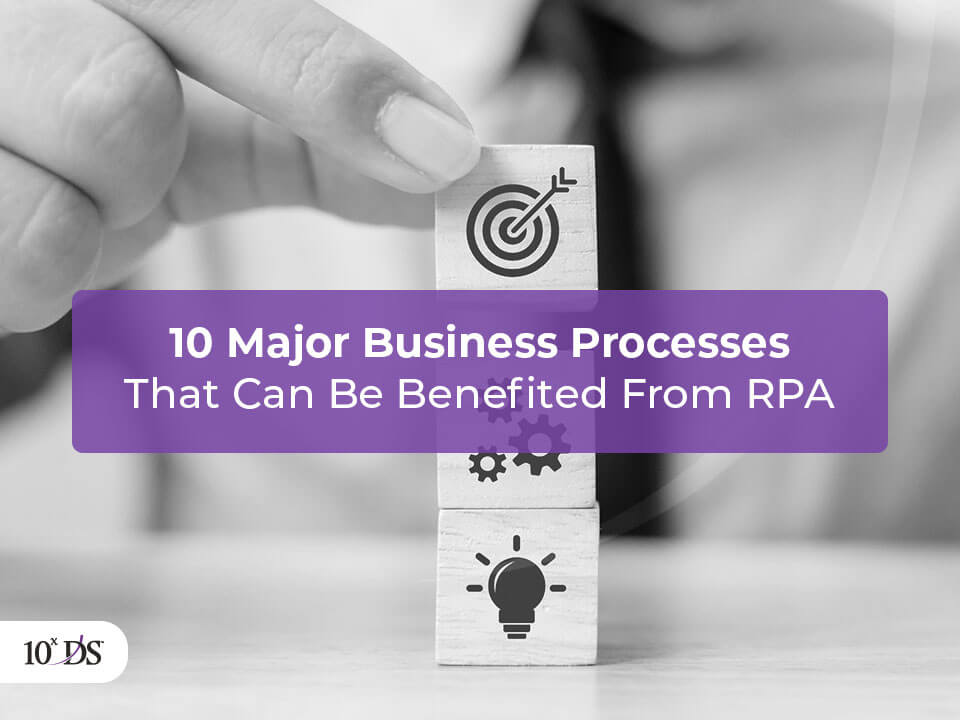 10 Major Business Processes ideal for Robotic Process Automation (RPA)
Robotic Process Automation refers to the technology that allows you to configure a software application (robot) to mimic manual actions and execute a specific business process. RPA uses data just as humans do to interpret and communicate with other systems to perform different tasks. Unlike other IT solutions, RPA helps enterprises to automate their routine jobs at much lower costs. The technology is non-intrusive and makes use of the existing infrastructure to improve productivity and efficiency.
How RPA benefits Businesses
Companies can integrate Robotic Process Automation into many of the everyday business processes that require little to no manual inputs. This allows organizations to use their workforce for more critical tasks, which need human intelligence and attentive decision-making skills. In other words, RPA helps to reduce the costs involved in hiring additional employees for routine jobs. Besides, robots also improve productivity and have lesser chances of making an error. This gives you a competitive edge over others in the industry.
Major Business Processes that can be automated with RPA
RPA can not only transform and streamline the workflow in the organization, but it will also lead to better scalability and flexibility. The robots can be configured to integrate seamlessly into any system and report their progress constantly so that you can monitor their performance and improve the process or system as required. Below are some of the core business processes that can benefit from RPA.
1. Invoice Processing
Sending and receiving invoices is one of the basic operations of all organizations irrespective of their industry or business size. RPA can be configured to automatically process invoices when they are received. This way, you can have the software automate the data, reconcile errors, and work out certain decisions that are required throughout the invoice processing. This will reduce the need for human effort while making it simpler to keep track of all the invoices.
10xDS helped a leading in-flight catering service transform their invoice reconciliation process using Intelligent Automation. The client was facing the challenge of handling a huge volume of invoices to be processed, the situation became a critical and strategic issue that had to be solved to enhance productivity and cash flow. 10xDS holistically assessed the needs of the company and leveraged its state-of-the-art RPA and Intelligent Automation COE and deployment methodology to develop and deploy an Intelligent Automation solution for the client to streamline their invoice reconciliation process, increase efficiency and eliminate non-value-added process steps.
2. Procure-to-pay
Most businesses have a centralized procurement department with standardized processes for the organization, still processes are not always controlled. Its a mix of manual steps and electronic systems involving numerous steps to complete just one order and there can be several deviations from the actual process to accommodate some scenarios, making the whole process complicated. Adopting RPA can make the process seamless, enabling more proficiency and ensuring that the transactions are well aligned by consistent data. From managing a Vendor Master, Sourcing and Contracting, Purchase Order process, Receiving Goods, to Payments, RPA can effectively streamline P2P process enabling more accuracy, consistency, and higher productivity.
3. Sales Orders
Sales operations are another crucial part of all businesses, which usually includes repeated tasks like data entries to the CRM and accounting systems. RPA can be used to perform these activities and automate jobs like sales order entry and invoicing. This will help you to manage the database in a more organized way while easing the complications involved in the time-consuming tasks. This, in turn, will help to improve customer experience with quick generation of sales orders.
4. Accounts Payable
Another area in the finance department where RPA can be of great help is for automating the scanning, filing, and paying of invoices. Even though there can be many varying levels of complexity in the financial processes, they usually rely on recurring tasks that follow the same pattern every time. This allows you to implement RPA tools and make the process more streamlined. The automated system will also categorize different invoices, channels, and locations to make things easier.
5. ERP Data Entry
Entering data into the ERP system can be very time-consuming and may even require the back-office staff to spend an entire day on it. Manually entering the data can also lead to human errors, which can affect the overall workflow of the business. With RPA, you can automate the entire ERP data entry process, be it data collection, logging, processing, updating, or validating the records. This will not just reduce the transaction times to maximize productivity, but also help to minimize errors.
6. Data Queries
A system query is a common process across multiple applications, which is required to collect data for a particular transaction. RPA tools can be used to restructure data integration between different applications and portals, which will provide quick access to the data required by the employees for different tasks. Moreover, RPA can also help to provision data from the servers in the network by executing a specific query and extracting data to the output panel.
7. Human Resources
Automation in the HR department has great scopes to make the system and processes more efficient. RPA tools can help to find the employee details quickly and precisely, which can be a time-sensitive process. Automation will also help to replace paper processes with e-forms and online applications, which in turn will facilitate your digital transformation journey. RPA robots can also be used to manage attendance, leave authorization, timesheets, and more.
8. Payroll Management
Calculating the payroll is a routine job of the HR department, which follows the same rule-based formulas and calculations every month. This makes it easier to integrate RPA solutions for payroll management and minimize the time and effort involved in the manual process. Automation will also make it easier to handle big volumes of data entry and ensure consistency across multiple systems. You can also automate paycheck generation and manage other payroll-related transactions without any inaccuracies.
9. Mailroom
The company mailroom may not require much human effort, but it is an important back-office process, which can often be inefficient if not managed properly. By integrating RPA solutions to the mailroom, you can digitalize the process completely and automate every task involved, be it collecting the incoming mails to delivering them to the user devices. Automation also makes it simpler to analyze and sort the mails for further processing and distribution.
10. Enterprise Security
Another major benefit of RPA is that it helps to improve business security. Automating tasks such as regular security checks and round-the-clock network monitoring will help you to detect malicious activities in time and take the right measures to counter cybersecurity threats. RPA solutions will also apply the security patches and updates when they are available to make sure that your enterprise network is not compromised in any way. This also helps to reduce the risk of unauthorized access and data breach. Cybersecurity aspects embedded with intelligent automation helps us to create a cyber-secure environment. Activities like access management, vulnerability scanning, patch management, incident analysis, security monitoring, among others could benefit from the application of Intelligent Automation, considering the increasing occurrences of cyber attacks worldwide.
Conclusion
Intelligent Automation and Robotic Process Automation are increasingly becoming a norm for streamlining the digital transformation journey across industries and companies worldwide. RPA covers a wide range of enterprise processes and works to deliver powerful outcomes.
Talk to our experts to learn how RPA can help you to gain a valuable advantage and drive enterprise digital transformation.