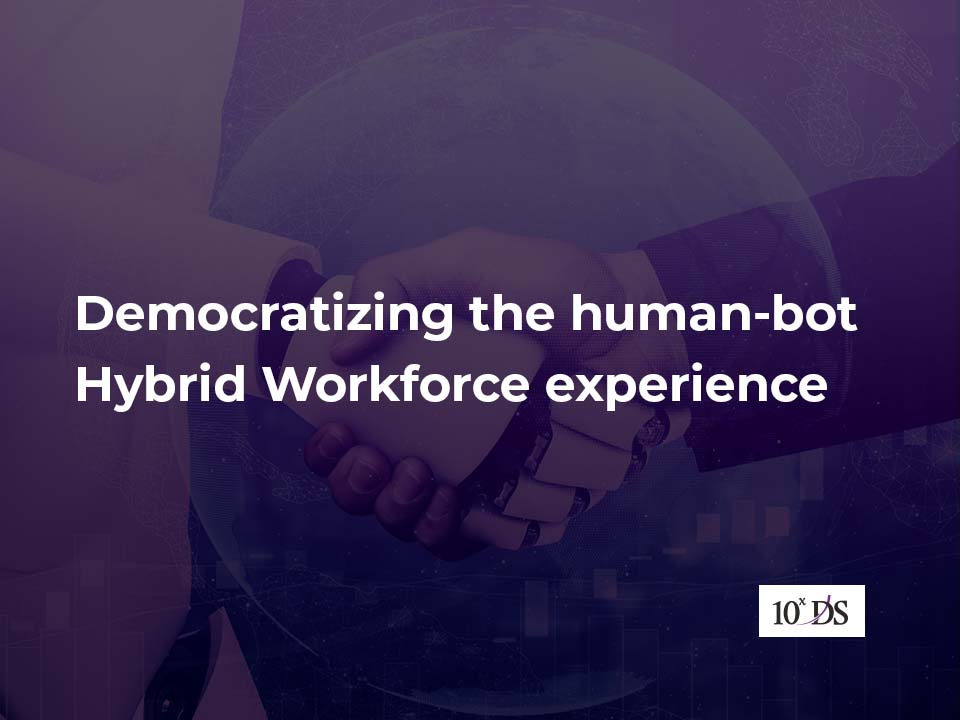 Democratizing the human-bot Hybrid Workforce experience
Making something accessible to everyone is a great way of democratizing it. Tier-one RPA platforms have been cautiously doing these for more than a year. Blue Prism advocates the "Power of Two", where enterprises reach their full potential through a unified workforce of human and digital. A robot for every person is UiPath's goal for the modern workplace, where companies enable every employee to use, create, and benefit from automation—to drive business impact at scale. Similarly, Automation Anywhere aims to improve employee productivity with a cloud-delivered digital assistant for everyone using Automation Anywhere Robotic Interface (AARI).  
In this blog, we will try to discuss  AARI and how it enables humans and bots to collaborate on work. AARI aims to provide all employees easy access to RPA across platforms, applications, and devices. It is cloud-native. AARI tries to simplify workflow by consolidating data and multi-interface complexity into a single-pane-of-glass employee view.
10xDS Automation Consultants review AARI with a User perspective.
Automation Consultants at Exponential Digital Solutions (10xDS), after using AARI themselves first-hand, believes that it provides a simple, front-end interface for users to execute and interact with bots and applications. By using AARI users can simplify everyday tasks, such as reporting and keeping track of urgent requests, speed up requests by automating escalations and approval workflows. With the use of AARI, users do not have to leave the application while the robot performs its tasks. It is a dedicated workspace for AARI users to create requests, run tasks, and for AARI managers to create manage team roles and deployment. Users can retrieve and update data with custom forms and also view and interact with all data from a single screen instead of switching between multiple systems. We can access AARI through a URL to manage front and back-office functions, gathering input and approval from a single interface. We can use AARI for front office automations, Salesforce, Approval Workflows, Customer support, among others.
As we know, unattended bots are enabled to execute repetitive tasks and manage mail flows. Users cannot directly interact with the bot. Unattended bots automate mostly back-office processes. It operates on a pre-set schedule, or as triggered by logic in the process flow. There are no UI interactions for Unattended bots, whereas AARI is a Virtual Assistant that assists with tasks by collaborating with employees. AARI could keep track of urgent requests. Validations can be done in the run time and remove confusion for the user. In commonly used applications, automation is triggered based on agent action, IVR sequence, application event, after-call work requirement and more.
AARI application integration is unattended automation for users who would want to work side by side with robots. AARI plugin would be there in the productivity applications such as Excel, Google Sheets, or Salesforce to assist users with their requirements such as obtaining a result or updating information. Users do not have to leave the application while the robot performs its tasks, and it could provide the user with the final output information needed for their process. AARI also integrates with any contact centre software by starting process automation from any predefined IVR event or agent action. Front offices can scale automation beyond specific tasks to automate end-to-end business processes. With the help of AARI, front offices could focus more on the customer interaction at hand.
AARI Web: This web robotic interface provides users with a collaborative web interface for humans and robots to work together. Users can automate high-touch processes such as approvals, escalations, and exceptions all while collaborating with other users by validating or verifying that what was done was correct without leaving the webpage for AARI to work.
AARI for Desktop: AARI desktop integration is attended automation perfect for processes that require data entry from multiple users performing tasks on separate machines. It is run locally on a user's machine to perform dedicated tasks such as form filling and submission. Ultimately, users would fill out a form provided by AARI using specific data from their machines or processes. That data will in turn be used by AARI to perform other related tasks like submitting information within a CRM application or something similar.
What is the AARI process?
The AARI process logically connects between various bots intended to use within a process. The AARI process can contain conditional statements, 'Go To' statements, Bot Tasks and Human Tasks. When an AARI request is sent, the process is what is controlling that flow from the original form that a user filled out, to whatever step may come next.
Conclusion
Going forward we might see RPA platforms striving more to enable users to cohesively work with robots through native application plugins, interactive desktop forms, and collaborative web interfaces. This can significantly boost productivity and in turn increase customer satisfaction, which can ultimately increase sales throughout. Welcome to the world of the hybrid workforce. The hybrid workforce, made up of both people and robots, is not science fiction anymore, but today's reality.
Talk to our experts to know more!