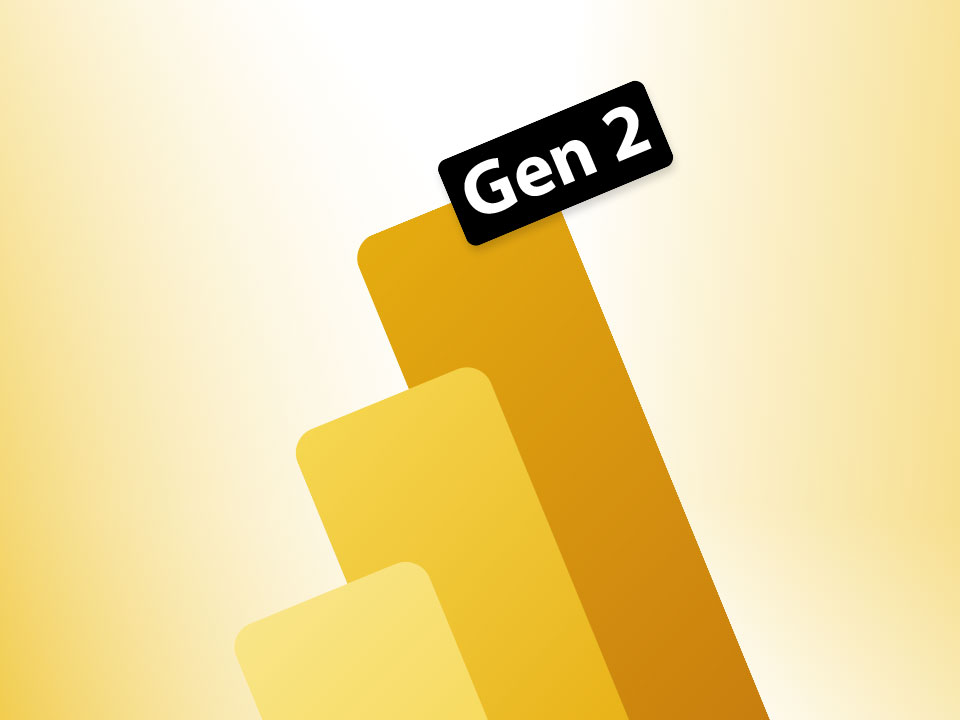 Microsoft introduces the new Power BI Premium "Gen 2"
Microsoft most recently released its latest version of Power BI Premium and it is called Power BI Premium Generation 2, referred to shortly as Premium Gen2. Before going into the details of the Gen2 version lets understand what the Power BI Premium offers.  Power BI Premium allows users to access specific features and capabilities available only in the premium version. The solution in its premium version offers greater scale and performance for Power BI content for your enterprise. Users looking to get the maximum out of Power BI can use the Power BI Premium as it provides better performance and responsiveness.
Let's have a look at some of the capabilities users can gain with Power BI Premium:
Users can gain greater scale and performance for the Power BI reports.
Enhanced flexibility offered to license by capacity.
State-of-the-art features for data visualization and insight extraction. The new features include AI-driven analysis, composable and reusable dataflows, and paginated reports which users can utilize for enhanced data visualization and gleaning insights.
There are several Premium-only capabilities to handle heavier workloads needing enterprise scale and this helps to unify self-service and enterprise BI.
The premium version of Power BI offers support for data residency by region (Multi-Geo) and encryption keys managed by customers for data at rest (BYOK)
Another powerful capability the premium version offer is the capability to share Power BI content with anyone (that includes even people outside the organization). The interesting catch is that companies need not purchase a per-user license to avail this.
Power BI Premium Generation 2 (preview)
The new version Power BI Premium is in the preview phase and is available for all the Premium subscribers to try out and explore during the preview period. Users have the option to select the original version of Premium or switch to the new Premium Gen2 version as per their choice. However, users cannot avail both versions at the same time, as they have to choose one or the other for using the Premium capacity.
Let's see what the Premium Gen2 version provides users in addition to the features in the original version:
Premium Gen2 users can avail the ability to license Premium Per User in addition.
The new version offers better performance over any capacity size, always: When compared to the original version, the latest one allows analytics operations to run up to 16X faster. Interestingly, the operations will not slow down even when the load on the capacity approaches the capacity limits, always performing at top speed.
Better and greater scale:

There are no limits set on refresh concurrency. This means users do not have to track schedules for datasets being refreshed in your capacity.
There are fewer memory restrictions, which users faced in the original version.
Premium Gen2 offers total separation between report interaction and scheduled refreshes.

Enhanced metrics – The metrics in the new version offers clear and normalized capacity utilization data. Moreover, its only dependent on the complexity of analytics operations the capacity performs, and removes the dependencies on the size, the level of load on the system while performing analytics, or various other factors.
Autoscale – Another interesting and useful feature of Premium Gen2 version of Power BI is that the users can now automatically add one v-core at a time for 24-hour periods when the load on the capacity exceeds its limits. This allows users to have greater control and prevents slowdowns caused by overload.
Reduced management overhead – The new version helps reducing management overhead significantly by providing proactive and configurable admin notifications, helping users to monitor capacity utilization level and load increases efficiently.
About Microsoft
Microsoft Corporation is a leading multinational technology company involved in developing, manufacturing, providing licenses, support services, and selling computer software, consumer electronics, personal computers, and other related services. Microsoft Power Platform offers a range of powerful applications such as PowerApps, PowerBI, Power Automate and other such apps, providing quick and easy ways to app building and gaining data insights.
10xDS has a strong and experienced team with a Power Platform CoE (Centre of Excellence) providing a wide range of Microsoft services to clients across the globe.