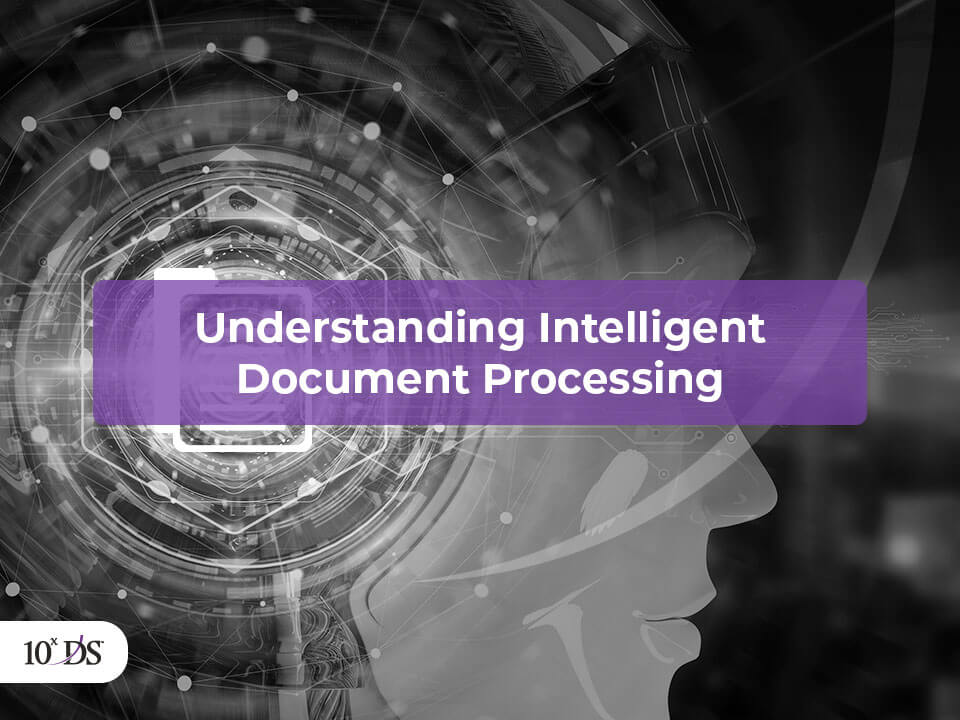 What is Intelligent Document Processing
Document processing is a task that organizations have been performing routinely for many years. The process involves interpreting the content of a physical or electronic document into an actionable task. Traditionally, document processing was carried out by businesses manually, yet the advancements in digital technologies have opened up a way to make document processing more efficient.
Intelligent Document Processing makes the repetitive and labor-intensive task much simpler. It is a specific part of Intelligent Process Automation, wherein digital technologies like Machine Learning, Natural Language Processing, and Intelligent Character Recognition come into play to process documents and eliminate the tasks, which would have otherwise required relying on human intelligence. This makes it more practical for businesses that receive high volumes of documents, such as sales orders, invoices, and customer correspondence, to process relevant data. These unstructured and semi-structured documents cannot be processed efficiently using rule-based automation software. Yet Intelligent Document Processing (IDP) can easily translate the data in such documents into a structured format.
How Does Intelligent Document Processing Work
IDP is much different from Optical Character Recognition (OCR) as it combines AI technologies to capture, recognize, and extract even the most difficult-to-automate forms of data. It can be coupled with RPA solutions to validate the data and integrate it into existing applications as required. In a nutshell, IDP solutions are easy to set up and deploy, they recognize and extract information from multiple formats, they learn continuously and improve over time, and offer a non-invasive solution to be integrated within the existing infrastructure.
It is obvious that many of the peer-to-peer functions have to deal with a wide variety of documents. This could include quotations, contracts, invoices in different templates, receipt notes, and more. In order to make sure that your digital transformation is a success, you need to manage these documents aptly and convert them into data that can be used for further processing. This is where IDP can help by decoding the data in various types of documents, irrespective of the templates, types, or quality. The data extracted from the documents can then be used for relevant purposes, such as invoice payments, sales order processing, KYC updating, and more.
Intelligent Document Processing involves different stages, which start from pre-processing and capturing the data in the documents to validation and integrating the data into the pertinent systems. However, it all can be categorized into four phases.
4 Phases of Intelligent Document Processing
Capture – The different types of documents, such as PDFs and scanned images, are archived in the Document Management System, FTP folders or in specific email boxes. This process also involves improving the quality of the documents by applying various techniques like binarization, noise reduction, de-skewing, etc.
Recognize – The data in the documents is classified using AI-based technologies to separate and categorize multi-page documents and extract the needed information. Then the relevant data is extracted using pre-trained extraction models based on OCR and machine learning technologies.
Classify & Validate – The extracted data is combined and passed through a series of validation rules based on AI-driven techniques to improve the extracted information. These could be pre-defined rules that are validated by the automation tools.
Verify & Integrate – BOT updates the extracted data into the ERP and processes further. After the verification, the extracted data is integrated into the required application.
The Intelligent document processing ecosystem has various technology components including Optical Character Recognition (OCR), Machine Learning (ML) and Human in the Loop (HITL).
Optical Character Recognition (OCR) – OCR is a technology which helps in detecting, analyzing, and extracting texts in images to a machine-readable format.
Machine Learning (ML) – Machine Learning models improve their own performance by exposure to data, outcomes and feedback loop. They learn, predict, and improve with time and more data.
Human in the loop (HITL) – HITL is combined with the automation solutions to decide the exemptions, additions, and approvals. This helps the machine learning algorithms to develop and improve their efficiency.
10xDS IDP Use Case
Intelligent Document Processing can be beneficial to all kinds of businesses that manually process documents on a regular basis. 10xDS assisted a leading Indian insurance agency to adopt an IDP solution for managing their day-to-day tasks. The Intelligent Document Processing solution focused on reading large volume transactions from the insurance estimates and invoices submitted by different dealers and then using the extracted data for claims processing post-approval.
The task BOT in the IDP solution accesses the documents from an FTP location and categorizes it based on different dealers for vehicle insurance processing. The IDP BOT then extracts the data from the estimates and invoices and classifies the documents based on different criteria, such as labor only, parts only, and labor and parts. Then the data is passed onto downstream application via API for further processing and Human in the Loop is employed to detect any issues based on document quality. The IDP solution made the entire process quick and efficient, which helped to avoid the delays in claims processing, thereby improving customer experience.
For detailed reading on the IDP applications, check out our article on sector-wise use cases of Intelligent Document Processing.
10xDS also offers IDP ecosystem as a managed service, and aims to deliver increased efficiency in data extraction, verification and updates with minimal or nil capital investments
Conclusion
Around 80% of all documents in an organization are in the form of unstructured or semi-structured data. Over time, the amount of such data can pile up and make it impossible to manage it. This can affect business functions by trapping important and useful data. With the use of Intelligent Document Processing, the time-consuming and tedious process can be made simpler without any risks of manual errors. This way, you can better use the data in various formats and documents and ensure enhanced productivity and operational efficiency.
Talk to our experts to learn more about Intelligent Document Processing and see how it can benefit your business!