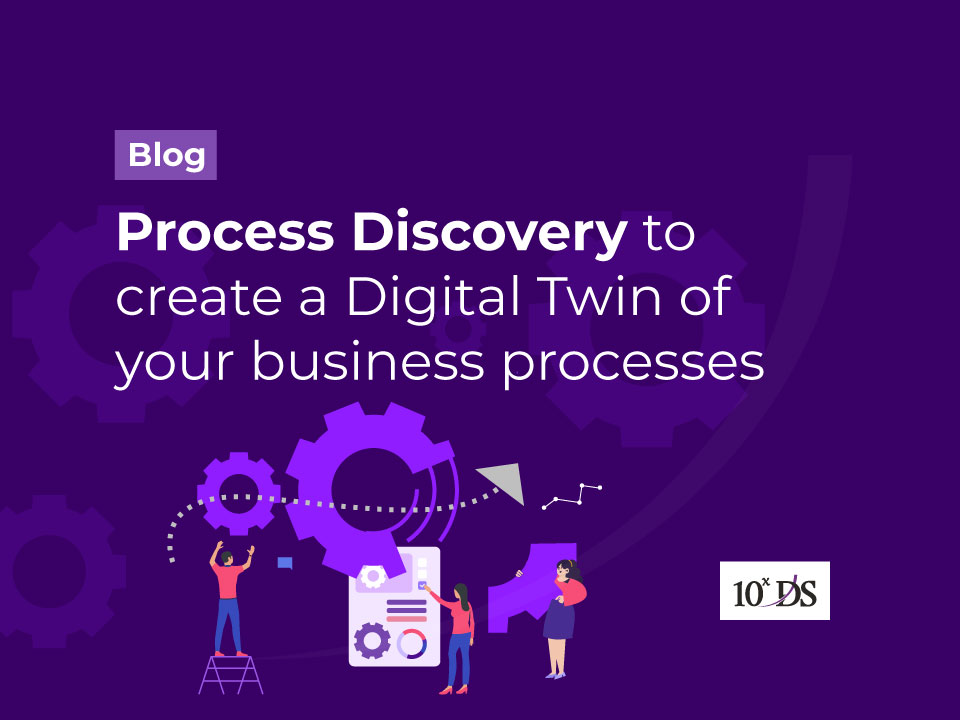 Process Discovery to create a Digital Twin of your business processes
Modern businesses store vast amounts of data in their various systems, used by a wide range of departments. On a daily basis, data are created in large quantities due to the widespread use of platforms and the increasing prevalence of cross-platform integrations. The ever-increasing volume of data has been a driving force behind the emergence of the Digital Twin Framework or Digital Twin Organization (DTO) in recent years, attracting the attention and consideration of C-suite executives at major corporations.
According to Gartner, a digital twin is an exact digital copy of something in the physical world. To put it simply, a digital twin is a replica in software of a concrete thing, process, organisation, person, or other abstraction. In order to provide a comprehensive picture of many physical things and their associated activities, such as a power plant or a city, or a business process, data from several sources can be combined to build the digital twins.
For the past three years in a row, DTO has been named one of Gartner's Top 10 Strategic Technology Trends. In one of its numerous projections about digital twins, IDC says that businesses that use DTO would enjoy a 30% reduction in cycle times for their most important activities. The global Covid-19 epidemic has only increased the use of Digital Twins, which were expected to become widely adopted in 2020 according to IDC. Facilitating the development of an intelligent supply chain and production methods.
Typically, when discussing the Internet of Things, industrial applications, and tangible assets like airplane engines, turbines, and production machinery, the term "digital twin" is used. However, more emphasis will be placed on processes in the future of digital twins.
In order to grow and scale, digital twins will focus more on financial, supply chain, manufacturing, and logistics-related systems and processes. Instead of simulating the physical properties of assets, the next generation of digital twins will focus on the inner workings of organisations and how they function. The data-driven abstraction of discrete business operations should serve as the foundation for both detailed insights into those processes and future projections.
It will require some preliminary effort to develop a comprehensive Digital Twin. It is necessary to extract, examine, and understand the data. This is considered as an ideal use case for Process Discovery or mining. Let's see how Process Discovery can help to create a Digital Twin of your business processes
Process Discovery to create a Digital Twin
Gartner predicted a few years ago that process discovery or mining would develop into a key aspect of any business transformation programme and surely may aid in directing digital business activities by providing the data connection portion of an organization's digital twin.
We've laid up a four-step process discovery strategy that can help you build your own digital twin:
1. Read your data – reading procedure
The extraction of process data from current IT systems is a critical precondition for functional mapping. It is necessary to first uncover your data by integrating process mining into your existing IT systems and get a true picture of your processes and deviations that occur.
2. Understand your data through visualisation
Following the discovery phase, the visualisation of your process structures begins; the more processes visualised and correctly understood, the larger your digital twin framework will become. As more processes are visualized, not only does the Digital Twin grow, but so do the opportunities for studying the structure's overall efficiency and accuracy.
3. Data interpretation, analysis, and utilisation
After identifying and comprehending your present processes, it is time to do root cause analysis and compare target-actual comparisons, allowing you to dig down and perhaps improve methods. In addition, visualising the process structure allows you to observe the true condition of the system.
Process discovery or mining technology is a critical tool for developing your digital twin foundation. It's being used as a business mirror. You remove probable mistakes from manual process discovery and mapping by conducting a thorough discovery of your processes, comprehending and visualising, as well as analysing phases.
Here are some of the characteristics that a process' digital twin could have:
Data is generated mostly through transaction processing, rather than through physical assets with sensors installed.
Value is created not by possibilities like preventative maintenance but through speed, efficiency, and cash flow.
Data for modelling and simulating the physical environment comes from IT systems. Sensor data may be utilised to replicate an object in digital form.
Digital twins of processes also allow for the seamless combination of machine and human labour. Effective digital twins for processes describe the interplay between human and automated labour. For example, human labour bottlenecks may develop if a process were automated too soon.
Benefits of using Process Discovery to create Digital Twins
Developing digital twins of business processes through process discovery are far-ranging and has far-reaching consequences. Given process discovery and mining's potential to radically improve business operations, companies are rushing to implement the technology.
Major advantages consist of:
Accelerating the discovery of new process automation opportunities is a key benefit of using process discovery and mining technologies for businesses.
Process discovery promotes interaction and coordination across departments by compiling process intelligence in a single dashboard.
Allows users to try out potential modifications to processes in a controlled setting before bringing them into the real world, therefore encouraging innovation and lowering risk.
Conclusion
Process discovery and mining can be a concrete technology that can help create DTO. By starting with an accurate model, allowing for iterative simulations, and monitoring ongoing conformity and performance, automated business process discovery can help decrease the chance of digital twin failure. Business owners may digitally plan future renovations and evaluate changes before imposing them with the help of a digital twin that is a precise reflection of the existing state of affairs. These companies may find hidden flaws in their systems, save money, create new value, and ensure that their infrastructures are fully rationalised by using the cutting-edge digital twin.
How 10xDS can help?
Exponential Digital Solutions (10xDS) is partnering with Soroco, the world's first work graph firm, to bring more value to worldwide clients via Soroco's Scout – Work Graph Platform. To accelerate digital transformation in businesses worldwide, 10xDS draws on Soroco Scout's comprehensive task and process discovery and mining capabilities. The platform gives firms a standardised perspective on their work, allowing them to more easily spot areas for improvement, standardisation, and scaled automation.
Talk to our experts to know more on how process discovery and mining can enable your organization's Digital Twin.