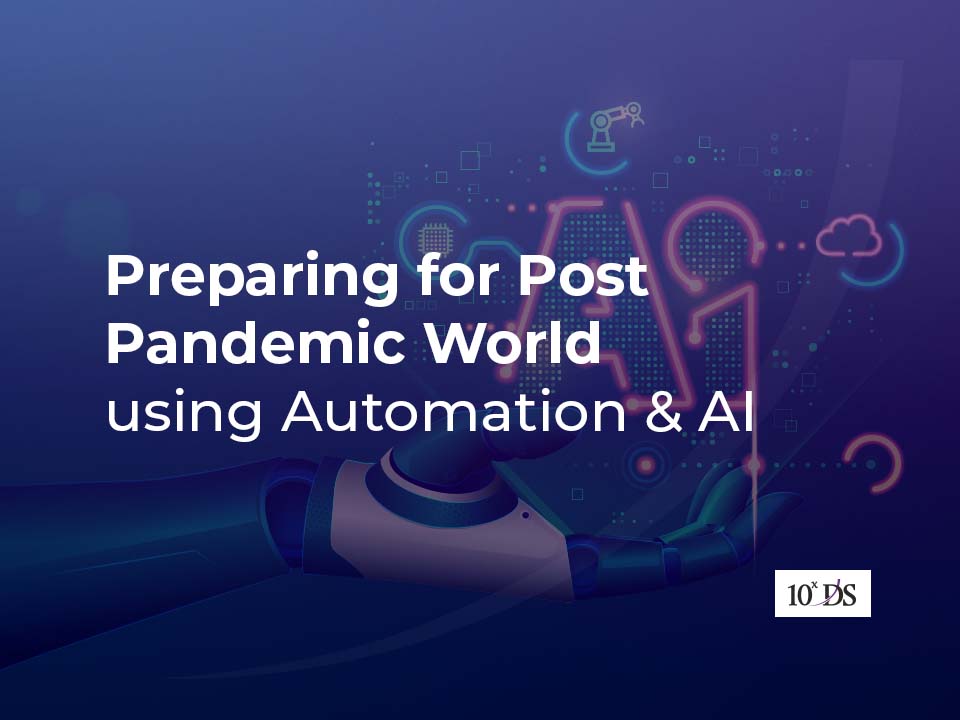 Preparing for Post Pandemic World using Automation & AI
The Covid-19 pandemic compounded several existing challenges for universities, colleges, companies, hospitals, governments, and several sectors. It is important to note that most of these organizations were finding it difficult to meet the increasing expectations due to their complex IT and aging infrastructure. However, such struggles have intensified after the pandemic changed how individuals worked along with increasing the demand for digital services.
Several organizations in the United States and worldwide are trying to innovate to better serve their customers and overcome the obstacles of the pandemic in creative ways. Several organizations and individuals embraced technology to function better during the pandemic.
Scale For the Unexpected
Organizations and agencies with public cloud workloads will be easily able to scale storage and servers on demand. This is something that has helped several organizations to respond to the covid19 pandemic.
Scaling and preparing for the unexpected is possible because automation allow cloud technology to do so. If one of the tasks or processes in your business is repetitive, then leveraging emerging technologies like RPA and AI will be able to complete them a lot more accurately, consistently, and faster when compared to humans.
Enable Remote Workforce By using Automation
Several companies expect some of their staff or employees to continue working remotely even after covid19 pandemic restrictions have been lifted. Businesses that want to help their remote workforce to stay engaged and productive will need to provide them with the tools and services they need to connect with co-workers and complete their jobs efficiently.
It is important to note that the elements of remote employee solutions range from centralized routing and VPNs to remote learning platforms and workstations. Automation helps businesses by accelerating the provisioning of network and security devices, storage, and servers.
Read: How RPA can help Improve Work from Home Productivity?
Modernize Aging Infrastructure with Hybrid Cloud Infrastructure
There is no denying the fact that several public sectors and even private organizations continue to rely on their aging infrastructure. Monolithic applications and legacy operating systems are very complex to manage, costly to maintain, burdened with technical debt, and difficult to scale.
Aging infrastructure makes it difficult for businesses to adapt to changes that the post-pandemic world has in store for them. For instance, several universities and governments have already planned to use new apps for asset location tracking, virtual interactions, and now-empty space surveillance.
Connecting People and Doing Things at the Network Edge
Healthcare organizations and governments are attempting to boost their operational efficiency in the post-covid world, which has started to embrace edge computing. In fact, several government organizations have started to deploy IoT (Internet of Things) sensors, which serve the purpose of transmitting data to edge servers, where ML and AI apps swiftly identify and resolve issues. Some of the common examples include transportation management, traffic flow monitoring, garbage pickup, timely pothole repair, responding to emergencies such as gas plumes or chemical spills, and suspicious package identification.
Several hospitals have started to use edge servers for getting healthcare analytics on bedside sensor data and medical images. Locally processing large volumes of data instead of moving it over the WAN (Wide Area Network) to the cloud has helped to identify problems easily and quickly, which needs timely intervention.
Government organizations will be able to bring processing to exactly where data is created by using edge computing. Data processing will be happening on compact edge hardware that will be optimized for Artificial Intelligence or Machine Learning and equipped with graphics processing units.
The edge device is capable of ingesting data from variable sources, which can include EHR systems, IP cameras, sensors, imaging systems, and more. AI and ML apps that are running on the edge device will be able to rapidly identify situations, which need immediate action.
Return to Workplace Solution
Technology giant and 10xDS partner Microsoft came up with an innovative and robust solution, Power Platform Return to the Workplace, to help companies manage their business reopening process and start serving their customers better. Microsoft Power Platform offers several comprehensive and reliable solutions such as Microsoft Power Apps, Power BI, Power Automate and more.10xDS partnering with Microsoft helps enterprises to harness the power of the Return to the Workplace (RTW) solutions to enable seamless and safe transition back to the workplace, for resuming their operations.
Conclusion
We are all aware that the pandemic has disrupted businesses in every sector and the current situation is making them prioritize how they operate in the future. Organizations looking to increase their agility for meeting new challenges will be able to do that by adopting modern application architectures, automation, AI, and other emerging technologies for business continuity and growth.
10xDS is helping enterprises build solutions leveraging Power Apps based Return to workplace solution. Talk to our experts to know more.