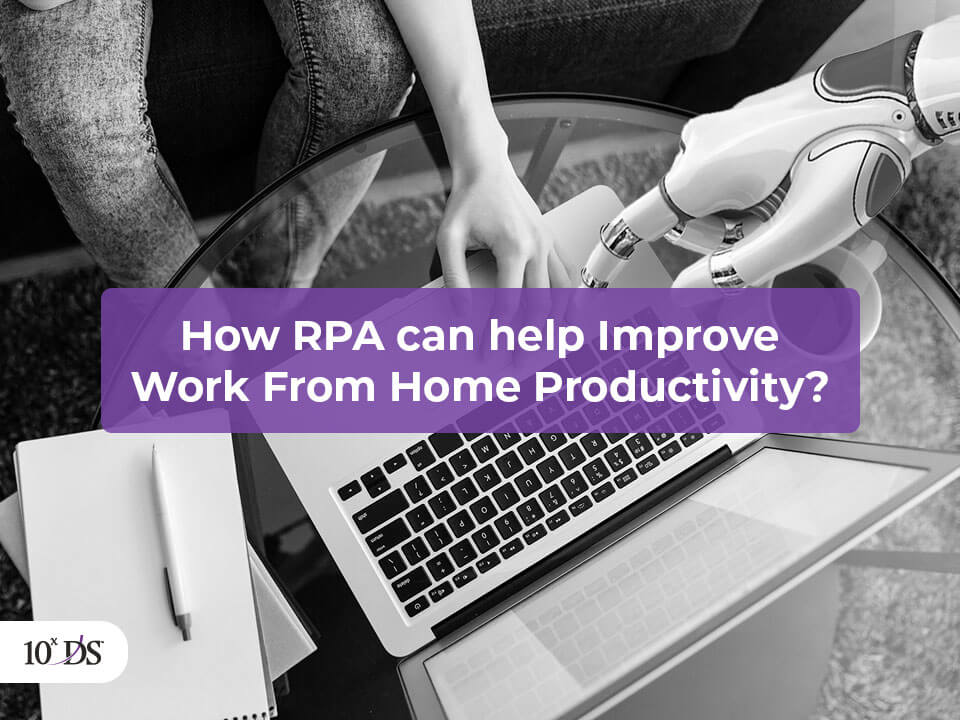 How RPA can help Improve Work from Home Productivity?
Work From Home, as a practice, is nothing new and the IT industry has been very popular in offering such arrangements for quite some time. This has been heralded as the future of work, especially leveraging technologies that have made it easier than ever to stay connected. Especially now, considering the health and safety of employees amid the COVID-19 pandemic crisis, many companies have shifted their workforce to be fully remote. But, many still ponder over how to ensure and even increase the productivity of the employees working remotely?
Digital Workforce supporting employees working remotely
Emerging technologies like Intelligent automation and Robotic Process Automation (RPA) is providing more productive ways to work remotely. Attended Automation involves the digital workforce acting as virtual assistant working alongside the remote working employee, intuitively sensing when the employee might need support in handling a rule-based, repetitive activity.
Let us consider a call centre scenario where a virtual assistant will support the remote working employee by transferring automated self-service calls. The bot can even be used to record a number of calls made, note the times those calls were placed and more. Managers can assess employee pain points and their productivity. Bots can send real-time reports of the progress.
Process Automation to enable effective Remote working
1. Invoice processing
This is obviously one of the most critical and unavoidable part of any business. The major challenges businesses face in this is the disparate formats in which vendors send their invoices such as PDF, email, fax, or paper copy, which leaves the accountants no option but to enter data manually. Manual data entry is tedious, time-consuming and highly error-prone. And errors in such a critical process can cause a lot of financial repercussions. Intelligent Automation and RPA solution can swiftly process invoices upon receipt to make the process error-free, efficient and help employees working remotely to focus on more value-added tasks.
A leading in-flight catering service company's invoice reconciliation process was highly people-dependent, with double-digit error rate, long processing and resolution time, huge backlog kept on adding. Enhancing productivity became a necessity considering the volume of invoices. 10xDS developed and deployed an end-to-end process automation solution for invoice processing to address this critical challenge the client faced. The software bot accessed the ERP as well as the web portal of the company to generate and reconcile the invoices generated across multiple pre-defined heads, minimizing the need for human intervention.
With Intelligent Automation, software bots can automate data input, error reconciliation, and even process certain decision-making required throughout the invoice reconciliation process. Such a solution can handle most of the possible exception scenarios.
2. Document processing
Cognitive automation can help end to end automation in organizations to manage and streamline services that are information-intensive, error-prone, and expensive like document processing. It can manage unstructured data such as data from text, images, PDFs, scanned documents, natural language input, among others to improve performance and reduce the handling time. Employees working from home can rely on the bots to handle the repetitive activities and focus on activities requiring functional expertise, judgement and decision making. For instance, in banking and financial services, cognitive automation offers significant benefits, from loan processing to risk mitigation, wealth advisory and more.
There are several other use cases where Intelligent Automation, RPA, and AI can augment the human workforce working remotely, such as in sales operations, functions in finance and accounting, HR, Administration and more.
3. Cybersecurity operations
RPA and Intelligent automation can help the security team better enable the smooth functioning of cybersecurity operations. Cybersecurity aspects embedded with intelligent automation can help companies to create a cyber secure environment to effectively combat cyber threats. Software robots can automate activities like vulnerability scanning, patch management, access management, incident analysis, and monitoring, among others. For instance, robots as application administrator would be able to grant and revoke access to the application when an employee joins or resigns. In vulnerability scanning, bots can go through the log reports for false positives and remove if included, it can then be categorized based on devices, vulnerabilities and criticality and further distributed to various owners. Considering the risk of cyber-attacks and data breaches, which is increasing especially since most of the people are working from home, automating cybersecurity operations is the way forward to strengthen the lines of defence.
4. Secure Access of Client Data
It is a huge challenge to process secured and sensitive client data with the dependency of accessing it from an unsecured (weaker) home network. Automating the process can remove the dependency, keeping the data secure.
5. Automated Timesheets
With the majority of the employees working from home, the HR department faces the tremendous challenge of manually reviewing employee time records and absences. Automating the process using RPA can enable HR to validate records by cross-checking employee active time and other factors. The bots can also notify the HR with alerts on the absence or any other aspects configured. This helps the HR personnel to better manage Time and Attendance.
Conclusion
Amid the pandemic crisis, several organizations are experiencing obstruction in their operations, finding it difficult to thrive. Businesses are bound to face requests for services and managing these spikes can be challenging, especially when most employees are working remotely. Harnessing Technologies such as Intelligent Automation, Artificial Intelligence, Conversational Artificial intelligence (AI) and others can enable businesses to function efficiently, supporting employees working from home to improve productivity and service availability.
Team 10xDS has switched its operations to 100% remote work. We continue to drive digital transformations for our global clients leveraging Intelligent Automation, AI, Analytics, and other exponential technologies.
Want to gain further insights into 10xDS Digital Transformation solutions? Talk to our Experts!