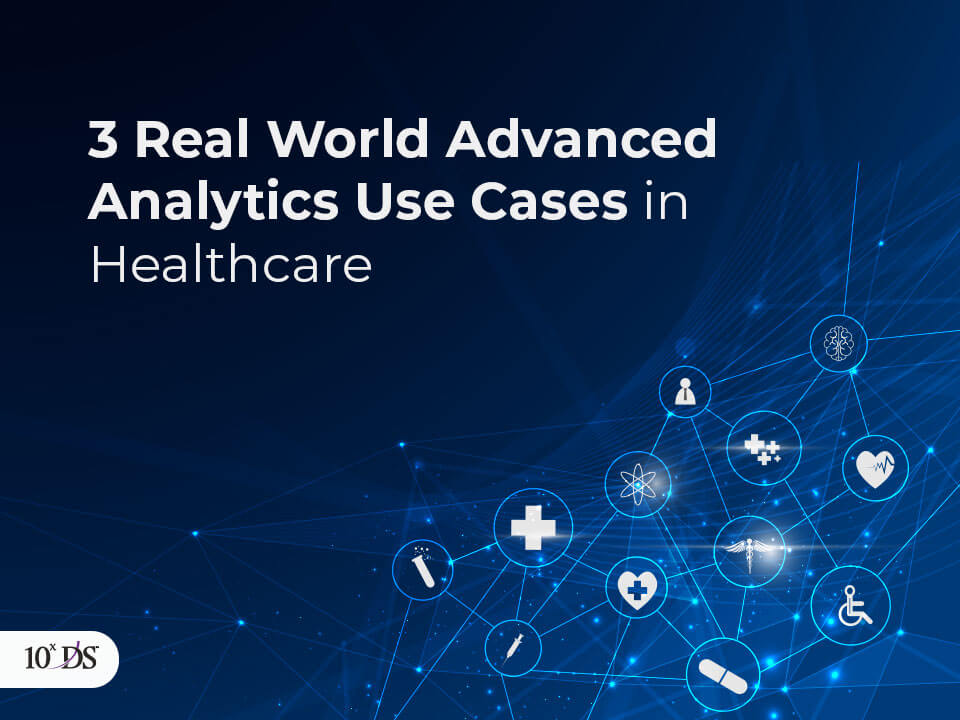 Three Real-World Advanced Analytics Use Cases in Healthcare
Healthcare is a heavily regulated sector in most geographies. Hospitals spend a lot of money ensuring compliance of their operations and procedures with the laws of the land. Addressing the right use cases by investing in advanced analytics technologies can help hospitals ensure that they are compliant and are receiving the right kind of insights and alerts, at the right time.
The use of advanced analytics is not just limited to compliance aspects, but can be applied to streamline and improve a variety of processes in clinical, operational and financial scenarios including patient management, admission management, beds management, theatre utilization, preventive medicine, emergency care, Revenue Cycle Management ( RCM), screening and diagnosis,  to name a few.
In fact, two technology advancements that happened during the early years of the 21st century encouraged and helped embrace the use of advanced analytics.
The digital universe literally exploded. There is a 50-fold growth of digital data, compared to what we had 15 years back. As they say, Data is the new oil and utilizing this data to improve and predict business functions has become the new norm to innovate and try unexplored scenarios in the past.
The computing power has become cheap. What this means is you have the right kind of computing power available now at affordable rates to mine the data for information and channelize that information for business advantage.
For any data or Analytics initiative to be successful, the first step is to make sure that all the required data is captured and recorded. Irrespective of the source and type of the data, historical datasets are always a gold mine of information and by properly applying the right techniques on mining the data, insights can be derived. This is information that was hidden or not even aware it existed. These historical datasets can be used for training advanced machine learning models, that could be used for forecasting and predicting the future behaviour of various aspects of the business.
Below are 3 use cases where advanced analytics and machine learning techniques gives the right insights to improve some of the business functions at a hospital thereby improving the overall operational and clinical efficiency.
1. Improved patient engagement using data analytics and AI
For any hospital to provide the best of its services, understanding their patient base should be the mission. Advanced customer segmentation models can be built using a combination of supervised and un-supervised machine learning models to segment the patient base on multi-various attributes – starting from patient demographics to psychographic information. This can be further enriched using the patient encounter data, hospital visit patterns, clinical notes, among others to build a 360-degree view of the patients. Such models can be further tuned to enhance the patient engagement, providing AI based health alerts, pharmacy report anomalies, medical appointment alerts and more.
2. Improve Revenue Cycle Management
Managing the revenue cycles is key for any hospital management to ensure smooth cash flow. Building dashboards using descriptive and diagnostic analytics techniques help understand the current pitfalls and inefficiencies in the process of revenue realisation from Payors. Today's business intelligence tools allow all sorts of flexibility to the user to slice and dice the data, narrow down the analysis and then identify the root cause of specific issues. Metrics like the first pass ratio of insurance claims and time lag for generating, processing and sending invoices are visual indicators of process inefficiencies (if any). Advanced machine learning models can be built to forecast the rejection probability of the insurance claims thereby forecasting future cash flow scenarios as well.
3. Clinical efficiency improvement with cognitive analytics
Deep learning technologies help in classifying clinical diagnosis based on machine learning models. Convolutional neural network (CNN) developed for specific diagnosis scenarios, proved to be providing equal or more accurate diagnosis compared to their human counter parts in specific scenarios. Relying more on deep learning-based AI components help provide more reliable and accurate health services to patients. The use of technology is not just limited to improving accuracy in medical diagnosis, preventive medicine is an area which is very promising and redefining the way patients are treated, more proactively than reactive. Developing models based on patient's clinical records, and correlating that data with medical diagnosis and symptoms data, geography-based health alerts and others help in taking proactive caution for specific patients. IoT based sensors and other wearable devices provide a wealth of information that helps continuous monitoring and real-time alerts based on patient's medical conditions.
Conclusion
Gone are the days where technology was considered enablers for various business functions and its improvements. Today technology firms drive various sectors with innovative products that disrupt the current business models, giving way for new models to be evolved. The innovative business models of companies like Uber, AirBnB, IBM, Google and others are not just enabling business functions, but they are also evolving around emerging technologies such as Intelligent Automation (IA), Artificial Intelligence (AI) and Robotic Process Automation (RPA).
Healthcare sector is not much different, and big players like Microsoft, IBM and others are investing heavily in Analytics and AI products that can disrupt the way healthcare sector is viewed today. It is highly advisable for Healthcare firms to invest in such technology adoptions and come up with new innovative models to enhance patient engagement and improve the way health is taken care today. This helps the healthcare institutions to not only take care of the health of the patients, but also change the way it conducts business. Being a heavily regulated sector having very stringent data privacy policies being carved out around the world; data professionals have a challenging environment to develop models within the constraints of data privacy rules and other laws governing the sector across geographies. At the same time, the promise of such models and solutions is exponential!
How 10xDS can help?
10xDS is driving digital transformation by leveraging our expertise on data and analytics technologies and deep sector experience to enable organizations make effective strategic decisions.  Our strong portfolio of data and analytics services includes Information Management, Big Data, Business Intelligence and Advanced Analytics solutions for assisted and semi-automated decision making.
Want to gain further insights into 10xDS Advanced Analytics solutions and Analytics practice?  Feel free to reach out to me at Laiju.Skaria@10xds.com for a detailed conversation.