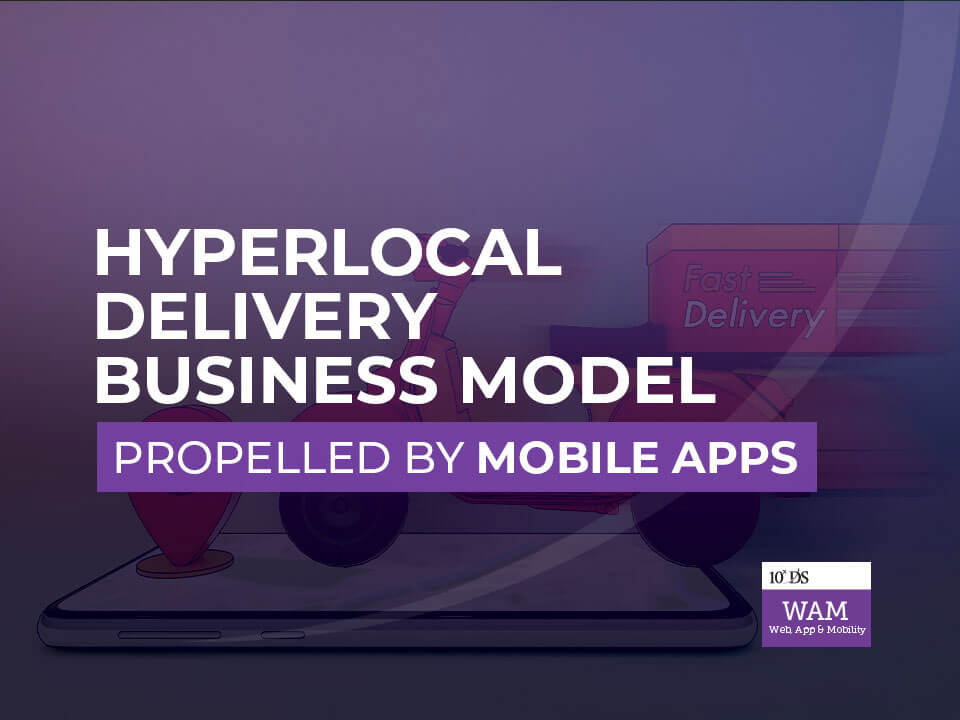 Hyperlocal Delivery Business Model – Propelled by Mobile Apps
5.20 Billion, that's the number of mobile phone users in the world today, according to the latest data from GSMA Intelligence and it is growing in millions every day. Around 60 per cent of the world's total population use the internet. This massive opportunity is being used by businesses and has given birth to a business model named Hyperlocal delivery business model.
What is Hyperlocal delivery business model?
It is a digital business model in which the needs of customers at 'hyper' locality are met through local offline shops via the medium of a digital platform. In short, it is going local in the business by utilizing the technology.  It helps boost local businesses with the convenience of speed and quality for the customers.
Let's take an example of the needs of the Hospitality sector. Consumers prefer home-made and hand-made materials for their use.  Hence the hotels are preferring to purchase locals. As Hyperlocal delivery business owner, you are aware of many Women Self-made units who produce handmade soaps but are struggling to find businesses and you get into an agreement with these Units on a commission basis and provide them with a platform which is a mobile application to sell their products. Being locally present, the hotels can get the required soaps on time. This business model helps sustain local communities and local business and help to avoid the many intermediaries that may come in-between. The same model can be applied for local farmers, laundry services, medicines etc.
This decade has witnessed the boom of such hyperlocal businesses. Uber, Yelp, Airbnb, TaskRabbit, Instacart, Oyo are only a few examples and this model has disrupted many traditional businesses by now and more are expected in future.
As we already mentioned, Hyperlocal businesses target prospective consumers in a specific and restricted area, to give them services and materials from near them. Users searching 'near me' options in their mobile apps will be able to find the providers. While developing hyperlocal mobile apps, core features to be considered are:
Geolocation – Needless to say, enabling GPS location is a key feature that would detect the customer's location to list nearby providers as well as for delivery tracking.
Provider selection – There may be many providers nearby and hence customer should be able to select the preferred provider
Deliver slot selection – Users need to have an option to choose the Fast Delivery shipping method with a preferred delivery slot.
Multiple payment options and integration with Payment gateways – Users should be given the freedom to choose their preferred payment method. If it is online, it should have integration with payment gateways.
Mobile wallet – For users to load funds along with credit points so that they can use it for future orders
Sale summary dashboards – for the sellers
Customer and seller onboarding with QR code scanning and OTP features
Chat Support and Push notifications
Order summary and recently placed orders for customers
Product reviews
Offers and promotions
Features are not enough; branding and user experience also play a key role in garnering success.
Key Aspects to be Considered while Developing a Hyperlocal Mobile App
There are a few other key aspects to be considered as well while developing a hyperlocal mobile app.
1. Order management system
A backend web-based Order management system will be ideal to handle orders placed, cancellations, order fulfilment, and sales. This can be built inhouse or can be chosen from the many Order Management Systems available in the market.
2. E-commerce platform
There are many opensource frameworks available in the market that allows building a custom made app. Many features required for a hyperlocal app comes off the shelf from these platforms with the content management system and many integrations. WooCommerce and Magento are examples.
3. Mobile app development stack and platform
Based on what type of app is needed for the specific business – native app, web app, or hybrid app, you may decide on the technology component that may be best. Inhouse development or development by a specialist team can be considered.
Conclusion
Launching this mobile app to propel the business and sustaining it is key to keep growing. Technology is definitely making our life easier, so why not we use it the best.
Talk to our experts to know more about our mobile application development services and how to kickstart your hyperlocal business.