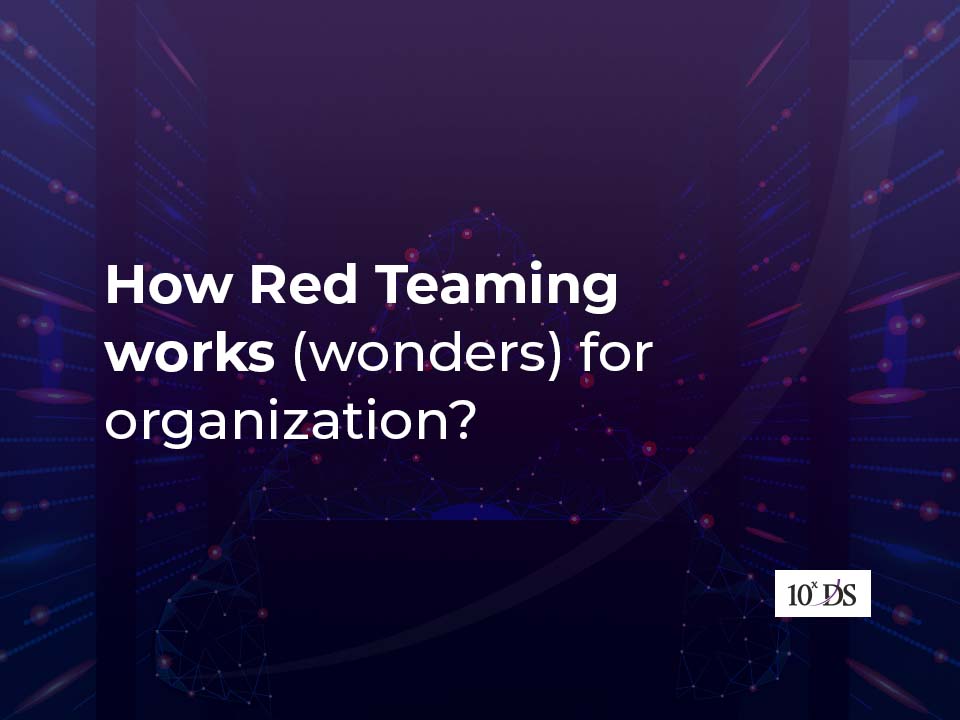 How Red Teaming can work wonders for an organization
While all types of organizations across industries are vulnerable to cyber-attacks, the Financial Services industry has suffered the most with targeted attacks. Most financial organizations have internal security teams, and few have outsourced the services to managed service providers. Still, they are far from overcoming the threats that constantly knock at their doors. There are some inherent challenges:
Getting stakeholders onboard with cybersecurity hygiene
Defining the acceptable level of risk for each of the assets including data
Attracting and retaining cybersecurity talents who work smart like cybercriminals
Ever-changing IT landscape within the organization creating newer vulnerabilities
Lack of understanding of threats among various stakeholders and many more.
The gist here is that the organizations do not have a holistic view of security. While there is an absolute need for organizations to protect all assets – data, devices, and business processes, they do this in disparate pockets. It is getting increasingly important for financial organizations to step up the cyber-security game Being one step ahead of the opponent is key. Here, the opponent is cybercriminals, and they are smart, constantly trying out new things and even mixing old methods with new ones to create advanced methods to exploit vulnerabilities. In short, they are not tired, they try silently for years together to get the right vulnerability to exploit the target organization. This is where the concept of Red Teaming proves to be extremely handy.
Most companies conduct security testing against their assets, but these are confined to a specific component being tested. Red teaming focuses on the organization's assets as a whole. It provides a real-world view of what an attacker would do to compromise an organization's assets. In short, a red team tries to think like cybercriminals. A red team member will not focus on just a network or a web application, instead
They will use the organization's human element to find ways into the organization
They will try to identify possible weak points from multiple assets
They will tie together disparate vulnerabilities to create composite attack scenarios
In other terms, red team tries to test the security of your systems by trying to hack them before they become a soft target for criminals.
Here is how the Red Teaming Process works
1. Reconnaissance and intelligence gathering
Identifying all web/mobile applications, IP addresses, hosts/services and assessing them is the first step. This is followed by understanding easily attackable vulnerabilities and collecting information required to identify relationships between components such as authentication services, routing paths, or authorization frameworks. Learning business processes is another activity in this phase. This is done in various ways – with intervention from a support representative, by interacting with a web application or service, or a combination of both.  Learning how the network is designed is also another important intelligence to gather in this phase. The red team also collects information about employees that could facilitate targeted social engineering attacks. In other terms, the red team learns the blueprint of the organization.
2. Enumeration
Based on the intelligence collected in the first phase, the red team prepares the attack path modelling. Each of the composite attacks is built and executed based on the attack paths model developed earlier. A wide range of techniques is used like social engineering, Command and Control, and even physical intrusion.
3. Reporting
The results of the above exercises are presented to stakeholders so that immediate steps can be taken to fix the vulnerabilities before the cybercriminal finds them. It will be a detailed post-engagement report on the exercise conducted and insights to support remediation of all the risks identified.
Conclusion
By conducting red team assessments, organizations learn how prepared they are to respond to a targeted attack and how easily data and assets could be targeted by adversaries. It also helps to reveal hidden vulnerabilities. By simulating a range of composite attack scenarios, red team assessments help the blue team to identify and address gaps in threat coverage and visibility. With all these, the aim is to ensure investments for fixing all the vulnerabilities on a priority basis.
Talk to our red teaming experts to know more!
Watch our On-demand Webinar to learn more:
Red Teaming: Know Your Adversary