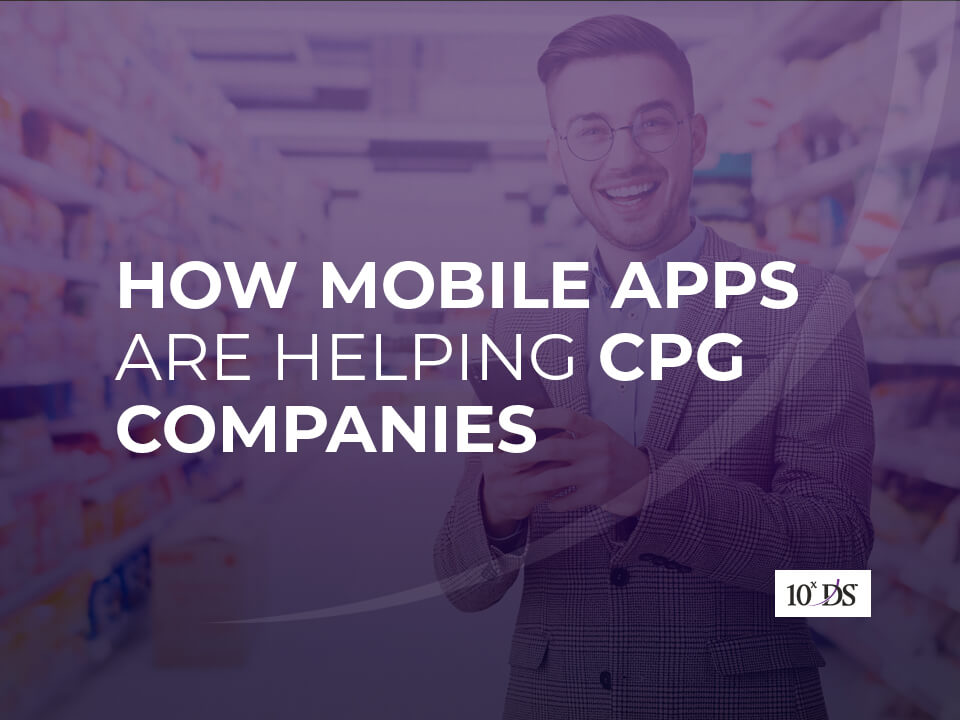 How Mobile Apps are helping CPG / FMCG companies
The CPG (Consumer Packaged Goods) / FMCG (Fast-Moving Consumer Goods) industry has witnessed intense competition over the years. Several companies have been trying extensively to gain a competitive edge. Brokers and field representatives in the field have spent a quality amount of their time on retail stores to improve merchandising, handle inventory, track sales, and acquire the best positioning for their company.
There is no doubt that the potent weapons of CPG companies are mobile applications, argues a white paper published by CGT (Consumer Goods Technology). The white paper was published after surveying several global CPG executives.
The Need For An Enterprise Based Mobile Application
According to the white paper, an enterprise-based mobile app is integral for CPG field teams. The mobile application should be able to offer a real-time and seamless experience from field to office. The white paper also stated that a mobile app should help field representatives by providing valuable insights, which will in turn help them take a consultative approach when delivering, merchandising, and selling products.
Mobile applications also have a purpose of resolving major challenges, for instance, the "show and sell" conversations that most reps have with retailers to buy as many products as possible. Mobile applications offer real-time insights on retailer-specific data, which will help field reps to identify which kind of products will sell more.
Mobile Campaigns Of CPG Brands
The mobile campaigns launched by different CPG brands give us a clear idea on how to reach customers with offers and personalized content. While several CPG companies still market through mobile web and SMS, others have started experimenting with purchase-based data and augmented reality. Here are some of the best mobile campaigns run by CPG brands.
1. Campbell Soup Co.
A pilot mobile program was organized by Campbell Soup Co., which delivered personalized ads to customers on the basis of their purchasing behavior.
2. Co-Co Cola
Co-Co Cola came with their first digital-only initiative with a campaign, which was focused on teenagers and it went on to become a huge success for the company.
3. Kellogg Co.
Kellogg Co. offered a unique desktop and mobile web experience, which made it really easy for the loyalty program members to redeem and track points.
4. Pull-Ups
Pull-Ups leveraged augmented reality in an innovative and unique way with an application, which helps mothers to potty train their children. Disney characters like Rapunzel and Mickey came to life when customers scanned the packages within the markers.
5. Schick
Schick added a mobile call to action on one of the print advertisements to raise awareness for a new product of theirs. Users were encouraged to like the Facebook page of the company during the campaign.
Benefits of integrating mobile apps to CPG / FMCG businesses
Mobile applications are excellent platforms that will help marketers to offer personalized content and attractive offers to customers. A number of interactive and innovative mobile campaigns have been launched to boost sales.
An overwhelming number of cheap alternatives and deals are offered to customers by competitors to lure in customers. This is why it is crucial to have a mobile app with real-time operational feeds that can do wonders for your business. Here are some of the major benefits CPG businesses can enjoy by integrating mobile applications.
1. Improve Visibility
An interactive mobile app can help improve the visibility of your GPG business brand. In addition, such a mobile app will bring higher engagement and help you acquire more customers. One of the added advantages of having a mobile app is that you will be able to bridge the gap between customers and your company.
2. Boosts Customer Engagement
Mobile apps have become platforms that offer valuable experience to customers. The presence of mobile applications allows businesses to easily connect with their customers. Mobile apps also make it possible for businesses to deliver the right message to their targeted audience. Leveraging mobile applications on the basis of customer insights will surely help your business to grow and acquire more customers.
3. Active Tracking
CPG companies will be able to get a lot more regulated and organized by integrating mobile apps into their business. Mobile applications will allow businesses to easily track, scan, and maintain the assets within the warehouse. This in turn helps businesses to transform complex processes into simple and hassle-free operations.
Mobile apps can also be used to streamline a company's supply chain process. In addition, a number of companies are using mobile applications for decision making. The data and valuable insights offered by mobile applications allow businesses to make better and informed decisions.
Conclusion
Integrating a mobile app to your CPG/FMCG company will surely help you with improving visibility and boosting customer engagement. As a CPG company, developing a mobile app should be on top of your marketing priorities if you still have not done that already.
Talk to our experts to develop and deploy mobile applications tailored to your needs.