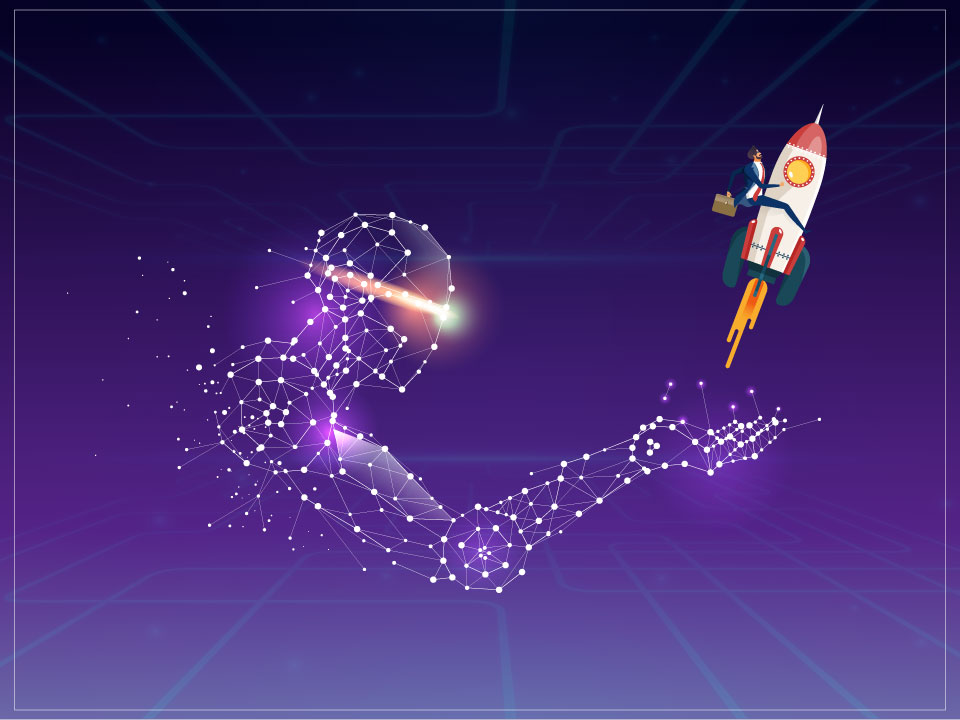 How Automation and AI are transforming Businesses in 2019 [Statistics & Trends]
Emergence of exponential technologies like Robotic Process Automation and Artificial Intelligence have ushered in a whole new level of digital transformation in everything from infrastructure, HR, banking and financial services, to business models and many more. Analysing latest trends, we can forecast how the economy will be dominated by these emerging technologies.
RPA Today and Future Potential
First let's see how much influence Robotic Process Automation (RPA) will have on digital transformation of enterprises in the future. RPA is a technology which facilitates the use of software to automate high-volume, rule-based and repeatable tasks to reduce human intervention in enterprise, services and many more. It is one of the fastest growing technologies projected to contribute about $1.7 billion in 2019 and $2.9 billion by 2021 according to Forrester report. The report also says that '40% of enterprises will have automation centres in place'. This shows the tremendous potential of automation across enterprises.
Automation is causing major disruption in the workforce growth, eliminating certain jobs and creating newer opportunities for more productive and creative jobs. Early adopters are still figuring out how to make their RPA investments successful.
Lean and efficient organization:
Start-ups often have the disadvantage of having fewer resources. This makes them more adaptive to improve their existing processes and to automate them where needed. RPA helps automating some of the repetitive labour-intensive tasks equal to the output of 140 million full time equivalents by the same year according to the researchers at Hadoop. Gartner research says that, by the end of 2022, 80% of the large and very large organizations will deploy RPA in one or the other form.
McKinsey & Co. predicts that by 2030, 75 million to 375 million workers will need to switch occupational categories. Introduction of RPA does not result in tremendous loss of jobs but will influence in creation of more jobs that are productive and non-repetitive. All these analyses suggest that adopting RPA is the next logical step for the future of digital transformation in organizations.
AI Today and Future Potential
Artificial Intelligence (AI), machines that can sense, comprehend, act and learn is also creating a huge impact across industries. The market share of AI is estimated to grow from $12.5 billion in 2017 to $46 billion by 2020 according to the research firm, IDC.
According to Personnel Today, 38% of enterprises have already implemented AI in their respective workplace whereas 62% are still expecting to start using AI in the near future. AI has some significant business benefits and many businesses can take up AI to reduce operational costs, increase efficiency, and enhance customer experience.
Conclusion
RPA and AI have enormous untapped potential to drive greater value, becoming a strategic investment in the enterprise world. Moreover, RPA and AI when used together, opens new possibilities paving the way towards new future trends. Integration of AI capabilities into RPA platform improves efficiency and productivity with enhanced accuracy.  But none of these technologies can be implemented overnight, organizations should develop a clear roadmap from conception to implementation and post-implementation. 10xDS is driving digital transformation by leveraging our vast consulting experience, expertise, state-of-the-art RPA, Intelligent Automation and AI COE and deployment methodology. We help streamline processes for clients across a wide range of Industries and functions. Our expert team can help deploy RPA and AI solutions to automate various processes.
Want to gain further insights into our RPA and AI services and solutions or if you are looking to jumpstart your Digital Transformation journey, talk to our experts!