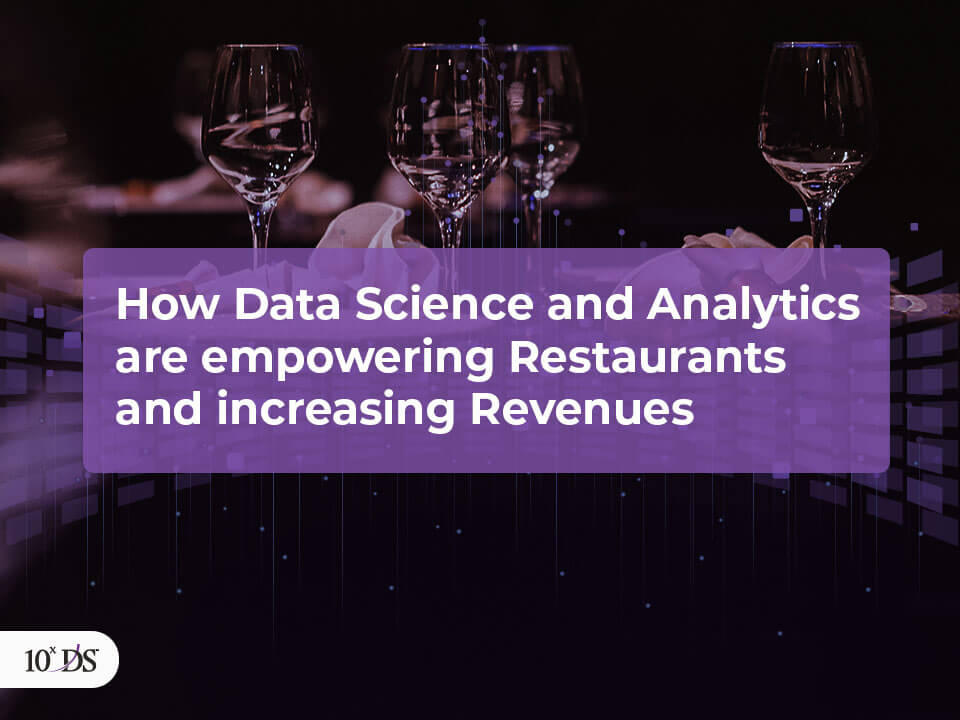 How Data Science and Analytics are empowering Restaurants and increasing revenues
One of the most challenging things for restauranteurs is to comprehend what affects their popularity more – whether it is the food or the ambiance or the crowd or the service or the mood in the restaurants. They would definitely love gaining access to information on the type of customers visiting their stores, seasonal trends of items sold, performance across venues and several other parameters. This is where analytics and data-science come very useful as lifesavers for restauranteurs.
Data science and analytics can help decipher what works best for their business, analysing various types of data. Restauranteurs would want to untap the potential of data analytics to know what should be in the menu, best timing, the right price, ways to improve customer engagement, performance analysis of staff and supplies requirement in order to consistently generate profits, while delighting the customers. Analytics and data science can help analyse the past data, derive actionable insights, forecast the future, and help owners make right and timely decisions. Now with advanced techniques, they can gain insights into customer behaviour to target customers and make their guests like them more than their competition.
How can Restaurateurs put Advanced Analytics to use to understand Customer Expectations and increase Revenue?
1. Understanding customers
For any restaurant owner, understanding the customer, knowing the motivation behind each visit is important to help target the right segments of customers. It is always a combination of various factors that the customer thought of and experienced consciously or sub-consciously before choosing to visit a restaurant. Every customer is different and to ensure customers keep visiting their restaurants, the owners need to collect various information, requiring analysis of their behaviour, to segment them based on their visit patterns, menu choices, spends, and others. This information can help them customize offers for different parts of the day as an effective differentiating strategy.
To promote specialities, slowly encourage new meal choices, customers need to be led to believe that they can order alternative cuisines at certain times of the day, even though they may be savouring their favourite meal. Segmentation classifies behaviour across customers and identifies people with similar patterns, enabling, targeting with similar engagement strategies and tactics to gain better results.
2. Analyse customer behaviour
Restaurants need to understand those loyal customers whose needs have not been fulfilled by their present offerings. They need to maximize the potential margins by providing customized offerings to the customers. Loyal customers are the biggest brand for restaurants. To get the customer visit the restaurant more times during the course of the day, for example, offer different meal options or special combo offers to give more value to the customers for each visit.
3. Analyse menu items observing what people are consuming and what they are not
For any restaurant, the most important aspects include a great menu, quality food and pricing. The menu items should be carefully chosen based on the theme and target customer preferences. Restaurants find it challenging to understand the menu options and what combinations work best to attract customers. This is where analytics can help by analysing patterns in customer preferences and consumption data to identify new ways to present, package and rearrange existing menu offerings.
10xDS Restaurant Analytics Solution
Restaurant owners need to have systematic management and oversight over operations and various KPIs to ensure smooth functioning. Embedding Analytics into their everyday business processes offers them several sure-fire advantages.
The 10xDS Restaurant Analytics solution offers customer analytics feature to help restaurant owners in developing personalized promotions, attract new customers or retain existing customers, and take actions based on customer sentiments. The POS analytics solution helps optimizing menu without revenue leakage and cost increase. The solution offers insights into which menu items the customers like the most, which waiters bring in the biggest orders consistently, what new promotions are likely to sell better and other such insights.
The solution helps in customer churn analysis for accurate diagnosis of customer churn and sending alerts when a loyal customer exhibits behavior that suggests imminent defection. Customer segmentation analysis helps to divide the customers into groups of people that are similar in specific market-related ways such as age, gender, interests and spending habits. Sentiment Analysis helps owners to monitor the conversations, language and voice inflections in order to calculate customer's emotions. Owners can gain visibility into key KPIs such as average revenue per customer and customer satisfaction levels.
Restaurant Analytics – Use Case
10xDS helped a leading dining establishments company gain better visibility into KPIs and transform insights into sales forecasts. The client faced the challenge of getting a consolidated and aggregated view of their business performance across the required dimensions. Even though daily reports were generated out of the PoS data, it lacked visibility into various performance indicators. The leadership team of the client wanted better visibility of sales to business and a better way to monitor their key KPIs.
10xDS team cleansed, transformed and fed into a central repository to aggregate the various KPIs. This data was combined with the public data feeds related to the restaurant across the various social media platforms, and other public information like weather, local holidays and more to understand the sales trends and brand sentiment. A simple, yet powerful dashboard was developed using PowerBI to provide insights on various KPIs. The client gained more visibility into the key numbers and indicators to streamline budgeting and sales planning to improve sales performance. With greater visibility into the KPIs, the client was able to make better sales predictions with enhanced accuracy. The solution helped the client perform brand sentiment analysis to gain greater insight into what people are saying and how they feel about the company and brand.
How 10xDS can help?
10xDS is driving digital transformation by leveraging our expertise on data and analytics technologies and deep sector experience to enable organizations to make effective strategic decisions.  Our strong portfolio of data and analytics services includes Information Management, Big Data, Business Intelligence, and Advanced Analytics solutions for assisted and semi-automated decision making.
Leveraging our consulting capabilities, vertical solutions and best in class technologies, we offer strategic consulting and solutions to restaurants. The solution does not require a huge initial investment. With near real-time information and strategic insights, restauranteurs can make faster and smarter decisions and create new business opportunities.
Want to gain further insights into 10xDS Cognitive Analytics solutions and Analytics practice? Talk to our Data Experts!