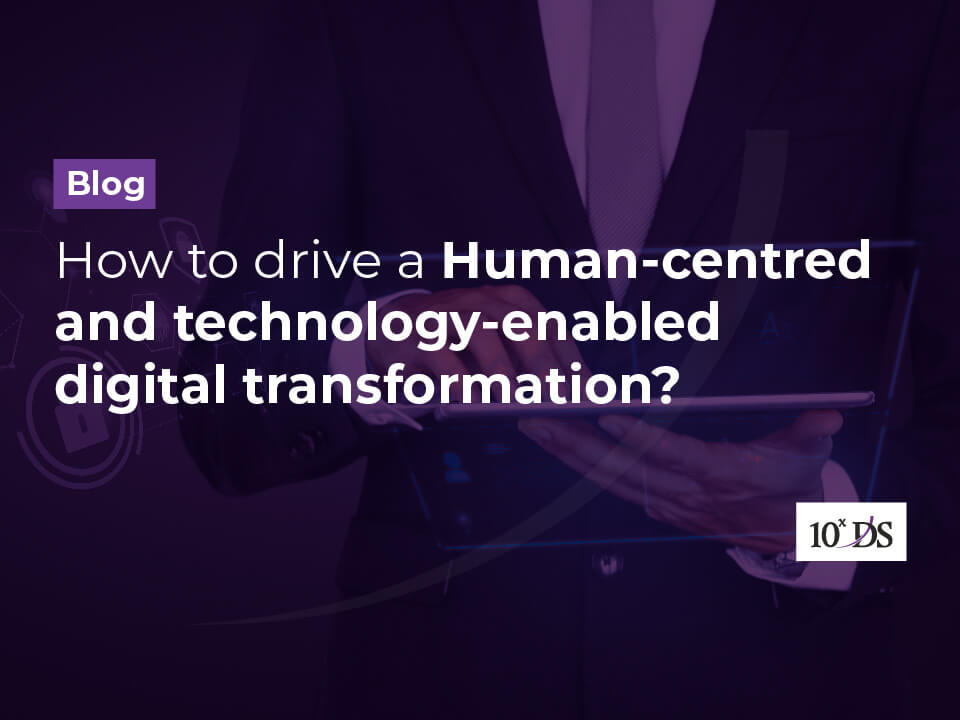 How to drive a Human-centred and technology-enabled digital transformation?
With every year passing, the pace of digital transformation is increasing exponentially. If it was quite normal to estimate a couple of years for a shift of technology, to transition into new, until a few years ago, but it is not so today. The pandemic has played a crucial role in this faster technology shift.
A study conducted by IDC (International Data Corporation) indicates that approximately $2 trillion is estimated to be spent on digital transformation by organizations around the world in the year 2022 alone. While these figures might make one wonder about the sheer scale by which companies rapidly embrace this modern innovation, one must acknowledge that only a human-centred approach will last in the long run.
What is a human-centred digital transformation approach?
People often assume that making a huge investment in hardware and modern AI-based technologies alone contributes to successful digital transformations. But that is not completely true. Organisations must try to inculcate a new culture in the human resources too. There must be radical changes in people's mindset, culture, and decision-making capabilities. In other words, a human-centred approach is essential.
If we take the modern organization as a working system, human players are pivotal. They cannot be separated from the system. When new digital assets and transformations are brought in, humans need to be trained to co-exist with them and adapt to the changes that they cause. For an organization to create and affect a human-focused and technology-backed digital transformation, the following factors are essential.
Set up a purpose for the transformation
Before inching towards a large-scale digital transformation, organizations should have pre-set objectives. Having the objectives clearly set not only helps make the transitions smooth but also helps the management and staff to steer the ship even if the weather is not favourable. When setting up the purpose, organizations must ensure that it is human-centred, socially engaging and adds value to all stakeholders who are involved in it. Similarly, the purpose should be in complete agreement with the organisation's goals, vision, and strategy. When all these factors come to play together, the pre-set objectives are materialized, and the transformation becomes a reality.
Clarity of purpose increases the possibility of buy-ins on transformation initiatives company-wide because they are in line with the vision already championed by its ranks, workforce, and its clients. Moreover, it offers a path and guardrails for navigating the competitive business landscape, ensuring progress towards a long-term company vision.
Technology that is tailored to assist human contribution
In a human-centred digital transformation scenario, new technology assets are being brought in or designed with the primary focus given to the human players in the system. In other words, the very purpose of integrating these digital assets is to assist human contributions to an organization. There are two ways by which technology can assist human players. In the first scenario, when humans operate on their own, they are subject to stress and toil. Continuous, repetitive, and tedious work may affect their focus and productivity. When technology is incorporated into human operations such as hyperautomation, Artificial Intelligence (AI), and Machine Learning (ML), among others, many of the tasks that are repetitive in nature can easily be carried out with modern no-code low code tools, enabling faster ROI. Secondly, technology can boost creativity and innovation as it can supplement human imagination paving way for better transformations and productivity in key business areas.
Enterprises leveraging human-in-the-loop automation can increase application uptime, improve quality of life for engineers and bring order and efficiency to incident response, troubleshooting, and day-to-day operations.
Success comes through inclusion-oriented approach
Studies of companies that have been successful in their digital transformations reveal one interesting point. In addition to cultivating an inclusive culture, organizations following a human-centric approach understand that technology, when inclusive, is a crucial factor for successful digital transformations. When the workforce learns to adjust to the latest technologies, companies experience success in the form of a greater level of participation from the employees and maximum optimization of processes.
A technology inclusive approach benefits organizations in multiple ways. First of all, it benefits all humans in the form of their professional development. When a new tool is introduced, everyone gets a chance to become familiar with it and upskill. Secondly, it enables organizations to increase the work-life balance of their employees. With an inclusive technology, employees can get more flexible working hours which in turn support greater work-life balance. Thirdly, with an inclusive technology in place, many human biases can be avoided. Lastly, inclusive technology must also be user-friendly for easy adoption, and this will significantly help in the ramp-up of enterprise-wide digital transformation efforts.
Conclusion
Digital transformation is essential for all organizations but the approach towards it must be well-balanced for it to be successful for the organization and its workforce. A people-first and human-centric framework can be beneficial for the digital transformation efforts, to better navigate the journey, without losing sight of the humans that are involved to make it all happen.
A human-centric approach is best understood through doing and you need not be experts in it to begin. Talk to our experts to know more!