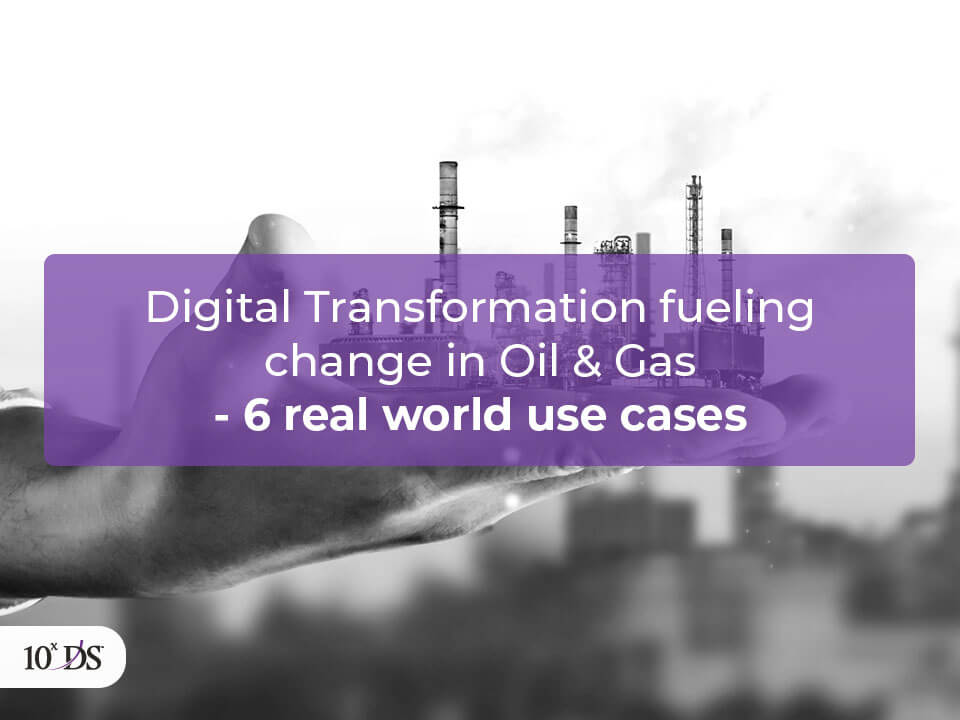 Digital Transformation fueling change in Oil & Gas – 6 real world Use Cases
In our earlier blog, we had mentioned that even though many Oil companies across the globe have embraced these latest technologies such as Intelligent Automation (IA), Robotic Process Automation (RPA) and Artificial Intelligence (AI) for digital transformation for internal functions such as IT, Finance and HR, many are still reluctant to touch core oil and gas processes. However, we see a shift now, companies are unlocking greater value in core businesses to pave way for digital transformation
Let's look at few cases, how 10xDS helped O&G companies capture the benefits of digitization.
| | | |
| --- | --- | --- |
| Upstream | Mid & downstream | Operations and Corporate functions |
| Accurate micro seismic monitoring by automation of building cooperate velocity model | Work order creation and release for any maintenance requirements from vendors | Tender management process for procuring Mechanical, Electrical, Control & Automation materials of O&G construction |
| Satellite imagery download for hundreds of defined Area of Interests (AOI) | | Delegation process for business activities to available employees in office |
| Project cost estimation by extracting multiple material costs data from multiple data sources from previous years | | Customer payment verification |
Use Case 1: Cost Estimation Process
The client is a leading petroleum exploration company in the Middle East. Automation helped to extract details of historical purchases based on the SAP reference for a project, to arrive at a cost estimate for the required materials. This data is in turn used to derive the expected total budget for a project.
Before automation, there was no standardized procedure for estimating cost based on historical data and staff followed various methods based on their experience and preferences. This in-turn resulted in inconsistencies in the cost estimate output. The automated solution is capable of extracting purchase data from previous years populated on a pre-defined excel with complex rules to calculate the average price. Scenario handling such as conversion of older MESC IDs to SAP ID and getting previous purchases from historical data were implemented in the robotic solution.
Benefits of the automation are:
Standardization of cost estimation process, logic and associated rules.
Increased efficiency in data collection, analysis and calculation with 99% SAP inquiry requests handled entirely by bot.
End to end automation of the process that resulted in 100% adherence to SLA and elimination of errors.
Reduction in overall process time that resulted in reduction of almost 50 hours in a month.
Use Case 2: Satellite Image download process
The client is a leading petroleum exploration company in the Middle East. The process involved downloading satellite images for hundreds of defined Area of Interests (AOI) from the vendor providing satellite imagery, geospatial information, and location-based intelligence.
Major business challenges were:
Images are to be selected with different criteria for large number of AOIs for downloading, saving and updating metadata in another application which is manual.
Certain elements of the process like name of the satellite change periodically.
Incorrect filtering criteria leading to errors in downloading.
Human failure to execute the process in defined schedules.
Automation helped in End to end automation of the process and is a scalable solution to handle future changes in process elements like the satellite name change. The robot handles On-demand and scheduled process run for greater flexibility of process execution. Intelligent automation helped in 80% reduction in average handling time.
Use Case 3: Velocity Model Building process
The client is a leading exploration and production company in the Middle East. Velocity modelling integrates measured seismic velocities, depth imaged seismic data, oil well velocity information and interprets structural information into a calibrated velocity model.
Data was residing in multiple applications span across Windows and Linux platforms and it was a lengthy process with sequential execution activities.  Data collection and qualitative analysis were highly manual and time-consuming process leading to wastage of domain experts' time. To overcome these challenges, an automated solution is designed to have a seamless flow of activities and information across Windows and Linux platforms.
Benefits realized are:
End to end automation of the process enabled domain experts to channelize their efforts to activities that requires their expertise.
Improvement in the outcomes/predictions as the process can be run with different inputs.
Predictions help to plan the next drilling processes more accurately.
Process completion in less than 3 minutes which was taking 3-4 hours earlier.
Use Case 4: Service Request and Work Order Release for Maintenance
The client is a multinational mid and downstream oil company based in Singapore. The automated solution for streamlined data movement of Service Request and Work Order Release across Maintenance Web Portal and ERP for maintenance requests.
By automating the process, the below business challenges were overcome in addition to reduce the manual effort and errors.
Highly manual process to extract service request from web portal to update in Navision ERP.
16 data fields needed to be manually populated and errors in equipment ID problem description etc. resulted in wrong work order creation.
Work Order reference and other associated details need to be manually updated back in Web Portal.
The process need to be repeated continuously to check new service requests.
Use Case 5: Leave and Delegation Process
The client is a national O&G company dealing with oil refining, gas liquefaction, and distribution of petroleum goods.  Automated solution is for the employer to ease the update process of leave and delegation in multiple business critical mandate systems.
The solution is designed such that the RPA BOT picks up the details from Oracle PeopleSoft and update delegation for the applications mentioned in the leave data based on the employees' rank. RPA BOT also sends notification on the action taken.
With automation, chances of unauthorized personnel gaining access to business applications due to improper delegation is eliminated and the company is able to ensure business continuity. Automation also helped in 80% reduction in average handling time.
Use Case 6: Tender Management Process – RPA as a Service
10xDS implemented Robotic Process Automation in the Tender management process for procuring Mechanical, Electrical, Control & Automation materials of the O&G construction activities and developed a robust framework to provide RPA as a Service. RPA as a Service enables cost-effective RPA adoption.
With automation, the process is running smoothly, avoiding the risk of missing tenders. It enabled faster and timely closure of tender responses:
By frequently monitoring the client's website (Rabitah, Tawreed etc.) the BOTs ensure that all the required RFX requests are downloaded from the site.
The BOTs send reminder mails requesting immediate action.
The keyword scan feature allows BOTs to route the request to the appropriate engineer, once the requests are scanned for preset keywords.
The BOT records all tender information into the ERP, ODOO.
Based on the engineer's response, BOT takes the subsequent action of either accepting or rejecting.
The BOT allocates tasks to various resources and manages the process in ODOO.
Conclusion
With more and more Digital Transformation projects in our Oil & Gas pipeline, 10xDS has gained the expertise and experience Modernizing Upstream, midstream, downstream, Operations and Corporate functions in the industry.
We help you identify opportunities for digital transformation and maximize your ROI leveraging exponential technologies. Jump on to the digital transformation bandwagon.