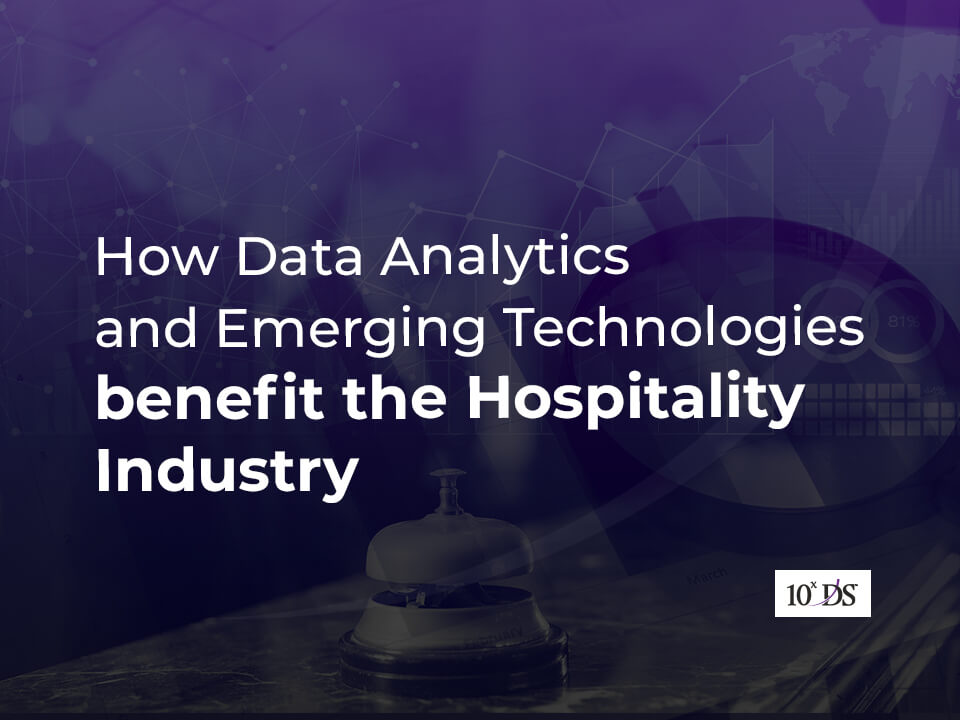 How Data Analytics and Emerging Technologies benefit the Hospitality Industry
For the last few decades, the advances in technologies have led to several innovations and rapid changes in the hospitality, travel, and tourism industry. The latest disruptions caused by the emerging technologies have created a paradigm shift, giving a competitive edge to some players and leaving some behind. Travel agents have to become more tech-savvy and smarter to gain customers and the industry has brought more complexities and enhanced convenience for travellers.
Hotels are trying different innovative methods to identify guest trends, understand their pain points and create a variety of strategies to fix them at the most appropriate time to enhance profitability. Moreover, there are several factors they have to consider such as the market changes, unexpected situations, various trends, among others to react swiftly and more efficiently. This is where Data Analytics and some of the emerging technologies have helped the hospitality industry.
How Data Analytics Benefits Hospitality Industry
Data Analytics has a wide range of applications in the hospitality industry and the hospitality and travel companies are leveraging it to enhance business operations, create unique marketing strategies, understand occupancy rates and yield, among others. Some of the most popular hotel groups such as the Marriott and International Hotel Group (IHG) are actively using analytics to gain key insights and help maximize their profits.
For instance, the Marriot uses its Group Pricing Optimiser (GPO) to create various pricing models based on the data and statistics of several segments of the market. This way the Group can customize their offers targeting the preferences of a specific set of customers. Intercontinental Hotel Group (IHG) uses different types of analytics such as Operational Analytics, Advanced Analytics, and Predictive analytics to properly understand their customer base, satisfy their stakeholders, and anticipate potential trends of the future. Analytics can significantly help the sales and marketing team to create tailored messages across different channels.
Here are some of the actionable approaches using data analytics and emerging technologies benefiting the hospitality industry.
1. Leveraging Predictive Analytics for Product Recommendations
Predictive Analytics is one of the four major branches of advanced analytics and taking key data and applying a combination of algorithms and machine learning makes predictions about future outcomes. This is very useful in predicting which product the consumer might be looking for and has a good possibility of buying. Most big technology companies like Amazon, Microsoft, Apple among others use predictive analytics to understand their consumer preferences. For instance, Amazon makes heavy use of its recommendation engine to generate over one-third of its consumer preferences by using the power of artificial intelligence (AI) and Predictive Analytics. Interestingly, in the hospitality industry by linking predictive analytics with geolocation data, hotels can sell their recommended offers or products in real-time, which is much more than just coupons and promotions. With the continuous advances in emerging technologies like predictive analytics and AI, the hospitality industry will be able to provide customized offers and unique experiences in real-time catering to the needs of the guests.
2. Optimized Pricing Management through Machine Learning
Pricing management is one the most important function in the hospitality sector, with practices like dynamic pricing becoming commonplace in the industry. With the advances in machine learning, hotels can now optimize pricing through better research, analyses and accurate predictions based on market demands, location, availability of rooms, and the ability to understand customer's interest and willingness to pay. Leveraging the power of data analytics and machine learning, hotels can now offer personalized pricing to individual customers, very similar to how some of the retail e-commerce giants serve up a tailored set of products with personalized pricing.
3. Virtual Assistants for Driving Growth and Revenue
Virtual assistants, like Alexa and Siri, have started emerging as a travel booking platform, as more and more users are using these devices. As they are comfortable conversing with virtual assistants everywhere they go, there are several travel apps coming up targeting these platforms. Given the growing influence of Siri and Alexa in the hospitality industry, we can expect more and more hotels to start using voice-activated services and offer digital assistance to users for giving enhanced experience. Curated relevant results of a voice search, can be of huge value and critical for success, and soon it may become more simple, personalized, and ranked.
4. Enhanced Customer Service through Data Analytics, AI, and Natural Language Processing
AI, Machine learning and natural language processing have been revolutionising how the data is interpreted. Many companies in the hospitality industry have now started streamlining their services throughout the customer journey by introducing chatbots. Over the years the emerging natural language processing technology has improved leaps and bounds and chatbots will only get better at conversing with users and managing the processes involved in the travel journey from research to booking to the guests staying at hotels. Moreover, these advanced chatbots should be able to learn customer's travel preferences by looking at past bookings, reviews, even their social media engagements, then leverage such data to gain valuable insights and suggestions on destinations, preferred stay options, and any information that indicates user preferences.
Conclusion
With some of the leading companies in the hospitality sector harnessing the power of data analytics and emerging technologies, we can expect great improvements in the overall guest experience, enhanced operational efficiencies, optimized pricing options, and a better grasp of in-depth customer insights. Hospitality and travel companies can use qualitative data to make better decisions and unlock the massive opportunity to gain sustained competitive advantage.
10xDS has a strong portfolio of data and analytics services which includes Information Management, Big Data, Business Intelligence, and Advanced Analytics solutions for assisted and semi-automated decision making.
If you want to gain further insights into our Analytics solutions and how we can help get your data analytics efforts off to a running start, talk to our experts.