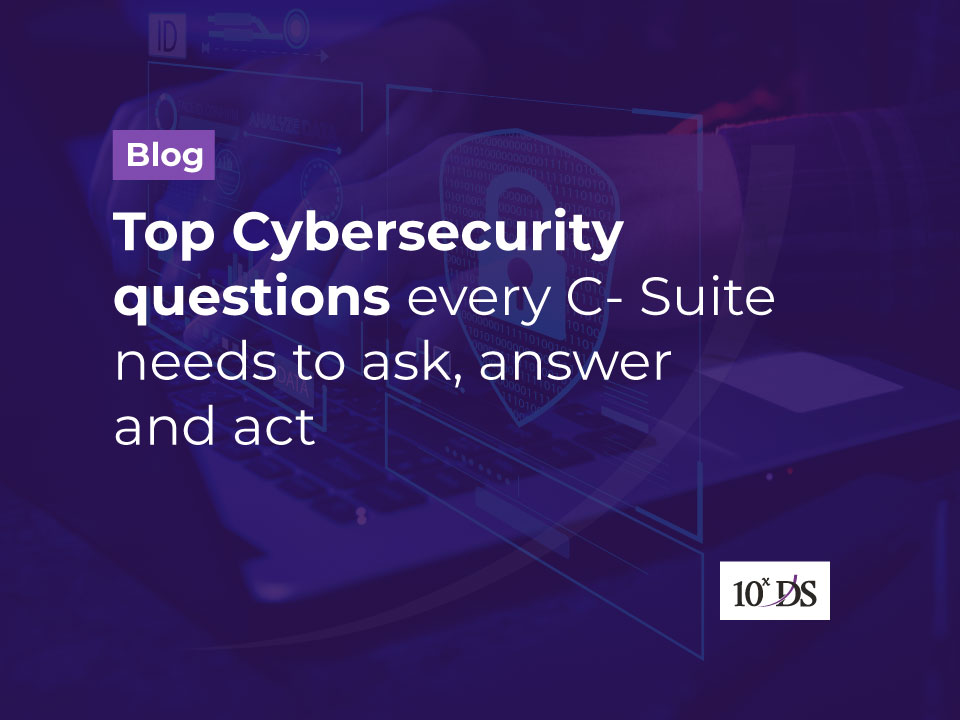 Top Cybersecurity questions every C- Suite needs to ask, answer and act
Cybercrime poses a serious threat to businesses, and we get to know about breaches happening daily. Still if we perceive them as an incident that happens to other companies or other individuals, then we are at risk. We may be facing an attack even though we have not realized it yet. As we are observing Cybersecurity Awareness Month in October, let's look at some of the questions that we need to ask ourselves as an organization, introspect on the answers and take action if we are not doing enough.
1. Does the organization have cybersecurity mindset? If not, how to inculcate it?
The onus is with each one in the organization to safeguard the assets. The management must be aware of the confidentiality, integrity, and availability of data and give due importance to it. An IT or cybersecurity team that is continually evaluating the risks and making recommendations to the management. A boardroom meeting should have cybersecurity as its topmost agenda. Not just the management and IT Teams but need every employee's contribution to make the program successful. Awareness training should be conducted often, and it is vital for all organization's primary threats to rely on the mistakes of employees to be a successful breach.
2. Where do we stand about current cybersecurity program?
The cyber security program should be aligned with business priorities. It shouldn't hinder the business to do business but enable them to do more effectively. The program should be designed based on the information technology frameworks that provide guidance to appropriate controls to protect the confidentiality, integrity, and availability of data and services. Policies should be formulated to be put into practice easily.
3. Is the organization one step ahead for the real threats that's there right now?
If an organization had done an evaluation last year and make necessary action, they are far behind. The cyber-attacks are evolving every moment and organizations need to evaluate the threat on a continuing basis and act accordingly. Organizations also need to evaluate if they can detect an attempted or successful security breach and the availability of an updated and documented plan, resources and tools for how to respond to an incident.
4. The budget for cybersecurity – Is it enough, is it utilized?
Organizations need to spend on staff with expertise and experience who can outsmart cyber criminals, tools, and controls.  Often the roadblock to an effective program is the availability of IT staff. Also, automated tools can improve the chances of cybersecurity projects being successful.
5. What are the regulatory compliance requirements affecting our business
Regulatory compliance frameworks are also evolving, and organizations need to know which laws are impacting their businesses and what needs to be done to comply with them.  External expert help might be needed to know whether there are any compliance obligations regarding sensitive information or confidential data for the organizations particular business.
Conclusion
While the questions are easy to ask, and answers may take a while, but the real benefit is when the gaps are fixed on a timely basis. This would help in maturing the cyber security program because of the answers to those questions.