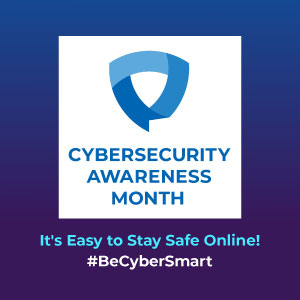 Cybersecurity Awareness Month – October 2022
Cybersecurity Awareness Month – October 2022
Date/Time
Date(s) - 01/10/2022 - 31/10/2022
All Day
It's Easy to Stay Safe Online! #BeCyberSmart 
Today technology has become a significant element of our daily life. With increasing dependence on technology, cybercrimes are also on the rise. Almost anything and everything is available online. But this in turn has cleared the door for cybercriminals to breach our systems and steal sensitive data.
About Cybersecurity Awareness Month
Every October is observed as Cyber Security Awareness Month. It is a collaborative effort launched in 2004 between industries and the government. It is further co-led by the Cyber Security and Infrastructure Security Agency (CISA) and National Cybersecurity Alliance to raise awareness about the importance of cybersecurity. It aims to empower individuals and businesses to take cybersecurity steps by making cyber more accessible.
This year Cybersecurity Awareness Month focuses on the theme 'It's easy to stay safe online.' It includes four major cybersecurity practices, recognizing and reporting phishing, benefits of using a password manager, the importance of enabling multi-factor authentication and installing updates on a regular basis.
We are proud to announce that 10xDS has signed on as Champion for Cybersecurity Awareness Month 2022. With the latest technologies like RPA, AI, ML, and data analytics, our services have helped several enterprises to tackle threats from cyber adversaries. We provide a comprehensive suite of cybersecurity and IT risk assurance services to detect, prevent, and proactively respond to security threats.
Throughout this October, we have planned various internal activities based on this year's theme. Initiatives will include expert talks on cybersecurity practices, weekly quizzes, fascinating contests and other team engagement activities.
Watch this space throughout the month to get updates on how to stay safe and more secure online! 
Hashtag Contest
As part of the Cybersecurity Awareness Month campaign, a Hashtag contest was conducted among the employees of 10xDS. The winning hashtag 'IPledgeCyberSafety' is now being used on all our social media platforms. This hashtag emphasizes the fact that each individual is equally responsible for ensuring cyber security.